Earn up to 20 Steem per Post!
ReggaeSteem is seeking content creators who wish to post through ReggaeSteem.io Reggaetube.io or tag #jahm / #ReggaeSteem in their preferred front-end editor. There are not enough quality posters on #ReggaeSteem so bloggers, content creators, sharers, influencers and artists have an excellent opportunity to get heavily rewarded in Jahm tokens.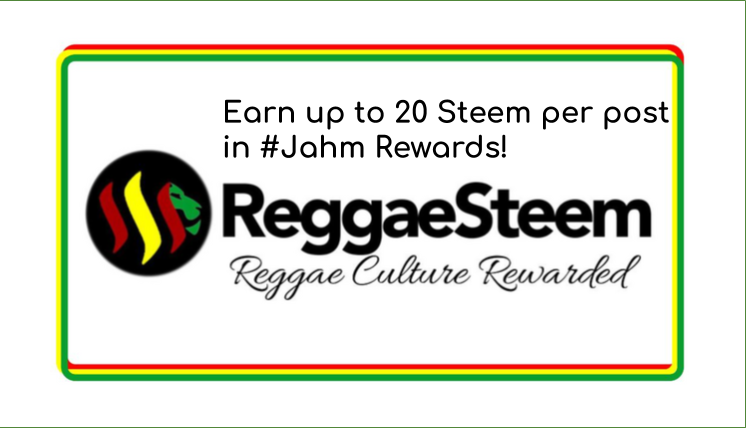 Simply tagging #jahm or #reggaesteem for any post is not a good idea, but if you share a reggae/dancehall song or Jamaican music and write a little about it in a typical format you will be heavily rewarded. You can also write about things that are related to Jamaica, travel, Caribbean culture, or Jamaican/other fusion.
Trending Posts on ReggaeSteem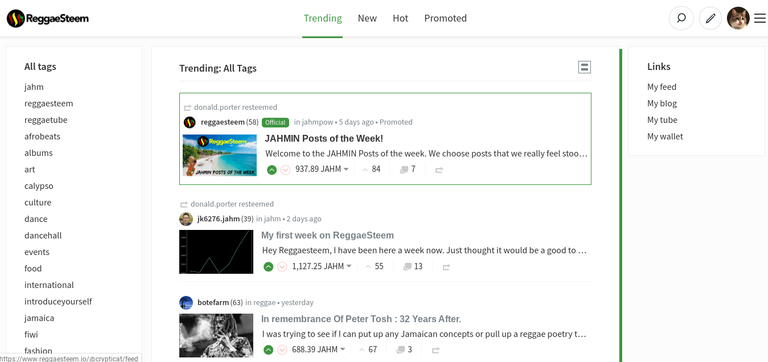 You can see one poster
@jk6276.jahm
has a post payout of 1118 Jahm! The next person on the list
@botefarm
has a post payout of 682 Jahm! Neither of the accounts are related to the team in any way and they are typical amounts for a trending post. Visit
https://www.reggaesteem.io/trending
if you don't believe me.
Neither of the above posts are of particularly high quality, no offense! But, they are both on topic, not done by whales, team members, etc. such as myself, @donald.porter, @dmilliz, @miyard, @reggaesteem, @shanibeer, @roger.remix, etc. You can see for yourself, it isn't that hard to get on the list.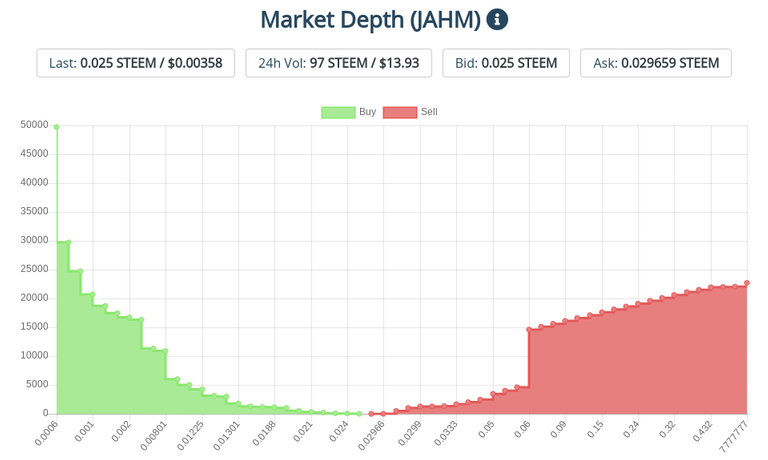 At the current price according to https://steem-engine.com/?p=market&t=JAHM Jahm is selling for 0.025 Steem a piece. 0.025*1118 means @jk6276.jahm is going to share 27.95 Steem worth of Jahm with his curators. 27.95 x 65% = at least 18.168 Steem for the poster at current market prices. Not bad for a post that would take less than an hour for a two-fingered typist taking smoke breaks to create (not implying anything here!)
Earning Rewards is Easy
You too can earn up to 20 Steem per post worth Jahm at current prices and the price of Steem is $0.141 each according to Coinmarketcap or Coingecko. This means like $2.82 per post, not too shabby as you are earning #rewards in #Steem and potentially other tokens such as #palnet, #neoxian, or your favorite other tokens. Besides, what about the satisfaction of becoming a well-known poster in a budding community?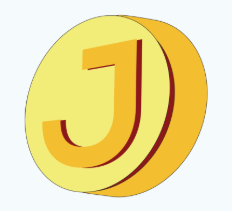 Jahm Can be Used for Travel Rewards and Gear
That's right! If selling Jahm for something you can exchange for money isn't the only thing that motivates you, you can stake it to get curation rewards by curating authors found on the @jahm.whitelist and eventually earn a Jahm Stake n' Stay Token. Get a JSNS token annually when you stake 100,000 #jahm which is tradable for a free stay in Jamaica! Jahm Tourism You can also trade your Jahm for things found in the Jahm Shop What other Token allows for that? (hint: none)
What Are you Waiting For?
Seriously. I see people pouring their heart and soul into Steem posts all so they can earn a lousy 1 Steem or $0.141 cents meanwhile people make fun of 50 cent trolls posting on Reddit or Twitter. Who is the fool? I get it you like blogging about what you want to blog about, and Jahm rewards aren't guaranteed, but why are you still reading this?
What to Write
Topics that are related to Jamaica: a tropical vacation, a Jamaican person, Caribbean music, someone who likes Jamaican culture something in Jamaica, etc. Reggaesteem prefers topics that are unique (Sorry Bob Marley,) and not just a cut and paste of a Wikipedia article as plagiarism is not tolerated. Posts should be a minimum of 100 words in length, with 3-500 being the standard for quality. Use plenty of keywords for Search Engine Optimization and share with us your #Jahm experiences!
Topics for Reference
Places: Jamaica, Negril, Kingston, Montego Bay, Ocho Rios, Port Royal, Runaway Bay, Black River, Spanish Town, Port Antonio, Savannah La Mar, Lucea, Trench Town, Portmore, Blue Mountain, Caribbean, Dunn's River Falls, Seven Mile Beach, Rose Hall, Rick's Cafe, Blue Lagoon, etc.
People Bob Marley, Usain Bolt, Shaggy, Portia Simpson Miller, Jimmy Cliff, Marcus Garvey, Harry Belfonte, Miss Lou, etc. See https://en.wikipedia.org/wiki/List_of_Jamaicans - Just don't C + V!
Things reggae, dancehall, travel, food, flowers, birds, animals, beaches, hotels, restaurants, businesses, products, you get the picture.
Hit us up on the discord if you want a preferred topic https://discordapp.com/invite/UQNT9as you do not have to be Jamaican to apply! You will be fast-tracked for the @jahm.whitelist and could be featured in the JAHMIN Posts of the week!
Disclosures
Jahm rewards are not guaranteed, nor is the price of Jahm, Steem or the US dollar. In no way am I suggesting you invest in Jahm, purchase Jahm, or that you will get rich from investing in Jahm, Steem or the US dollar. This is not financial advice, this is not an employment contract and this is solely meant for educational/entertainment purposes. Yes, I own some #Jahm.
Thank you and feel free to post on Reggaesteem.io or use the #Jahm tag for relevant posts!
---
Posted via ReggaeSteem | Reggae Culture Rewarded