Source
Hi, Reggae Lovers? How are you? I hope you all feel good today.
Hai para pecinta musik reggae. Apa kabar? Semoga hari ini dalam keadan sehat.
If we listen to the music High Therapy above, we will imagine if we were listening to music that was delivered by Skrillex who came from Los Angles, California.
Jika kita mendengarkan musik High Therapy di atas langsung saja kita akan membayangkan jika sedang mendengarkan musik yang dibawakan oleh Skrillex yang berasal dari Los Angles, California.
High Therapy, consisting of only two people, plays reggae music wrapped in electronic music to produce * Reggae Dub *. Namely, Hajar Adit (bass) and Bairul (drums / vocals / synth / dj).
High Therapy yang beranggotakan hanya dua orang ini memainkan musik reggae yang dibalut dengan musik elektronik sehingga menghasilkan Reggae Dub. Yakni ada Hajar Adit (bass) dan Bairul (drum/vokal/synth/sampling).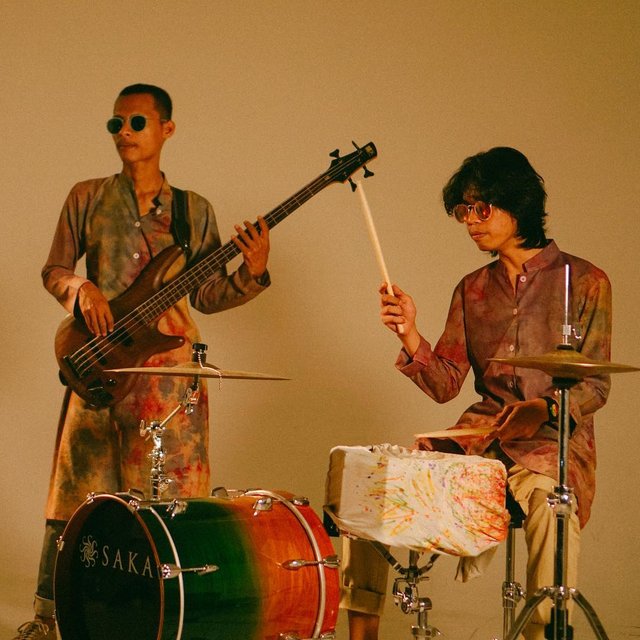 Source
In this song Sin Nation, High Therapy tells the story of human psychology that can not be separated from the name of money. Specifically it can be said, humans cannot live without money, even worse can be said humans live for money. But this song is not entirely talking about money, they describe if human life is like a conspiracy theory, where humans have been arranged so that it becomes complicated like this.
Pada lagu Sin Nation ini, High Therapy menceritakan tentang psikologis manusia yang tidak terlepas dari yang namanya uang. Secara spesifik bisa dikatakan, manusia tidak bisa hidup tanpa uang, bahkan lebih buruknya lagi bisa dikatakan manusia hidup demi uang. Tapi lagu ini tidak seutuhnya membicarakan tentang uang, mereka menggambarkan jika kehidupan manusia seperti teori konspirasi, dimana manusia sudah diatur sehingga menjadi rumit seperti ini. Source
There are still many Indonesian indie bands that are still less exposed even though they have the potential to be more famous like other bands. On another occasion I will feature the less exposed indie bands and of course the band from Indonesia.
Masih banyak band indie Indonesia yang masih kurang terekpos padahal mereka memiliki potensi untuk lebih terkenal seperti band-band lainnya. Pada kesempatan lain saya akan menampilkan band-band indie yang kurang terekpos tersebut dan tentunya band dari Indonesia.
Follow Instagram High Therapy
Regards,

---
Posted via ReggaeSteem | Reggae Culture Rewarded