Source
Hi Reggae Lovers whereever you are.
Hai penggemar musik Reggae di seluruh dunia.
For us reggae music fans, we will never get bored listening to reggae music. Whatever the type of reggae like dancehall, roots, Dub, or collaborated metal music, reggae is still easy to listen to.
Bagi kita penggemar musik reggae, tidak akan pernah bosan untuk mendengarkan musik reggae. Apapun jenis reggae baik itu jenis musik reggae dancehall, roots, Dub atau dikolaborasikan jenis musik metal sekalipun, reggae masih enak didengarkan.
Music is also a universal language, even though we are from different countries but with music we will understand and feel each other from a song.
Musik juga merupakan bahasa universal, meskipun kita dari negara yang berbeda tapi dengan musik kita akan saling memahami dan merasakan dari sebuah lagu.
Alright, tonight I will introduce a Reggae band from Indonesia. They are not newcomers to the world of Indonesian music. Gangstarasta has been established since 2001. They chose reggae music because of the spirit of reggae music that spreads a sense of love and peace to all humanity.
Baiklah, malam ini saya akan memperkenalkan sebuah band Reggae dari negara Indonesia. Mereka bukanlah pendatang baru didunia musik Indonesia. Gangstarasta sudah berdiri sejak tahun 2001. Mereka memilih musik jenis reggae karena spirit musik reggae yang menebarkan rasa cinta dan damai kepada seluruh umat manusia.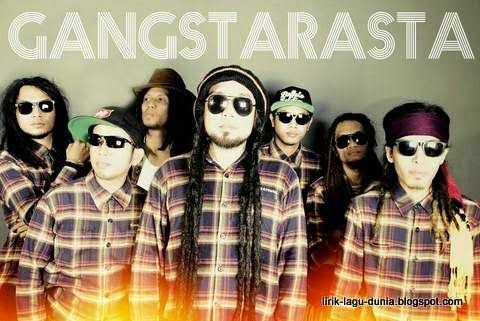 Source
Reggae Disco song was released in 2015. This song tells about a happy atmosphere especially when combined with disco music. Although it's not very disco, this song is perfect for relaxing.
Lagu Reggae Disco dikeluarkan pada tahun 2015. Lagu ini menceritakan tentang suasana yang gembira apalagi jika dipadukan dengan musik disco. Walaupun tidak terlalu disco, lagu ini sangat cocok didengar diwaktu santai.
reggae disco naikkan tempo
sound system serba stereo
panaskan dance floor, dj on the microphone
feel this rhythm, what are you waiting for
reggae disco naikkan tempo
sound system serba stereo
panaskan dance floor, dj on the microphone
feel this rhythm, what are you waiting for
semua tangannya ke atas
this is gangstarasta in the house
ini kami datang, sambut dengan senyuman
playing reggae music one more time
bersiap untuk lepas landas
ini musik yang tak kenal batas
semua ikut rasakan, mari kita rayakan
reggae music hitting one more time
reggae disco naikkan tempo
sound system serba stereo
panaskan dance floor, dj on the microphone
feel this rhythm, what are you waiting for
Have enjoy it
Regards,

---
Posted via ReggaeSteem | Reggae Culture Rewarded