For 5 weeks, I've been confined to my apartment complex grounds. Well, today I finally went outside... and found a Shanghai economy still basically stuck in first gear. Yeah, there were some people out and about. It wasn't the "ghost town" that it was during the extended Spring Festival holidays here in China. But the key word here is definitely "some."
The past week in the stock market reflected this reality. Quite simply, if you can't make it to work, you can't work. In some cases, it's psychological. People, like me, are still struggling to come to grips with the fact that it might just be best to stay inside for the next couple months. That's crazy! But from a risk-reward standpoint, you can't argue with that assessment. For other people, like those that rely on the public gathering in one place like at restaurants and bars, there just isn't enough business to justify keeping a full payroll. For still others, the government, for a variety of reasons, still won't let factories open their doors to production. Yeah, I think that's the right call, but it blows for the economy.
China just released its Manufacturing PMI for the past month and the outlook is bleak. It's the lowest recorded number in the history of the statistic, lower than even the Great Financial Crisis. Take a look: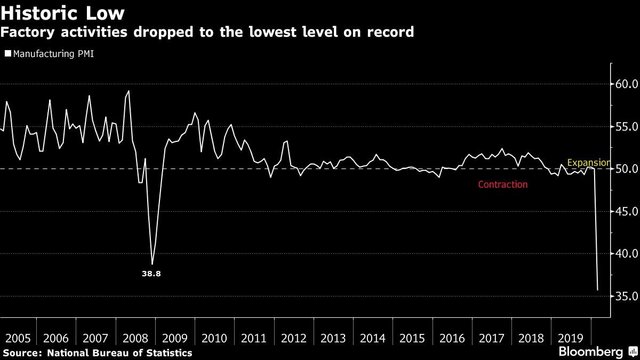 Whatever your conclusion, that's going to send massive ripples throughout the economy. First, it's going to reveal itself in China.
To emphasize that point, I'll return to my walk yesterday. As I walked down the street, I saw more Meituan-Dianping (Ticker: 3690.HK) and Alibaba Group (BABA) delivery guys than pedestrians.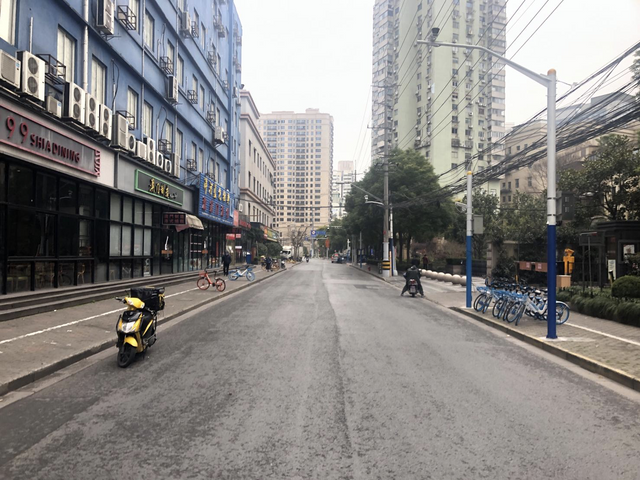 I went to the immigration office to take care of some stuff. Normally, this place is packed with people grabbing business visas, student visas, whatever. As a result, it's a telling scuttlebutt for the future of economic activity. I saw no one. Just idle tellers.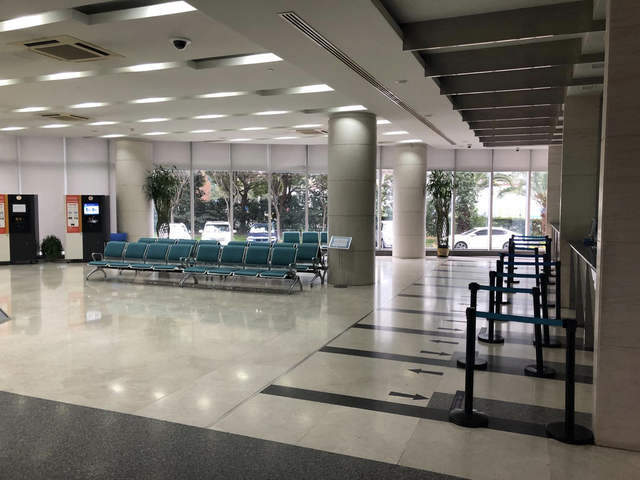 I went to Ali's Hema grocery store. This place is usually filled to the brim with people taking advantage of daily deals on quality groceries. On the bright side, the shelves seemed full of product. We seem to have recovered from the initial panic of hoarding groceries. But yesterday, there was mostly just staff (those are the ones in the blue shirts) picking orders for delivery. Just 2 or 3 walk-in customers.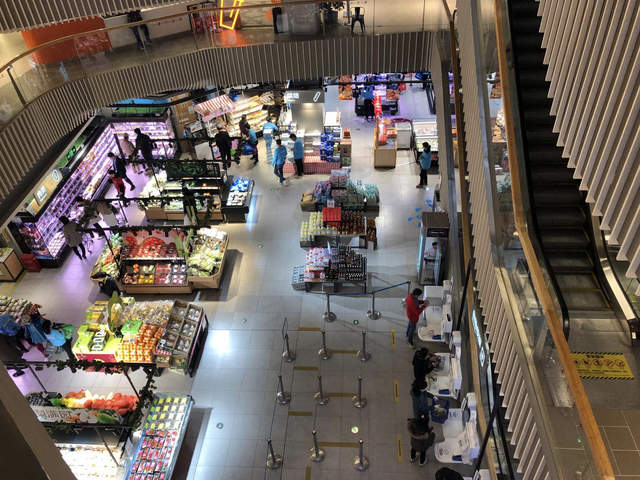 Don't get me wrong here. It's definitely getting better in China. That's for sure. But the hustle and bustle, that constant 70-db thrum of the city that underpins this flywheel of the Chinese economy... it's just not there right now. We're going at like quarter-speed. Thanks to globalization, that idleness is eventually going to spill over into other economies. From what I've heard, we could say global impacts just from the China slowdown alone as early as March. Those predictions do not even consider the potential follow-on effects of exponential infections going on right now in Italy, Iran, South Korea and countless other places.
We don't even really know the true story in the United States because there simply isn't enough kits to test anybody. That's where we were in China a month ago. Then, what followed was an unprecedented lockdown of hundreds of millions of people that, so far, seems to have done a fairly good job of containing the spread of the virus all over the country. Where will we be in the US in a month? I hope to God we can contain this and avoid any further damage to the economy. But it's more than prudent at this point to
Prepare for the worst; hope for the best.
Don't you think?
The human toll of the coronavirus is of course regrettable. Thousands of people have died. Thousands more will. Billions of people all over the world have been thrown into panic with untold physical consequences. But, as we saw last week with the epic meltdown in global stock markets, the greatest impact of this coronavirus is going to be economic.
We'll recover. And hopefully the resurgence in demand and consumer confidence when it happens will be glorious.
But for now, the focus has to be on our families staying healthy and staying strong.
Posted via Steemleo