Dear Steemians,
We were pleased to receive the opportunity to travel to Russia with our crew members B-Girl Sumku, Deepak and B-Boy Showrez from Dance Mafia Crew. Traveling to Russia for a Breaking Battle, we took a detour around Moscow to greet some concrete. Getting down at Moscow streets rocking Quest clothing representing our school, we would like to share a video with you.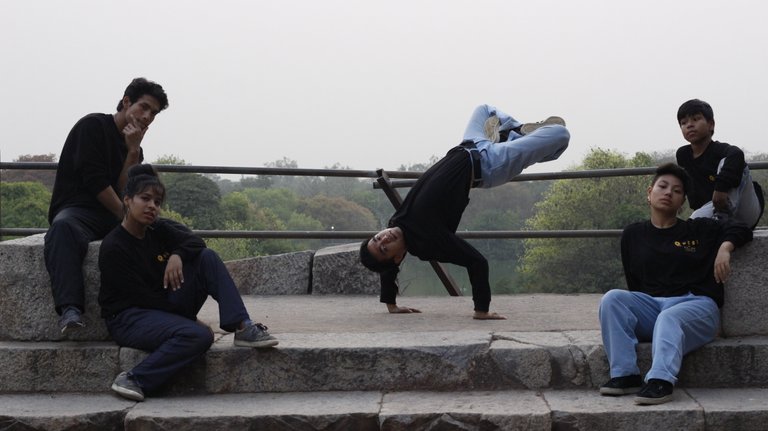 Be sure to click on the image to view full screen!
| | |
| --- | --- |
| Category | @artzone, @ntopaz, #introduceyourself |
| Camera | Mobile Phones |
| Dancers | Deepak, B-Girl Sumku, B-boy Showrez |
| Promotion | Sweaters - Quest Skool Sweaters |
| Location | Moscow - Russia |
We teach and empower kids to express themselves kinetically through dance. If you would like to support our school, we also offer you to order one of our quest school sweaters, from which we invest a 100% back into our school. The profits go to projects, where we train individuals to participate in competitions and help our young students get auditions. Our goal is to promote dance, performing arts and provide a platform for young dancers out of New Delhi, India. We believe it's important to fuel the enthusiasm of young dancers and promote new talent regardless of their financial or social background. Creating a space for physical activity, maintaining good health, young people are provided with an uplifting community with high morale, coming together for physical exercise, acrobatics, music, arts and dance. Young talent in India often emerges from underprivileged backgrounds. We aim to aid individuals that join our school to attain independence in pursuing a career in performing arts, learn more about themselves, challenge themselves, go to dance competitions worldwide and be provided equal opportunity as people from the so called developed world.
With your help, we can help grow our school and our community of dancers world wide.
The Quest-Skool is a part of a worldwide movement called The Mind Force Gathering (@mind.force) That promotes olfactory, auditory, kinetic, vocal, visual, power of mind and ethereal linguistics that transcend language.

We are new to the Steemit and the Steem blockchain and were introduced to it by @yangyanje, who explained that it is something communal. As our school is all about our students, teaching, sharing, making videos, camaraderie and bringing people together, we hugely appreciate this opportunity to be a part of the Steeimit and the Steem Blockchain.
For Your very own Quest-Skool Sweater, kindly contact us on Instagram. As we our new to Steemit, we appreciate your support and are looking forward to engaging with our new community here, share, promote and curate good content creation.
[ NOTE: We try to stay as original in our content creation as possible. The moves in the videos we post should not be attempted without guidance by professionals. Whether at home, outside or at a studio, proper warm up, stretching and training is important to prevent injuries. We are not liable for any injuries or harm caused by emulating the moves in our video posts. ]