Deutsch: Nun stelle ich mich vor.
/ English: Now I introduce myself.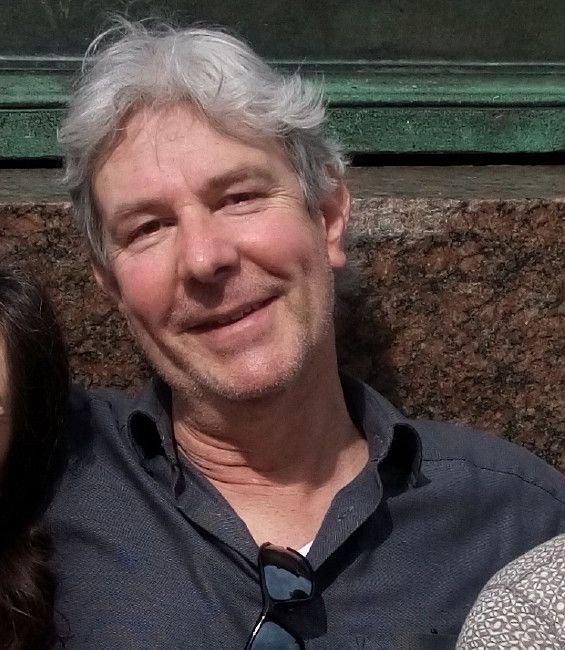 Deutsch
---
Ein Hanauer Einwohner wird sehr wahrscheinlich am Hintergrund auf dem Foto sofort erkennen, wo ich hier sitze. Der Hintergrund ist ein Teil des Brüder-Grimm-Denkmals, das auf dem Marktplatz in Hanau vor dem Rathaus steht. Hanau ist nämlich die Geburtsstadt der Gebrüder Grimm.
Für Menschen in der Ferne, die die Gebrüder Grimm vielleicht nicht kennen; sie waren Sprachwissenschaftler und sind als Märchenerzähler überaus bekannt geworden.
Auf den Stufen dieses Denkmals sitzen wir, das sind Freundinnen, Freunde und Bekannte, so gut wie jeden Samstag. Denn samstags ist Markttag auf dem Marktplatz, und es gibt immer etwas zu Schauen. Außerdem gibt's guten italienischen Kaffee und schön kühlen, gespritzten Weißwein.
So sitzen wir da, plauschen, albern, lachen und beobachten. Man sieht auch den einen oder anderen Bekannten noch vorbeilaufen und winken.
Der Schnappschuss oben von mir wurde letzten Sommer mit dem Smartphone gemacht, und ich habe für hier die übrige Denkmal-Gesellschaft weggeschnitten.
Was Schnappschüsse angeht, ist noch zu erwähnen, dass es bestimmt ganz viele asiatische Urlaubsfotos von Hanau in Deutschland gibt, auf denen wir verewigt sind. Denn gerade diese Touristengruppe fotografiert liebend gerne dieses Denkmal. Und wir sitzen da halt meistens darauf.
Manchmal springe ich dann auch als "Minuten-Fotograf" ein, wenn die Besucher gerne alle auf's Bild möchten. Allerdings stelle ich mich wie ein fotografischer Anfänger an, wenn ich mit dem Smartphone von Jemanden ein Foto schießen soll. Ich finde es so lästig, mit dem Display vor mir herumzufuchteln, und am widersinnigsten finde ich, dass man auf's Display tippen muss, um auszulösen. Da liebe ich doch meine - vielleicht etwas monströse - Kamera mit Sucher und Auslöser.
Liebe Leserinnen und Leser, das war eine Überleitung ;-)
… denn Fotografieren ist mein Hobby. Ich fotografiere ausschließlich Menschen. Es wird mir nachgesagt, dass ich das recht gut kann, und das finde ich auch selbst.
Fotografie
 
Ich habe früher sehr viel für unsere "Hanauer Stadtzeitung" fotografiert. Das waren viele Bilderseiten von Veranstaltungen, Disco-Abenden, Brasilianischen Nächten, Tabledance und besonderen Gastronomie-Events. Jeden Monat erschien außerdem noch ein ganzseitiges Portrait von einer hübschen Frau. Diese Seite war sehr begehrt; sowohl bei den Models, die gerne darauf sein wollten, als auch bei den Werbekunden, die unten auf dem Foto 4 kleine Anzeigen platzieren konnten. Das Anfertigen dieser Portraits für diesen Zweck war für mich schon eine recht anspruchsvolle Fotografie.
Außer für diese Zeitung, habe ich viele Hochzeiten fotografiert. Zum Glück keinen Todesfall; und nur eine italienische Taufe, mit einer Familie … so groß wie ein Dorf ;-)
Hier fotografiere ich gerade eine Hochzeit. Besser gesagt, mache ich gerade ein Päuschen.


English
---
A Hanau resident will most likely recognize the background in the photo where I am sitting here. The background is a part of the "Brüder-Grimm"-Monument, which stands on the market square in Hanau in front of the town hall. Hanau is the birthplace of the Grimm brothers.
 
For people in far distance, who may not know the Brothers Grimm; they were linguists and have become very well known with their fairy tales.
 
We sit there on the steps of this monument, we are friends and acquaintances, as well as every Saturday. Because Saturday is market day in the market square, and there is always something to look. Also, there is good Italian coffee and beautiful cool white wine, diluted with some water.
So we sit there, chat, silly, laugh and watch. We can also see some friends passing by and waving.
 
The snapshot of me on top was done last summer with a smart phone, and I've cut away the rest of the Memorial Society for here.
As far as snapshots are concerned, it should be noted that there are certainly many Asian vacation photos of Hanau in Germany, on which we are immortal. Because this tourist group loves to photograph this monument. And we sit there for the most time.
Sometimes I help as a "minute photographer", if the visitors would like to be everyone in the picture. However, I behave like a photo-novice, when I should shoot a photo with someone's smart phone. I find it so annoying to mess with the display in front of me, and the most absurd I find, that you have to tap on the display to take the photo. Then I love my - perhaps a bit monstrous - camera with viewfinder and shutter.
 
 
Dear Readers, this was a way to change the subject ;-)
... because photography is my hobby. I photograph only people. I am told, that I can do it quite well, and I can think myself, that it is not wrong.
Photography
 
I used to photograph a lot of pictures for the "Hanauer Stadtzeitung" (this is a newspaper). These were many pictures of events, disco evenings, Brazilian nights, table dance and special gastronomy events. Every month a full-page portrait of a pretty woman appeared. This site was very popular; both for the models, who wanted to be there, as well as for the advertisers, who were able to place 4 small advertisements at the bottom of the photo. The making of these portraits for this purpose was for me a quite ambitious photographing.
Except for this newspaper, I photographed many weddings. Fortunately no case of death; and only one Italian baptism, with a family ... as big as a village ;-)
 
Here I am photographing a wedding. Better to say, I just make a short break.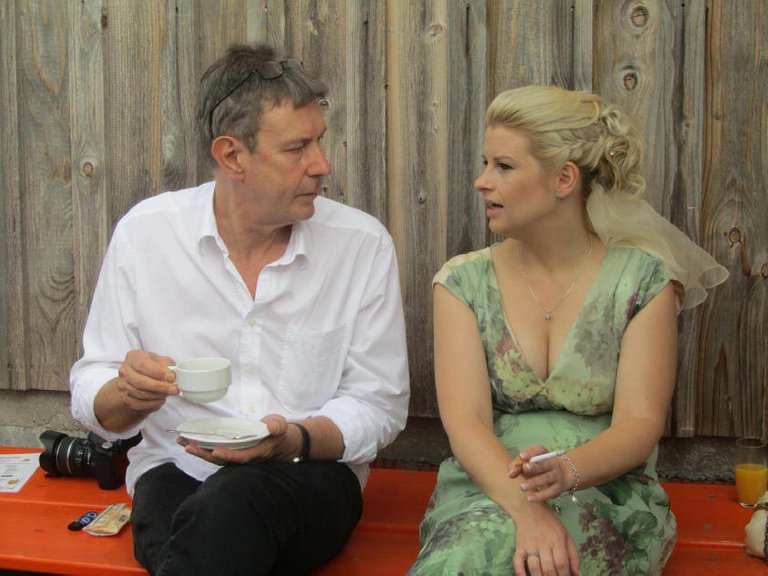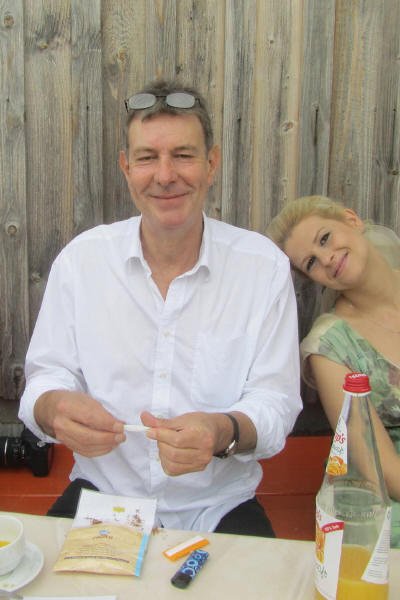 An der Fotografie liebe ich, den Blick für den richtigen Moment zu haben. Zum Beispiel, wenn sich zwei Menschen unterhalten oder anschauen, oder wie gerade jemand schaut.
Außerdem habe ich beim Fotografieren gelernt, dass man die Schönheit oder Attraktivität eines Menschen manchmal nicht gleich wahrnimmt, aber man kann sie entdecken. Das ist immer wieder ein besonderes Erlebnis.
Fototechnisches
 
Die letzte Zeit habe ich keine neuen Bilder mehr fotografiert, sondern mich damit beschäftigt, wie ich alte Negative mit einer selbstgebauten Reprovorrichtung digitalisieren kann. Ich werde wahrscheinlich hier auf Steemit manchmal ein Foto posten. Das kann dann durchaus ein Bild aus der "echten Schwarz-Weiß-Zeit" sein, also aus bewegten Zeiten ;-)
Meine Bastelei an der Reprovorrichtung wurde jäh unterbrochen durch einen Freund @afrog aus Hanau, der mich zu einem Steemit-Schnupperseminar eingeladen hat.
Steemit
 
Seit dem ersten Seminar vor 5 Wochen habe nichts mehr anderes getan, als mich mit Steemit, Kryptowährungen, Kryptobörsen und dem ganzen Drumherum zu beschäftigen. Zum Glück muss man Vieles davon nur einmal lernen.
Denn in erster Linie habe ich vor, Euch die ein oder andere "Tagesgeschichte" aus meinem Leben mit sehr vielen Jobs, Begegnungen und Erlebnissen zu erzählen in der Hoffnung, dass diese Geschichten Euch amüsieren und zum Schmunzeln bringen werden.
Bis bald
Liebe Grüße, Werner = W. = @double-u

In photography, I love to have the look for the right moment. For example, when two people are talking or watching, or just how someone is looking in this moment.
In addition, I learned when photographing, that one sometimes does not perceive the beauty or attractiveness of a human being at the first moment, but one can discover it. This is always a special experience.
Photo Technical
 
The last time I did not photograph new pictures, but I was busy to digitize old negatives with a self-built reproduction device. I'll probably will post a photo here on Steemit in future. This can be a picture from the "real black and white time", so from moving times ;-)
 
 
My tinkering at the repro apparatus was suddenly interrupted by a friend @afrog from Hanau, who invited me to a "Steemit-Schnupper-Seminar" (this is a test lesson).
Steemit
 
Since the first seminar five weeks ago, I did nothing else than to deal with steemit, crypto currencies, crypto exchanges and all the things round about this themes. Fortunately I have to learn a lot of things only once.
First and foremost, I intend to tell you one or another "day's story" from my life with a lot of jobs, encounters and experiences in the hope, that these stories will amuse you and make you smile.
See you soon and best regards
Werner = W. = @double-u