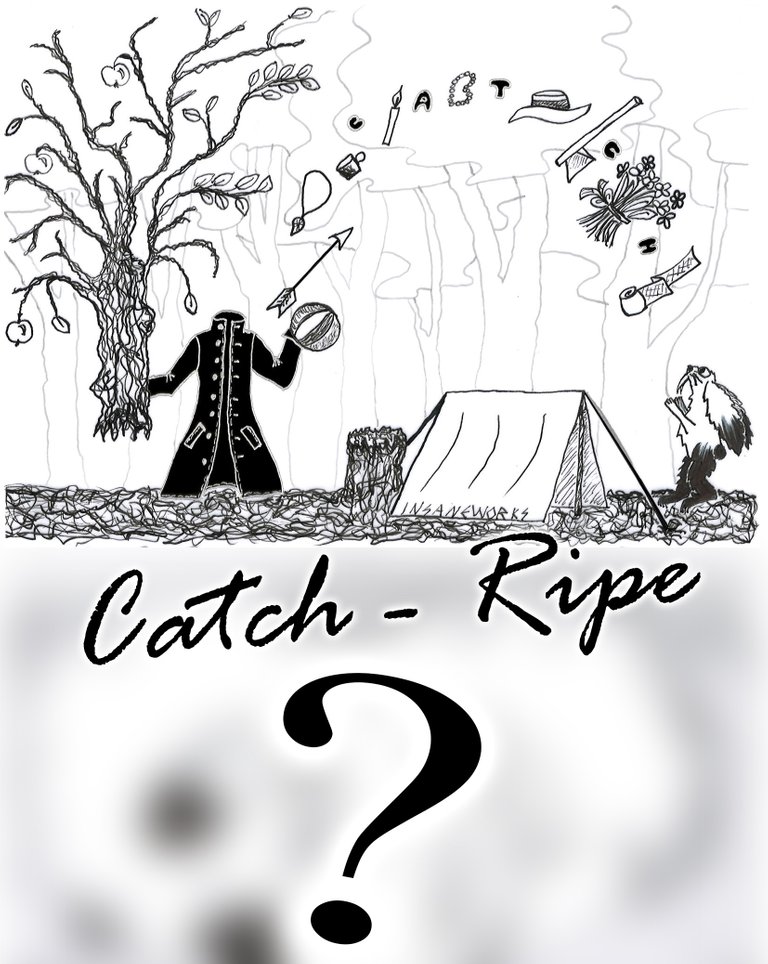 Story continues
Black Betty lifted the tree trunk as Rachel rushed over to the furry creature.
"What should we do Betty, what should we do?!" Rachel panicked, "Does he need some cover from the sun? Medicine? Bandage? Water?"
Black Betty gave a tent to Rachel which she quickly sett up. Betty continued throwing different stuff from his pockets to help Rachel out.
"Flowers... perhaps later... ball... no... Betty! If you have any magic pills or potion to cure everything, that would be nice... Yes! This must be it!"
Rachel caught a medicine bottle and a bandage roll. Gently she gave medicine to their patient, poured some of it to the bandage and wrapped the bandage around their patients head. Now all she could do was wait.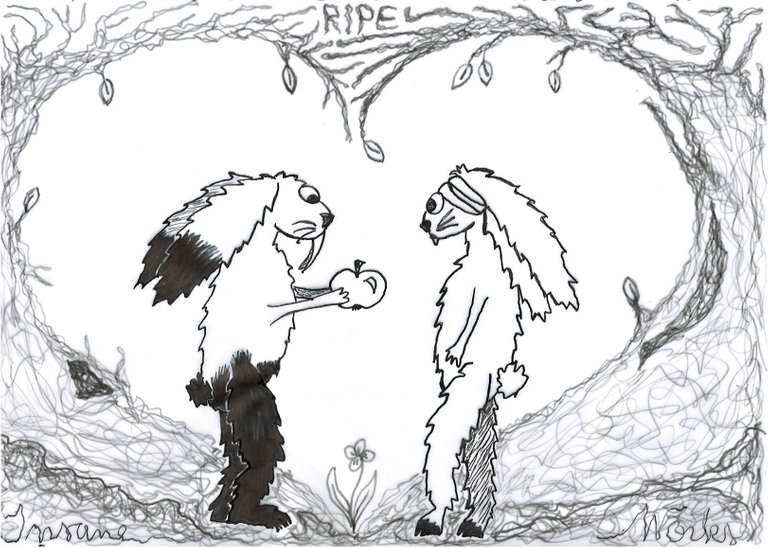 After two long hours he opened his eyes and stood up. Rachel took an apple from Black Betty and said:
"Hello beautiful. I'm Rachel."
He smiled to Rachel and answered:
"Hello there. My name is Wilson K. Leanlegs."
To be continued...
Yes. To be continued because there's always the family photo album that Rachel can show you and then there are the vacation dia slides that Wilson will have to make everyone watch, willing or not willing to see. Perhaps a power point presentation of the family tree to come and then of course at some point there's the offspring going wild with their Instagram, TikTok and Snapchat accounts. Oh, the countless ways to continue this story. Let's hope it's not all just empty promises from my side.
Previous parts
1-4, 5, 6, 7-8, 9, 10, 11-12, 13-14, 15, 16-18, 19-21, 22-23, 24-27, 28-29
Wow! Black Betty really has proper Eega Beeva pockets!
Used ink diluted with water on both images with the background trees. Looks little bit like pencil drawings. I should have used a different type of pen, perhaps a calligraphy pen head so that the background trees would have had more personality in them.
Black Betty got to keep his negative color although Rachel is gradually starting to turn white again. I have a problem calling Black Betty anything else than he, although he is a coat and named Betty. I think only he fits in this case. Not it or she. Anyway, the final image has gone through Photoshop and some parts of it got negative colors. My opinion is that Black Betty can never be white and that's that.
Rachel on the other hand tried to grow some balls. Or A ball as you can see from the last two photos from the drawing process sett. A little bit upper ball, but ball nevertheless. She certainly did grow balls during the story, but I really didn't want it to be this literal. Thank you dip pen for not working with me, but against me. Managed to save it though, thanks to a near by tissue paper and of course with the help of Photoshop. The god that has a final say in my work. No visible balls for you Rachel, only spiritual ones.
Sketches.
I think after 31 days of Rachel's story, the time was pretty ripe for this to happen. :)
Twitter: