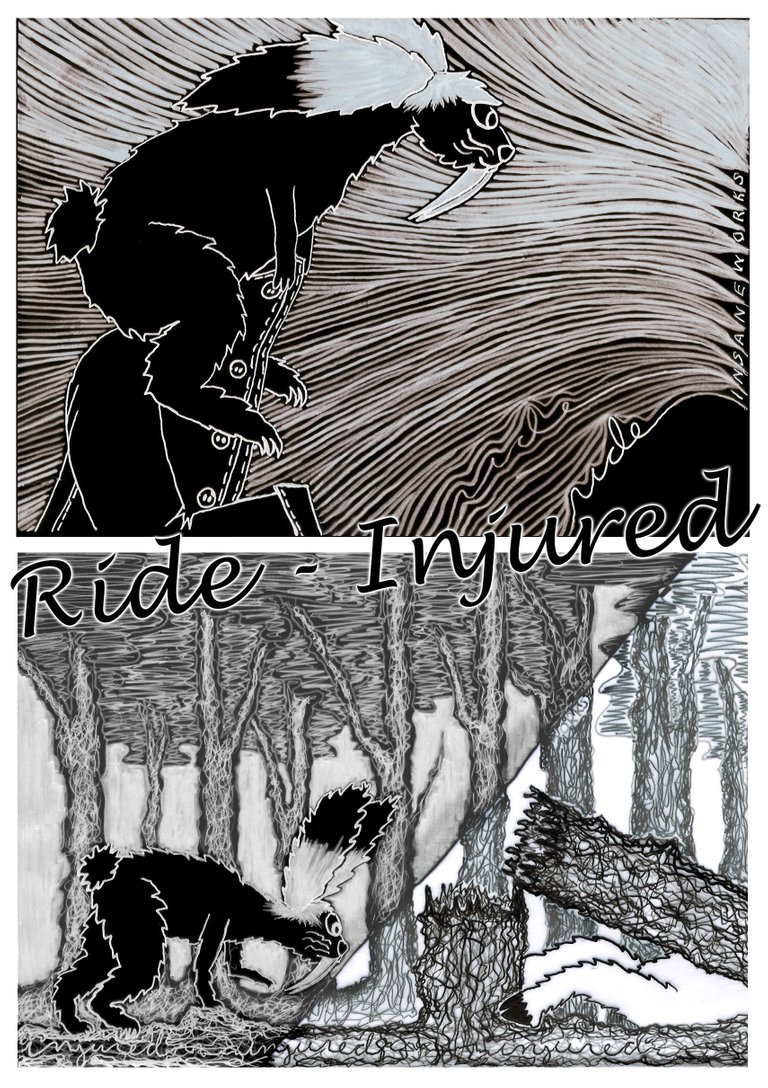 Story continues
Rachel had said goodbye to little girl with a heavy heart, but at the same time she also felt a little bit enthusiastic about the days to come. Actually now that Rachel thought more about the future, she was really exited to see what it might hold. She decided to give a proper name for the coat and shouted: "Run like the wind, Black Betty!"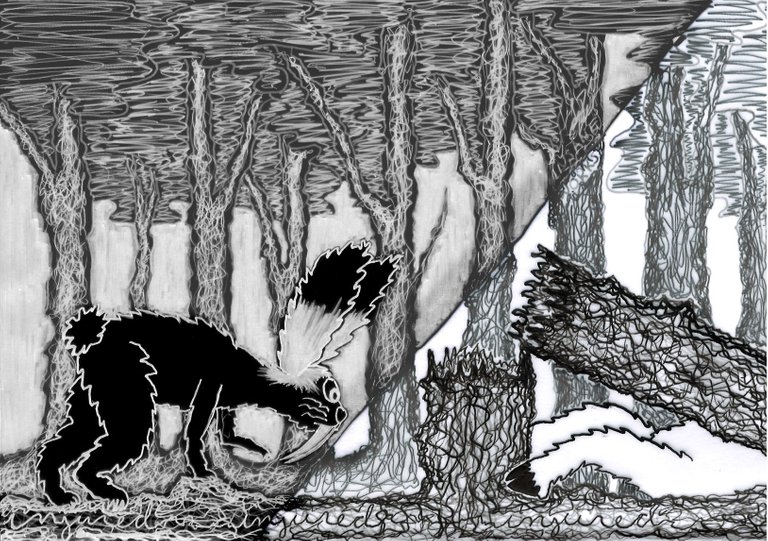 After several hours of dashing through fields, forests and over mountains, Black Betty slowed and stopped. Rachel jumped down, stretched her legs and was just about to ask why Black Betty had stopped, when she heard a weak moan. She turned around and saw something white and furry under a fallen tree.
"Black Betty!" Rachel shouted. "Help!"
To be continued...
Previous parts
1-4, 5, 6, 7-8, 9, 10, 11-12, 13-14, 15, 16-18, 19-21, 22-23, 24-27
Ha! I actually like how the Ride turned out. The final, negative colors version. Sure Rachel has a weirdly long neck and the fangs seem to start slightly from a wrong place, but she looks fierce!
I used watery ink in the Injured background forest and the tree trunk, which looked really good, but I ended up ruining it because I thought the background trees needed more. More messy lines. More! More! More! oops... Because my intention was to invert only part of the drawing negative. Rachel's side. So the trees needed to be different color than Rachel. Tried to save it though. Didn't quite catch what I aimed for. But I'm definitely gonna use the watery ink again and do the simpler trees as there's still two drawings to go!
What did I write? ucle? ricle? My handwriting d:s look like cl:s.
Here are the sketches and the inked versions before inverting to negative colors. Oh, and before fixing the floating tree. Do you see it? :D
Instagram:
https://www.instagram.com/p/B4PW6t-h86T
and
https://www.instagram.com/p/B4PWh8Fhoch