Democrats need to vote for a republican to defeat Trump. That's MSNBC's conclusion here. Is it possible that the mainstream media have completely lost their minds? It sure looks like it.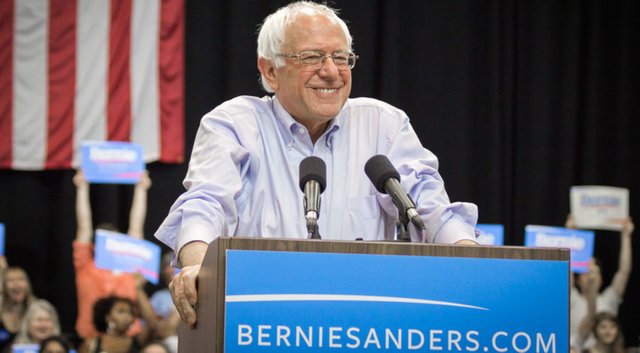 Image by Nick Solari - source: Flickr
MSNBC is supposed to represent the progressive wing in the traditional media; they effectively act as a propaganda channel for the Democratic party establishment, much like Fox News plays that role for the Republicans. Yet MSNBC is on a regular war-path against the only progressive candidate in the field, and progressive YouTube anchor Krystal Ball receives a warm welcome at Fox and given a platform to promote the Sanders campaign; up is down and down is up. Or is it..? In my humble opinion all this is just another sign of the awakening class consciousness that pits the working class against the elite, slowly replacing the propagandistic divide that pits progressives against conservatives.
SHOCK: Krystal Ball CONVERTS Fox News Host Tucker Carlson ?
Now that Bernie effectively won the first two rounds (he also won Iowa, no matter how the corporate media spins it), it's becoming more and more difficult to control the narrative; they're desperate and it's showing. The first thing they do is declaring New Hampshire a victory for... Amy Klobuchar. She did over-perform, finishing third with twice as much votes that either Warren or Biden managed to get, so there is a story there. But the main story is of course that a democratic socialist has won the first two rounds by popular vote in the most capitalistic country in the world! Second, they will once again declare Pete Buttigieg as a winner of sorts because he only lost by two percentage points. Note that both Klobuchar and Buttigieg have almost no support at all among people of color, and that the first two states are 90% white; they both have no realistic path forward to become the nominee, according to every poll ever published at least. They still refuse to acknowledge the fact that Bernie Sanders, a self described socialist, is the current front-runner.
Bloomberg presided over the infamous "stop and frisk" policy as mayor of New York. He endorsed Bush and still supports the war in Iraq. He stopped a raise of the minimum wage in New York as mayor. The only reason he's even in this race is his wealth; he spent hundreds of millions of his own dollars to flood the airwaves with ads. Bloomberg is in fact a "Republican-light." Trump won as a wealthy Republican, and it looks like the people at MSNBC think that the Democrats need their own wealthy Republican to beat Trump as they're increasingly touting Bloomberg as the one to stop Sanders. Really, if Democratic voters really believe they need a billionaire who buys his way into the race, I hate to say it, but then they deserve four more years of Trump, which they'll get if they make Bloomberg their candidate.
Krystal Ball dismantles media's outrageous coverage of Bernie's win
This madness won't stop I'm afraid; the establishment class will stop at nothing to prevent Bernie from becoming the nominee. On one occasion last night MSNBC anchors were discussing the possibility of a brokered convention if Bernie has a plurality of state delegates, but not a majority of more than 50%. Under normal circumstances that would automatically make Bernie the nominee: the one who gets most votes and delegates wins. But the MSNBC anchors were openly and unashamedly discussing how the Democratic party would stop that from happening, how they would deny the will of the people... To those of you who want the change Obama and Trump failed to deliver on, the ones who believe regular working people deserve more than they're currently getting, all who believe healthcare is a human right and not a privilege, and believe that students shouldn't start their professional lifes with a crushing debt; there's a long uphill battle ahead, so don't let down!
MSNBC: We NEED Mike Bloomberg To Beat Bernie Sanders
---
Thanks so much for visiting my blog and reading my posts dear reader, I appreciate that a lot :-) If you like my content, please consider leaving a comment, upvote or resteem. I'll be back here tomorrow and sincerely hope you'll join me. Until then, keep steeming!

Recent articles you might be interested in:





Thanks for stopping by and reading. If you really liked this content, if you disagree (or if you do agree), please leave a comment. Of course, upvotes, follows, resteems are all greatly appreciated, but nothing brings me and you more growth than sharing our ideas. It's what Steemit is made for!





I am a proud helpinaut! @Helpie is looking for new members! Helpie has been growing nicely and we are always on the lookout for new valuable members. We are very supportive and community oriented.