I am not going to stop fucking saying it, Bitcoin Dev team is owned by Big Banks!!!

You all deserve to know the truth. I am going to continually talk about this until some big influencers start talking about it.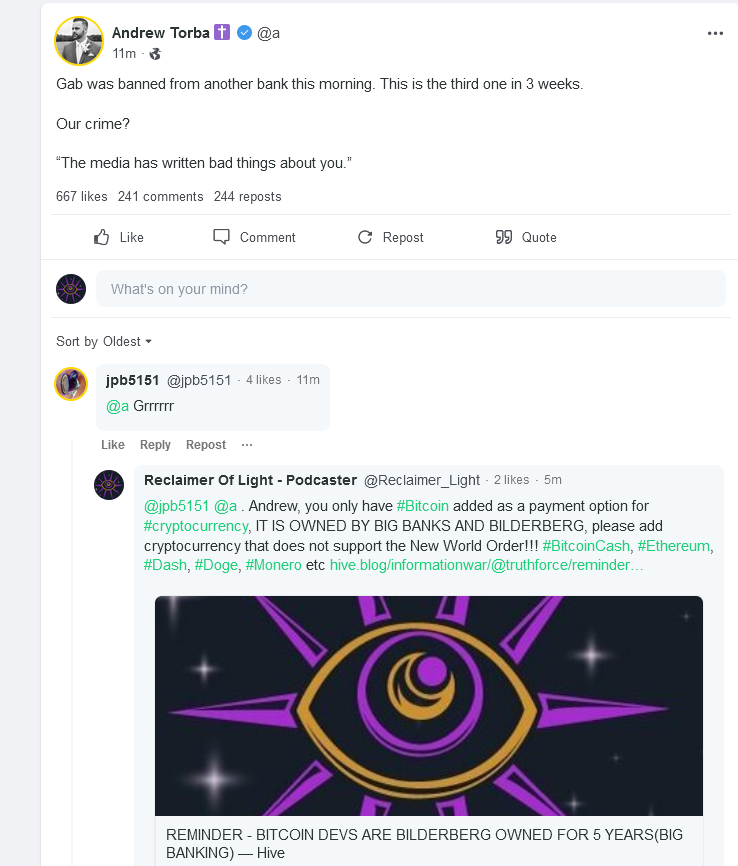 Everytime Andrew Torba makes a post on Gab about cryptocurrency of banking stuff I am calling him out for supporting Bitcoin. He claims banks keep banning them from using their services, so why the fuck are you using bitcoin??? So he does all this work in order to fucking make "alt-tech" platform for free speech, and figures out how to do this all and run servers blah. But he can't be bothered to learn anything about bitcoin, the one crypto he accepts as payment?
People are extremely misinformed about what Bitcoin was and is currently. Bitcoin was a project stated anonymously by "Satoshi Nakamoto", which was a person or group of people who are speculated to be many different people or the CIA/FBI honeypot trap. Whether it was some real anarchist person or not it doesn't matter anymore. Bitcoin is as establishment as you can get in the crypto world. The last 5 years Bitcoin dev team has been BANKER OWNED evidence seen here -> https://hive.blog/informationwar/@truthforce/reminder-bitcoin-devs-are-bilderberg-owned-for-5-years-big-banking
Tons of info and resources here
EDIT: got some more good info and links from someone to add
https://np.reddit.com/r/btc/comments/hgpjph/the_pitiful_state_of_bitcoin_cash_transactions/fw5qczk/
https://np.reddit.com/r/Bitcoincash/comments/8lozww/how_bitcoin_btc_was_hijacked_and_why_bitcoin_cash/
https://np.reddit.com/r/btc/comments/83vgdm/a_collection_of_evidence_regarding_bitcoins/
---
---