The liberal Governor in Virginia is bringing in military trained police and Military hardware; to assault a peaceful protest composed of his own voters!
Image from website:
https://www.grrrgraphics.com/virginia-democrats-want-to-take-your-guns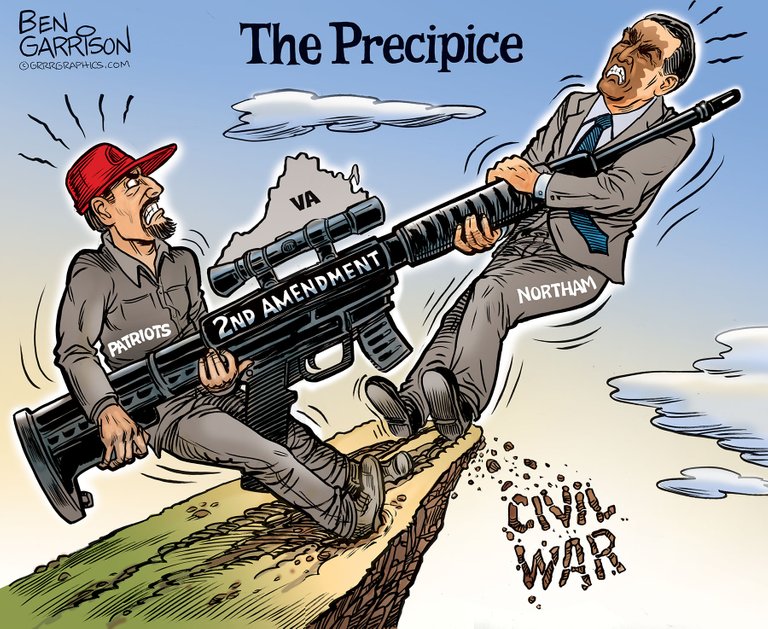 Article on War to begin in Virginia:
https://www.teaparty.org/scenes-from-virginias-capitol-militarized-police-arrive-in-richmond-425236/
First in this article you will see the Military Hardware he is bringing in for this planned attack: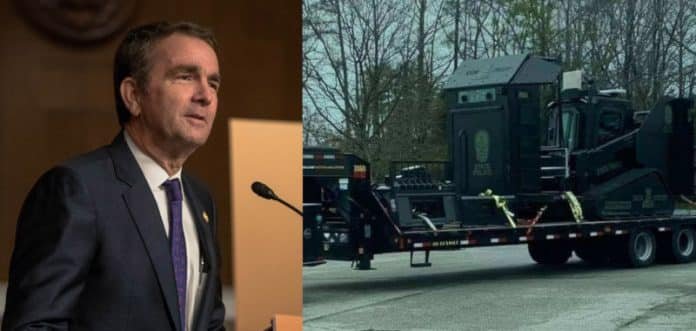 This is the best argument against militarizing our Police Forces! They do NOT have the same training and restraints against use of the military against Civilians, per our Constitution! The Military, in this exact same position, would refuse this illegal order....
Following a temporary emergency declaration by Governor Ralph Northam, large elements of the Virginia State Police have been photographed arriving in the capital city of Richmond, bringing with them a ROOK armored SWAT carrier.
The temporary emergency has been issued ahead of Monday's Lobby Day Demonstration, in which tens of thousands of 2nd Amendment activists are expected to descend on the State Capitol in protest of Democrat-sponsored gun control and confiscation bills making their way through the newly-blue state legislature.
Governor Ralph Northam thinks he can follow Soros's orders, and attack US Citizens; and retain control of Virginia! He needs to be removed for violating his Oath of office, as he is demonstrably ignoring the Constitution of the State of Virginia!
As previously reported by The National File, Northam's emergency declaration has been issued with the intent of disarming protestors, something the event's organizers, the VCDL, say violates Virginia law, and are currently fighting in court alongside Gun Owners of America.
In addition to the arrival of militarized police, recent photos show the construction of fencing around the Capitol building – fencing that appears to act a pen, meant to contain Lobby Day attendees in a confined space.
Tomorrow will tell the tale! Will the free citizens of Virginia be allowed to peacefully protest their government's new direction; or will they have the jack boot of a tyrannical Governor on their throats by noon? Supported by a pseudo military force of Police; not inoculated about the illegal orders for use of force, against US Citizens!
This is a dark day for our Republic, and a blow against Freedom across the Board!
Militarized Police Move into the Virginia Capitol and set up a "kill zone" fencing system to attack peaceful protesters!
Here is a video from a website I trust, and have found truthful:
https://www.infowars.com/scenes-from-virginias-capital-militarized-police-arrive-in-richmond/
This may be the cause of the second American Civil War, and it could begin tomorrow, SMH! Idiots in Office that want us all dead!
Pray for the Patriots is Virginia, and for the enlightenment of her governor!