The real cost, and benefits from Elizabeth Warren's free college vote buying plan.The DNC's debates are one big give away promise (in exchange for votes) with NO thought on where that money will come from!
Some of the funding will be acquired by taking funding from our already sub standard K-12 Education system. Nothing better than stealing our children's future to buy some votes!
Image from the article:
https://gunningforfreedom.com/free-college-only-benefits-14-of-americans/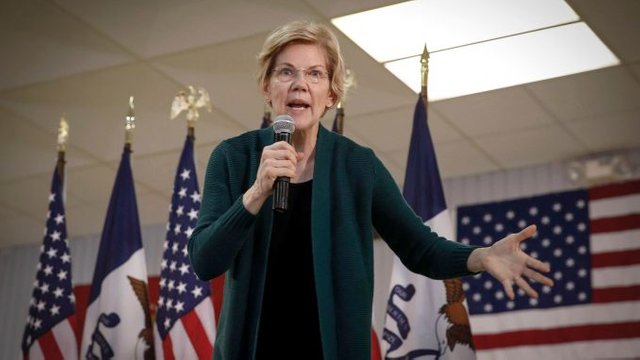 Article with the cost and benefit numbers:
https://gunningforfreedom.com/free-college-only-benefits-14-of-americans/
They point out that the "debates" are a give away contest. Who can promise the most free stuff?
If one thing is clear about the over-crowded but quickly thinning Democratic presidential field, it is that everyone and their mother wants to give America all the free stuff possible. Among the policies proposed, there is to be free healthcare, free education, free housing, government-mandated incomes, and even free childcare.
It begins to break down when we look at what these programs are, and what they really cost.
But the problem lies in the application of these policies. Yeah, sure they sound good, and I'm sure these candidates have the best intentions for America. But what if they don't work? All of these plans require some significant changes to be made to our country and our economy. What if those changes are made and no one really benefits? Or worse yet, what if the price of these plans isn't worth benefits?
That is precisely what is being determined by the National Bureau of Economic Research or NBER.
First up, the free college tuition plans of frontrunners Bernie Sanders and Elizabeth Warren. And it's not looking good.
Now here is where it begins to get ugly, when we try to fund this program....
However, a new study completed by NBER found that if those plans were to be implemented, over 86 percent of American households would not only not benefit but would incur losses.
It said, "free-public-college policies, mandatory or subsidized, would decrease state expenditures on and hence the quality of public education."
As the study says, "The idea of 'free' public college is politically seductive. But of course, a college education can't actually be free – someone must pay for it." And if the government is implementing the plan, then the government is also paying for it.
Which means that WE are paying for this "free" educations, and experience shows that any government program will waste three times as much as it would have cost any other way! They also are famous for attaching strings to everything they do. When they promise free college, it will be for a limited number of people; at a bone crushing cost.
So, how do we pay for this exorbitant expenditure on education?
There are two options. The federal government could make the plan mandatory, forcing states to participate, which would cause the state government to help with costs. States would be forced to come up with the money in an already tight budget. State taxes would be raised first of all. But in addition, funds would have to be diverted from early education needs like teacher salaries, new and much-needed school equipment, and even curriculum costs.
Essentially, education standards in every state would be lowered so they could pay for "free college."
So what's the other option? Well, instead of states paying, it would be Washington. The federal government would subsidize the states to "encourage" them to give free tuition, which is pretty much a nicer way to say mandatory.
While this would take such high demands off of the state, the federal government would still need lots of money to make it happen. This means raising taxes for citizens. So instead of paying the college or university for your education, you are paying the government.
In either case, Americans end up paying higher taxes and have education standards lowered.
Sounds like a perfect liberal plan, costs a lot, and destroys the education system itself! It also forces the states to lower the college costs, by transferring some of the costs to the states!
Yuichiro Kakutani from the Free Beacon said, "Warren's plan would force state governments to withdraw resources from public K-12 education to fund the free college program, worsening the overall quality of education students receive before college."
"The lower education quality, along with higher tax rates, would contribute to a decline in welfare for U.S. households."
But more people would get degrees, right?
However, even that isn't certain. Research completed by Harvard University on an existing free college program in Massachusetts for high-performing students found that fewer students ended up finishing their education. And the NBER study confirmed this with their research.
And the end result? We find that the "Free" college extends only to 14% of the people going to college, the rest don't benefit, obviously a faulty system!
The study concluded, "Over 86% of all households would lose while about 60% of the lowest income quintile would gain from such policies." Just to be clear, that means only the lowest 14% of America will benefit.
Taxes will go up to pay for it, and most people will not benefit, PERFECT liberal program, it is FUBAR before it begins!