Kapan Metode Kualitatif & Kuantitatif Digunakan? [My Youtube Channel]
Dear Steemians
Semoga kita semua sehat dan tetap bersemangat ya!!!
Oke, bertemu kembali dengan Channel Youtube Bang Edukasi yang kiranya sangat beredukasi.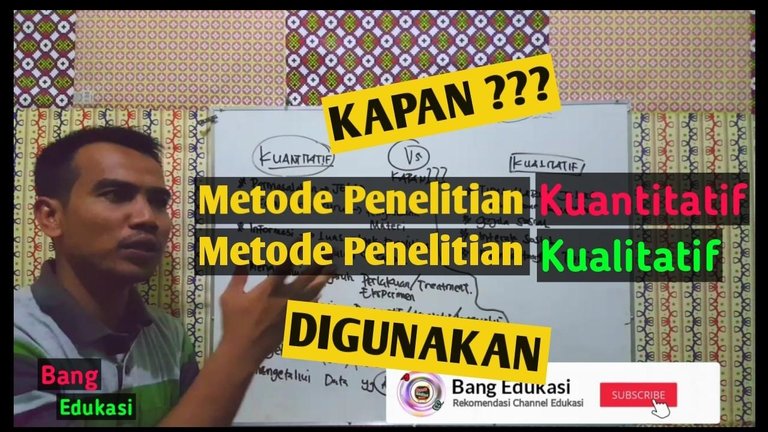 Baiklah, seperti biasanya, saya dengan channel Youtube Bang Edukasi ingin berbagi sedikit pengetahuan dan pengalaman tentang metode penelitian pendidikan dan pada kesempatan ini adalah penjelasan lebih lanjut dari video-video sebelumnya.
Sebagaimana kita ketahui bahwa antar metode penelitian kuantitatif dan kualitatif memiliki paradigma yang berbeda karena berangkat dari filsafat yang juga berbeda, dimana kuantitatif berdasarkan filsafat positivistik sedangkan kualitatif dengan post-positivistik.
Kedua perbedaan tersebut tidaklah harus dipertentangkan karena keduanya memiliki kelebihan dan kekurangan. Pertanyaan yang seharusnya dipertanyakan adalah kapan metode penelitian kuantitatif digunakan dan kapan metode penelitian kualitatif digunakan???
Penasaran dengan penjelasannya, silahkan tonton video berikut di bawah ini:
---
Steem on...
Regards:

Why should post via
steem platform???
| Basically, you do the same activities as on Instagram, Facebook, Twitter etc.!!! | The only difference! for once you can earn a nice income on the side!!! |
| --- | --- |

Please
sign-up
for a free Steemit account.
CLIK HERE, Wondering how Steemit works, read STEEMIT FAQ?


Download eSteem-App today if you haven't
Enjoy eSteem for:

[email protected]
🌐eSteem.app | 👨‍💻GitHub | 📺YouTube
✍🏻 Telegram | 💬Discord | Patreon


---
---