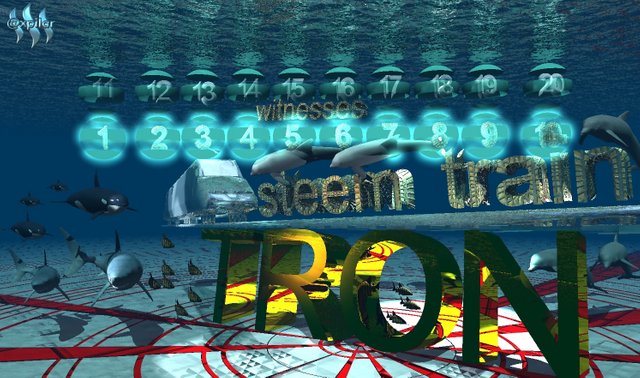 The Steemit platform is generating a new transformation, an evolution product of the fusion of two great forces, Tron - Steemit who are showing interest in creating a modern structure for the benefit of all who inhabit the Steemit ecosystem, taking into consideration the range of cores that exist in the platform.
A new order of operation, new roles and greater participation are the cards being played to experience the growth of the platform. Tron will be carrying the greatest burden to allow the Steem Train to go on, while everyone else gets on it.
Allied fish and some rebels are looking forward to what this new structure that seeks to decentralize the communities but maintaining constant communication will bring, seeking to organize the dynamics of the platform making efficient use of the witnesses.

La plataforma Steemit está generando una nueva transformación, una evolución producto de la fusión de dos grandes fuerzas, Tron – Steemit quienes están mostrando el interese de crear una estructura moderna para el beneficio de todos los que habitan en el ecosistema de Steemit, tomando en consideración a la gama de testigos que existen en la plataforma.
Un nuevo orden de funcionamiento, nuevos roles y mayor participación son las cartas que se juegan para experimentar el crecimiento de la plataforma. Tron estará soportando la mayor carga para permitir que el Tren Steem no se detenga, mientras todos suben en él.
Peces aliados y algunos rebeldes esperan con ansias lo que pueda traer esta nueva estructura que busca descentralizar a las comunidades pero manteniendo una comunicación constante, buscando organizar la dinámica de la plataforma haciendo eficiente el uso de los testigos.

Photographic references are a practical way to create stories. This time I leave a short fictional story based on an image of the author's friend @xpilar that caught my attention. I hope you liked it.
This is an Invitation to join #ccc for Guaranteed 👍 Daily Income 💵 and Payout 💸 for Newbies (2.0) 🐟 🐜 🐛 in #ccc 👣 and Follow 👣 the Honor Code 🏅 - the Creed (Conditions and Limits Inside)
AND
the latest update <<< please click to read.