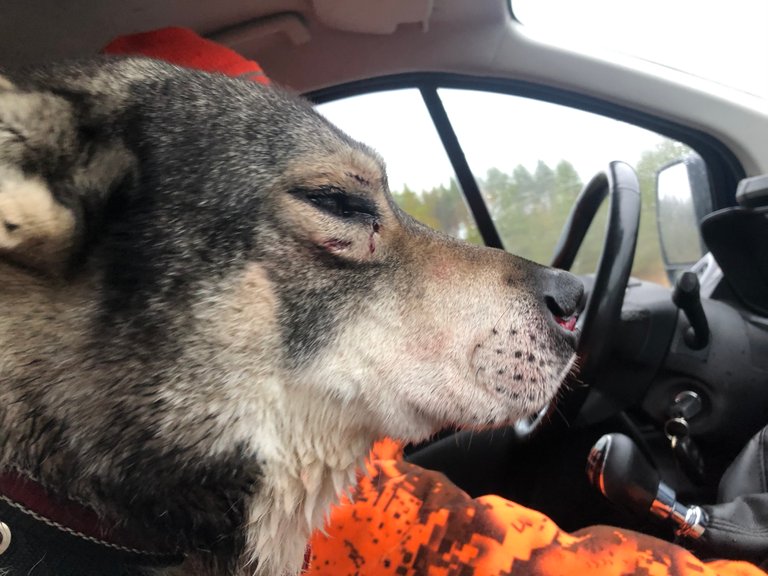 We were off for another hunting day just at sunrise and everything went well for a while. The doggo found moose immediately and we went after them. Saw the big mama moose and its calf but they were too far into the bushes to be taken a shot at.
They noticed us after a while and off they went again, with the dog trailing after. We rotated to a different spot and started wondering after a while why the dog wasn't barking anymore, that would mean the moose were running, or that the dog lost them, both of which were unlikely at this point.
The dog was near a small road and we drove towards it and there he came meeting us at the car. Usually it's really hard to get him into the car as all he wants to do is track moose when he find some, now it hopped right into the car without giving us a hard time. I immediately noticed he had a busted nose and scratches under the eye. So no way he'd be let out into the woods again, off to home to assess the situation.
We figured he must have gotten too close to the big mama moose and it probably kicked him. That can happen but usually this one knows better than to go too close. We got the dog inside and noticed along with the wounds in his face, there was a mark on his behind leg. He wasn't being careful with the leg and let me touch it without pulling away, so that's good. Other than being a bit more docile than normally and clearly tired, it was acting just like it always does. The nose looks a bit grotesque but the dog was still wagging his tale and eating with great pleasure, so we think he's going to be just fine. Sadly the dogs hunting season is over now, I bet he is way more bummed about that than dad is.