In the northern part of Pickens County, South Carolina (USA), is a community called
Pumpkintown
, little more than a crossroads. When I was a child, there was a small country store on one corner of the intersection and a house perched on a hill diagonally across the road. The store expanded to add a small cafe several years ago. I've never stopped there, but have passed through the intersection countless times over the years. A rustic produce stand is located at another corner of the intersection, and has been there a few years. A year or two ago, Dollar General opened a small store in the fourth corner of the intersection and does a booming business, as it is the only such store around for miles and miles.
A short distance of 2300 feet (700 m) from the crossroads of the community is an old brick building that housed S.B. Edens Old Country Store from 1896 to 1952. Adjacent to the store is Sid Edens Road, probably named for the proprietor of the store, and where his homestead was likely located.
Here is an artistic processing of my photo of the place: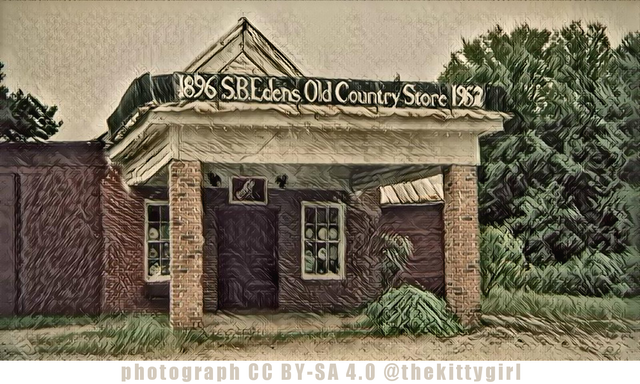 Here is my original shot, just slightly processed to give it a dreamy, vintage look: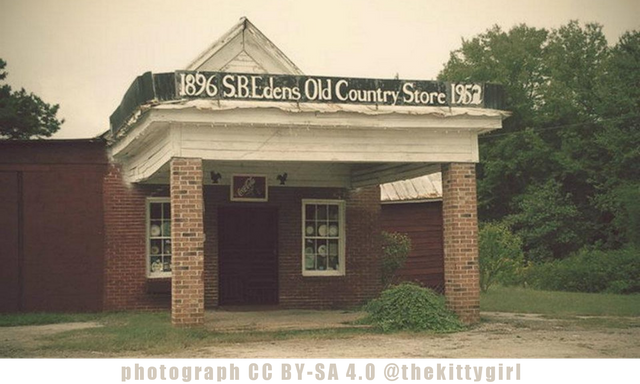 The name of the unincorporated community (Pumpkintown) where this store is located might have been bestowed by an early traveler to the region when he found an abundance of pumpkins growing there. [source]
Pumpkintown is located in the beautiful Oolenoy Valley, and the story of its name is given here:
The name Oolenoy, given to the nearby river and valley, is derived from Woolenoy. In 1743 Cornelius Keith, a settler from Virginia, moved to this area with his family. They were the first white people to live here. Keith formed a treaty with local Cherokee Chief Woolenoy, who had declared this mountainous Elysium the "Land of Grain and Clear Water." Over time, the chief's name was altered to Oolenoy, and the area's natural formations were named in his honor.  [source]
It was comforting to learn that the valley was settled peacefully, with a treaty, as opposed to the way many other parts of this country were settled.
An overview of the Oolenoy Valley is shown below in a screenshot from BING Maps, which shows an aerial photo with the location of Mr. Edens' store marked along SC Highway 8: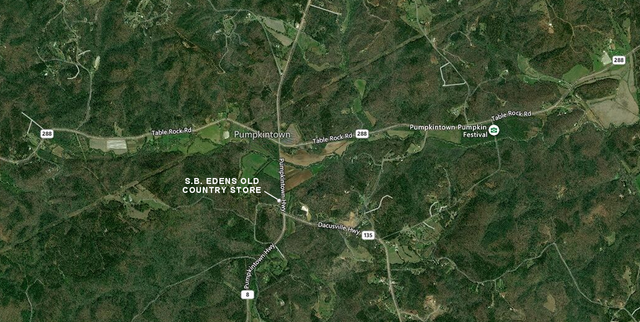 😊

!steemitworldmap 34.996297 lat -82.652400 long Pickens County, SC D3SCR




03-Feb-2020