This morning some good friends came over at 7am to help put frames up! We are so blessed with some good community!
Ini and I have been working hard in the background building frames, but we can't put them up alone. It's a true testament to the power of "many hands make light work" that early in the morning on a Sunday friends come over to help us and get shit done!!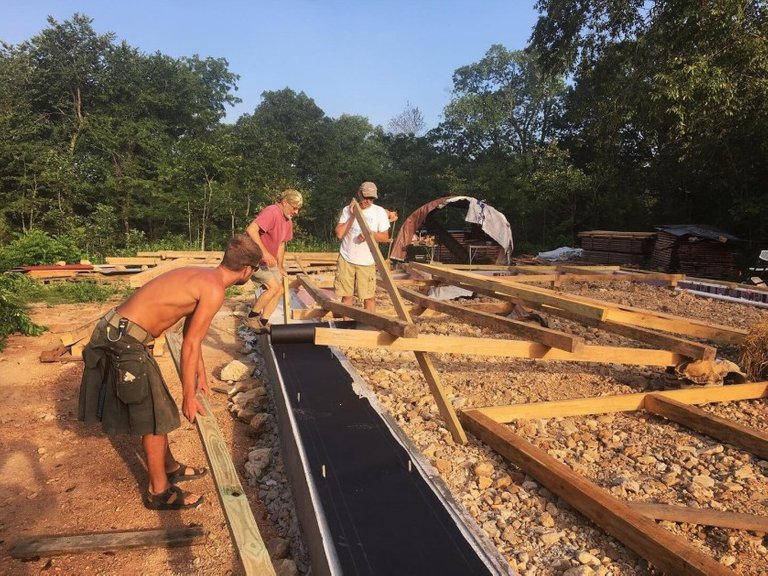 We've been largely working on prepping everything for these major communal pushes. The wood is simply too heavy to lift on our own... we gotta save our backs!
We love that it's local wood and we're trying to use eco-friendly materials as much as possible, but we need materials that will boost the longevity of the building like that tar paper shown above that goes under the pressure-treated sill plate. Not ideal, but we won't have to fix it in 10 years!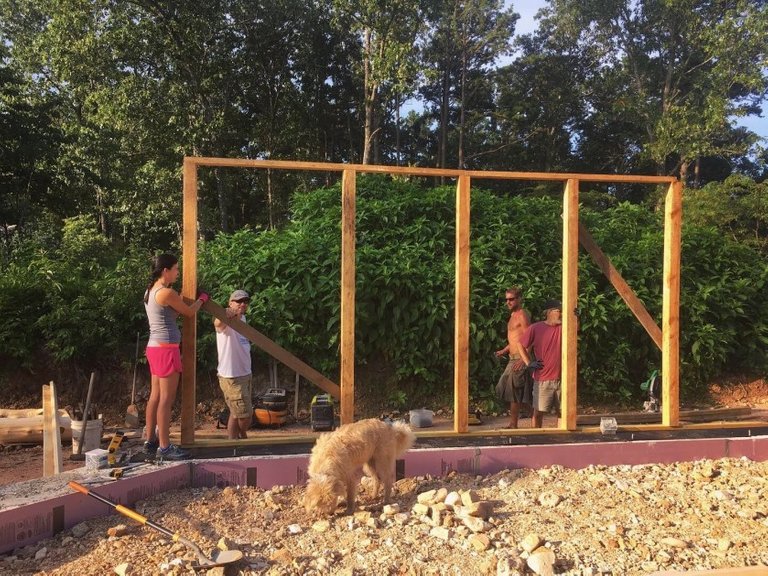 Mindy, Billy & Brian, all local neighbors, came over and we got the first 3 walls up in a hurry as they were already assembled - we just needed the people power. As the nut and washer screwed firmly onto the anchor bolt, I felt something click into place. All of our hard work is paying off and the house is taking shape. So much goes into an endeavor like this and seeing these steps materialize into something increasingly house-shaped is amazing to my eyes.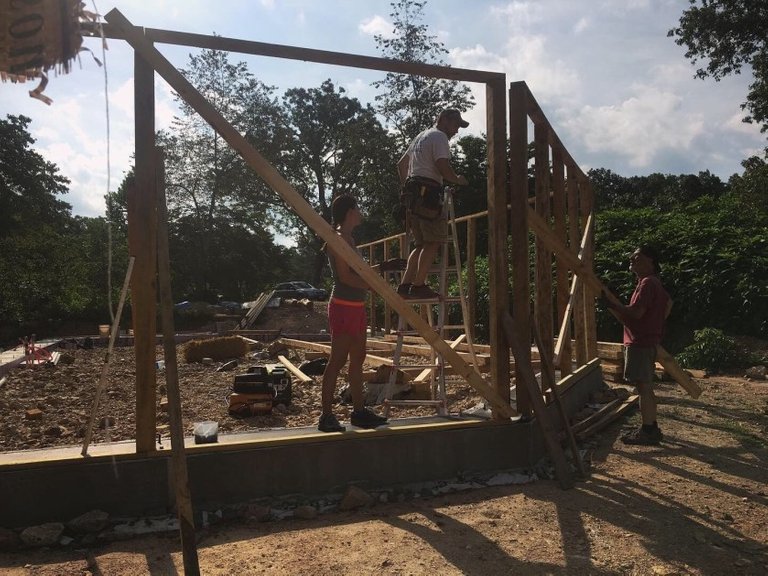 We worked from 7am to 11am. It's simply been way too hot to work into the midday sun.
As our wise old friend Gene told us recently, only mad dogs and Englishmen go out into the noonday sun....
We completed a few more frames (Ini had all of the wood cut and lined up already) and then called it a day and feasted on some cucumbers, tomatoes, cinnamon basil with crackers and potatoes with hot sauce - all from the garden. We feel extremely grateful to be surrounded by such good people.
We're already hankering to get the rest of the ground level frames set up. Hoping to have another work party this week and rock it out.
After that we'll set up the cedar logs we felled and peeled last week and get them onto their pier resting places. Then we can secure the ground story and get started on the second story! Then roof!
It's an extremely satisfying project to build ones own house. Plenty of patience is needed for such an endeavor and we're reminded by many good souls to enjoy the process and not try to rush it along. As goal-oriented individuals who work quickly, we're learning to pace ourselves and take it easier than our minds tell us to. Not everyone gets to build their own house, a good neighbor told us, and he reminded us to enjoy the process. We're doing our best in that regard while also being absolutely stoked to keep moving forward.
Of course the heat slows us down as it's 95 (in the shade) most days so we're limited to the mornings and evenings -- but let me tell ya, Ini does still get out during that midday heat and I'm not quite sure how... mad dog Englishman....
---
Posted from my blog with SteemPress : http://www.ozarkmountainjewel.com/2019/07/21/walls-up-starting-to-look-like-a-house/
---