Yesterday wasn't quite as hot as Tuesday, but it was still plenty unpleasant. The goats were looking uncomfortable when I went to check on them, and I had to show them the shade again. It's like they forget it's there as soon as I leave.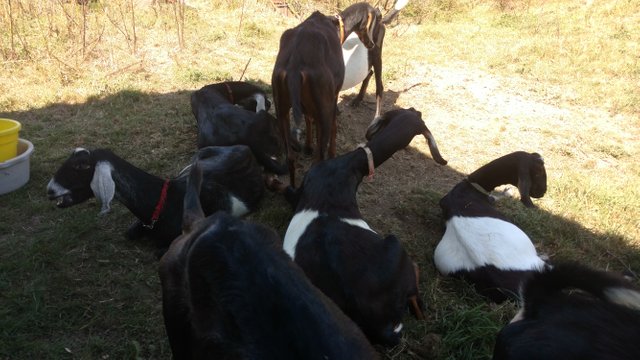 They aren't usually prone to lolling about when I'm there, but they were too hot to care. I gave them fresh water again, although I didn't hose them down, since they were still a little leery of the hosing they got the day before. This next shot is for @melinda010100. I know the animal photo contest was months ago, but I didn't have any sun at the time. Here's Carl's head shot.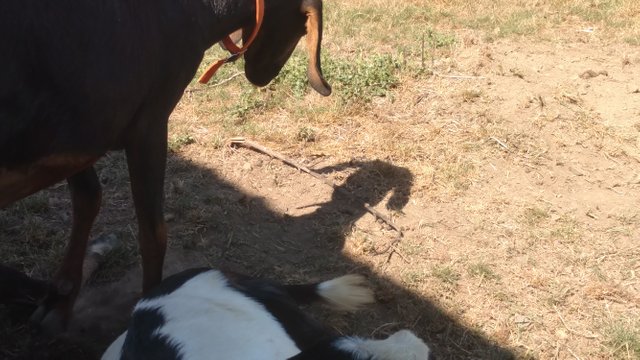 I woke up at 2:00 this morning to the windows rattling. We got a surprise thunderstorm! A surprise both because it wasn't in the forecast and because we very rarely get thunderstorms. This one was a doozy. There was no sleeping through it, so I went out and sat on the back patio to watch the show. When we do get lightning, it's usually the kind that stays behind the clouds and lights them up. Pretty cool, but nothing too exciting. This one was the real thing: giant forked electric beasts flashing for an instant, making me a little blind in their wake. And then the deafening thunderclaps rolling around the hills like the Doppler effect from hell. Either it didn't bother any of the dogs, or they were cowering under the bed. I only saw Trixie, who had been sleeping outside as usual and went in the house to sleep as soon as she saw me. I guess she figured if I was watching over everything she could clock out. It was an amazing hour spent out in the dark by myself, and when the thunder and lightning were further apart, I went back to sleep for a couple of hours.
Today's clouds look only mildly ominous, but aside from a little rain, there haven't been any more theatrics from the heavens.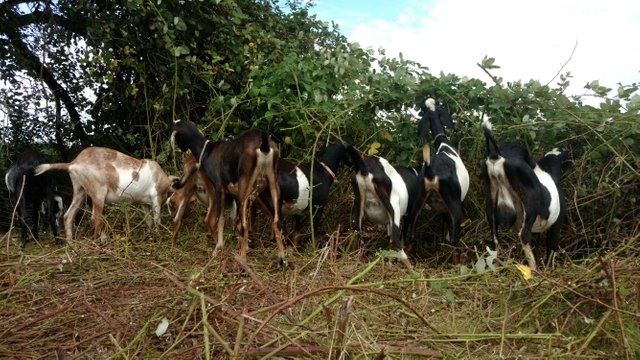 It was much cooler today, so the goats were more comfortable, but they have eaten just about all they can reach. This bank of blackberries is on the edge of a very steep drop-off that goes down to the slough. I spent an hour clipping huge canes and pulling them down where the goats can reach them. I will have to move their fence tomorrow, or cheat and just feed them.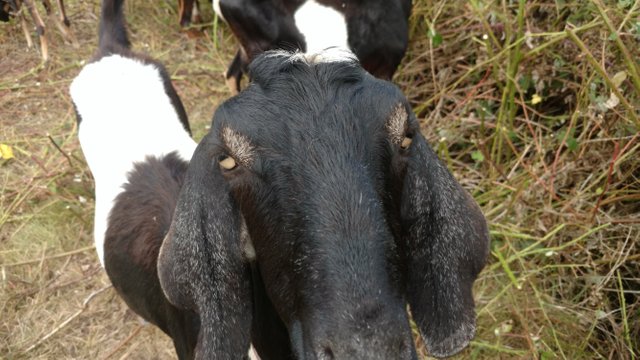 Screech wanted his close-up. He's a little bit of a ham, but I think he looks kind of funny in this shot. Don't tell him I said so.
This is the slough I could see from where the goats are if they actually ate all the blackberries. The funk on the surface of the water is mostly thistle down. The thistles have their moment, but they really muck up the picturesque quality of the water this time of year.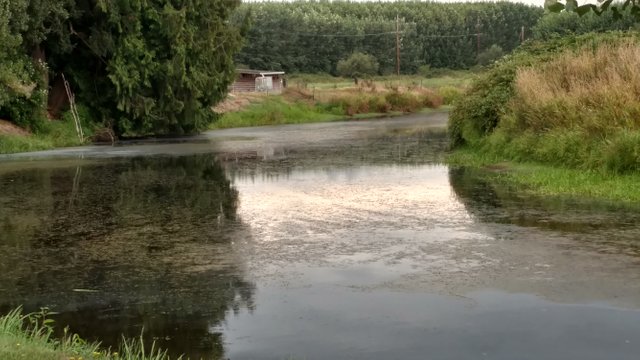 Stay grounded, everyone, unless there's a thunderstorm!