WE HAVE PAW PAW FRUIT TREES
Growing in the wild at our homestead.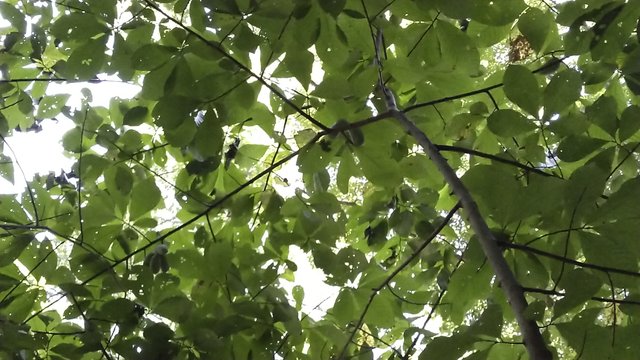 And we discovered during our last trip there that at least a few of them produced fruit!!! If you look close in the picture above, you can see a bundle of them hanging. If you can't see them, here's a better picture...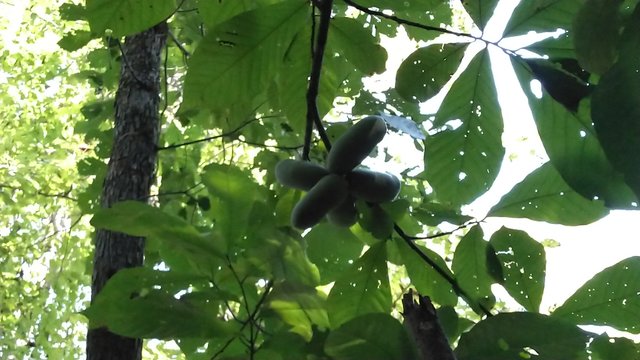 They grow similarly to bananas...they even have a slight banana flavor!
My son and I had made the journey to the spring to collect that days' water and as I filled out jugs and shower bags, I could tell he was growing restless. So I said to him, "It's September, the Paw Paw fruits should be in the trees if we have any. Go see if you can find some."
I had just started filling the jugs again when he let out an excited squeal, "I found some dad! In the tree!"
I almost didn't believe it because had only been looking for a few seconds. And thought for sure he was playing a joke on me. However, I got out of the spring, and made my way toward him. I followed his wide eyed stare and direction his finger was pointed up towards the tree and sure enough he had found some already.
We shook the tree to cause the fruit to drop and collected them. I finished up filling our water containers and we loaded up to head back to camp.
Upon returning to camp we anxiously opened the fruit and prepared for a taste test! Evan wanted to be the first to try it, so he sat down and opened one of the fruit.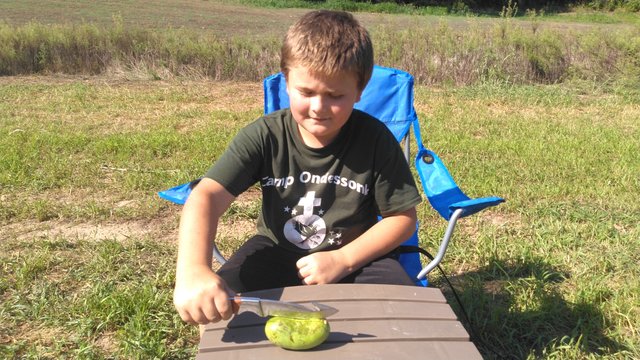 ---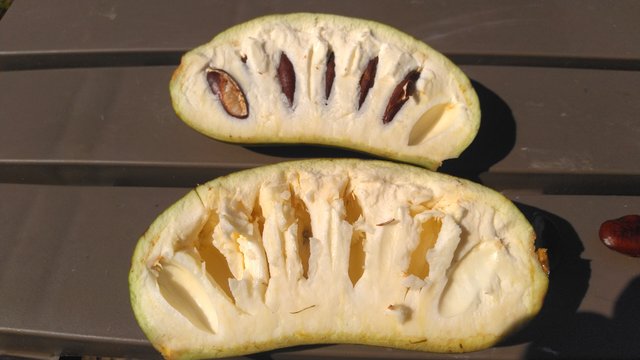 ---
They were delicious, with a taste that reminded us of bananas and custard. Not too bad for a fruit that grows where we live but had never tasted. I think I liked them more then anyone there and ended up eating the majority of them. It is excited to know we have a good source that is so yummy and nutritious growing naturally on our homestead.
We also discovered that we have a medicine plant called echinacea. It is a pretty flowering plants that is great for your immune system and helping to fight of or prevent colds, flus and other illnesses.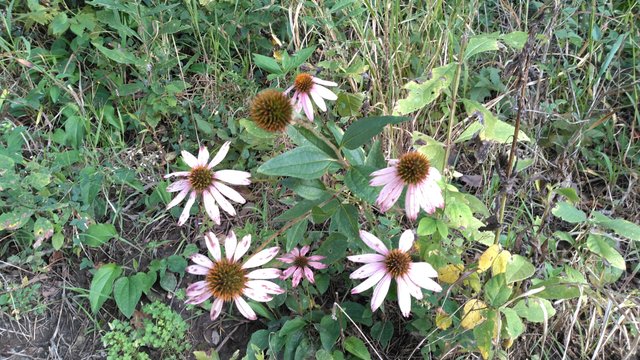 ---
---
I wish you all out there in Steemland a wonderful weekend and send all my love to each and everyone of you. I hope you all are doing well and spreading love everywhere you go!!!