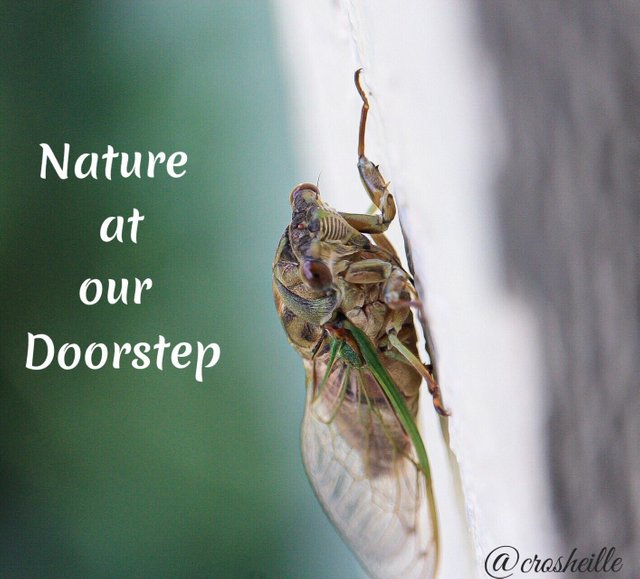 I have always been intrigued by the cicada. One because of the music they make. The males sing their song as a mating call to the females. Another intriguing factor is that we don't see them around often. When we see a cicada it's a special appearance. Lastly how large their bodies are. Every time I see one I wonder what they ate to get their bodies so fat.
We found this guy, along with his exoskeleton, on our porch Monday morning. He was clinging to the wall with no movement at all. I learned growing up that cicadas do not bite or sting so that's one of the reasons I am not too afraid of them.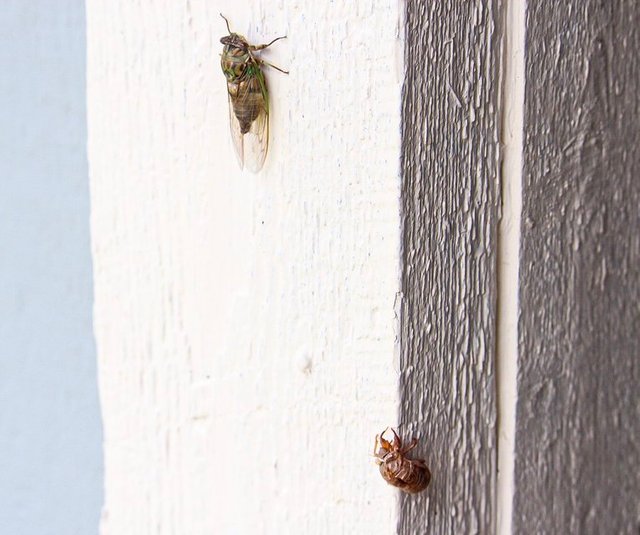 My two year old son thought the exoskeleton was another insect. We explained to him that it was a shedding of the outer layer that covered it's body. We took advantage of this teachable moment and took the time to learn more about cicadas. Homeschool is never closed here, we love feeding our brains.
A cicada has an unusual life cycle. The female places her eggs in the groove of a tree limb that provides shelter and fluids that the young cicada will feed on once it hatches. Once ready, the young cicada will fall from the tree limb and dig it's way into the ground to find roots to feed on. They stay underground for 2 to 17 years actively tunneling and feeding.
After that long period they emerge from the ground as nymphs. Nymphs climb the nearest vertical surface and begin to shed their nymph exoskeleton (also called molt). Free of their old skin, their wings will inflate with fluid and their adult skin will harden. Once their new wings and body are ready, they can begin their brief adult life.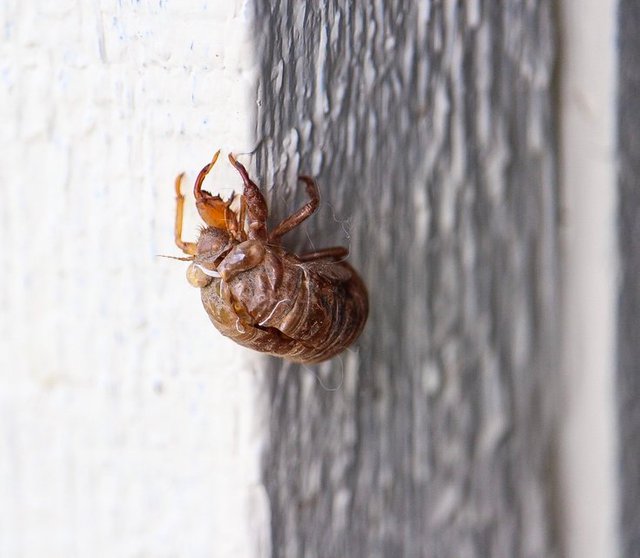 Did you know that the cicada's exoskeleton is used in herbal Chinese medicine? Herbalists use the cast off, mineralized molt in some of their healing recipes. The molt contains chitin, protein, amino acid, organic acid and more.
From the perspective of Traditional Chinese Medicine, it is sweet and cold in nature and covers meridians of lung and liver. Main functions are to dispel wind to promote eruption, relieve fever, relieve sore throat, remove nebula, and relieve spasm. Main uses and indications are wind-heat cold, sore throat, celostomia, unerupted measles, itching caused by rubella, red eye and slight corneal opacity, infantile convulsion, and tetanus. It is sometimes used to detoxify the skin as well.
Hmmmm maybe we should have kept this molt and did some experimental recipes. Nah, I will leave it to the professionals and just enjoy observing the science. Look at those beautiful transparent adult wings!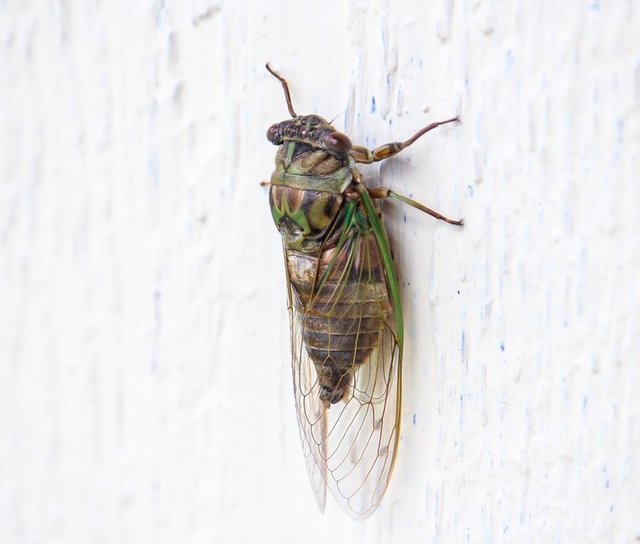 He didn't stay around for long. We checked back outside about two hours later and he was gone. The only thing left was the molt it shed. Science and nature are the coolest things to observe. You can learn so much if you just look right outside your doorstep.
There was another visitor on our porch in the corner of the same wall.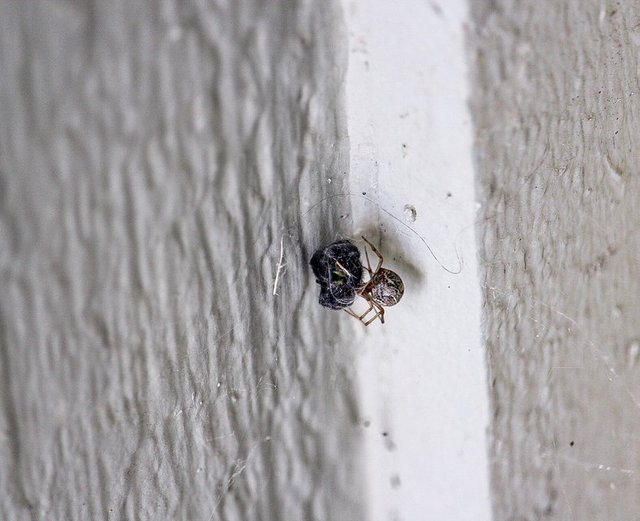 We saw this guy spinning something in it's web. At first glance it looked to be a black caterpillar. As we got a closer look we saw it was another spider. Do you see the eyes and hairy legs?...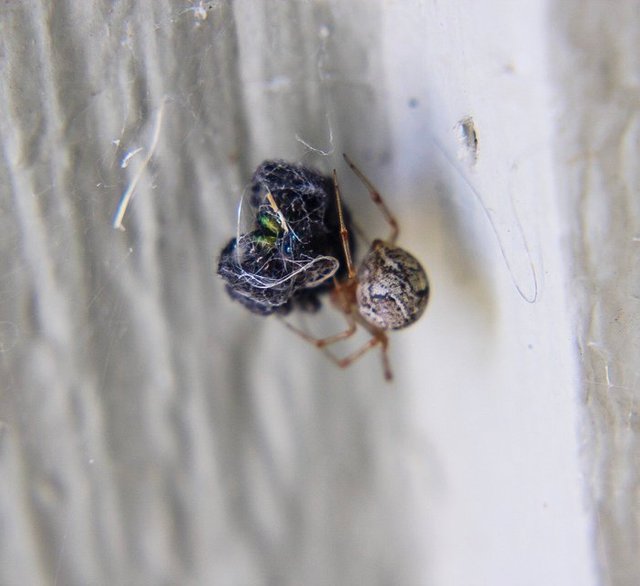 There is so much going on in the tiny world around us.
~Nature at our Doorstep~
All photos are my own and were taken with our Cannon EOS Rebel T6.
Article sources:
Cicada Mania
Eagle Herbs
Herbalogic
Thank You! I Hope You Enjoyed!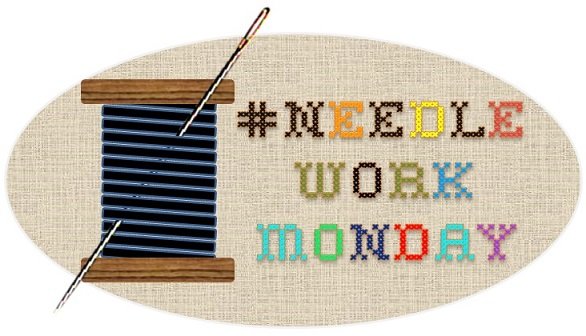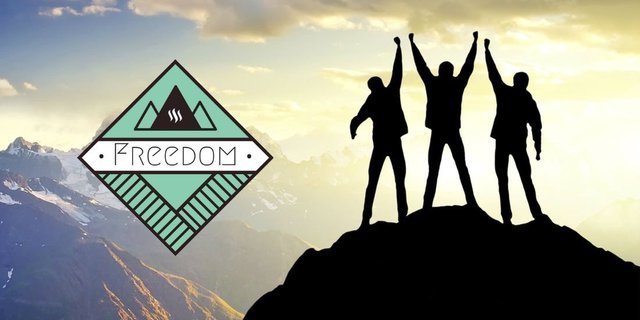 Logo/Banner created by @rigaronib!