About six days ago, we announced that pre-registration for the Holybread browsergame is open. By now over 750 800 (wtf?!) users have logged in and grabbed their early bird gift of 20 Bread. We are overwhelmed by the amount of people that support us at this early stage. Thank you all so very much!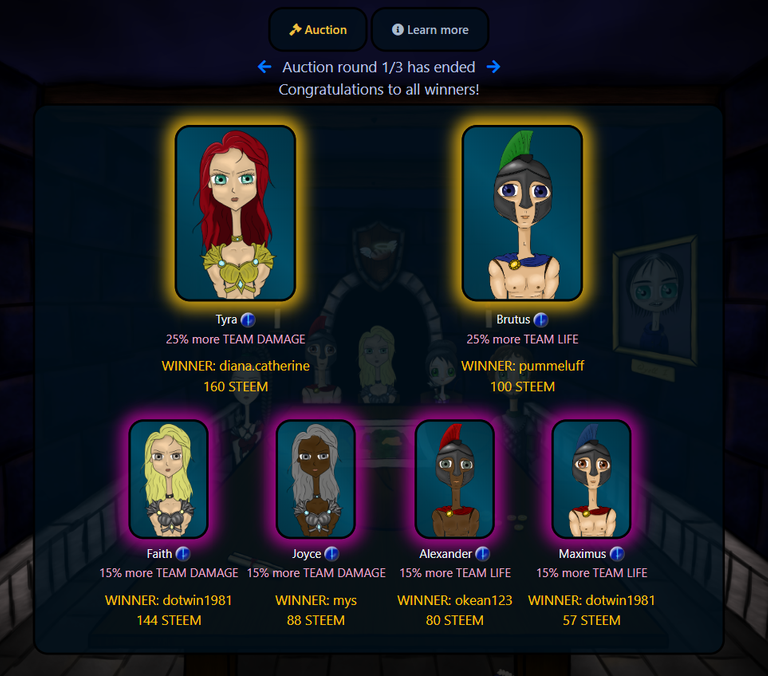 Edit: Our #1 Auction is successfully finished. You can watch the winners on our website. We would like to thanks everyone who has participated in any way!
Also, the #2 Auction has just started.
This round is dedicated to our legendary and epic archers.
---
Winners of round #1
Legendary
Tyra (25% more TEAM DAMAGE) belongs to @diana.catherine / Tx
Price: 160 STEEM
Brutus (25% more TEAM LIFE) belongs to @pummeluff / Tx
Price: 100 STEEM
Epic
Faith (15% more TEAM DAMAGE) belongs to @dotwin1981 / Tx
Price: 144 STEEM
Joyce (15% more TEAM DAMAGE) belongs to @mys / Tx
Price: 88 STEEM
Alexander (15% more TEAM LIFE) belongs to @okean123 / Tx
Price: 80 STEEM
Maximus (15% more TEAM LIFE) belongs to @dotwin1981 / Tx
Price: 57 STEEM
---
/Edit End
First hero auction is almost over
On our first round of hero auctions you can bid on legendary and epic warriors. Tyra and Brutus are the legendary heroes. They come with a special buff of 25% team damage (female warrior) and 25% team life (male warrior). What's so special about those two is that their buffs are 5% higher than the ones usual legendary heroes will have. So those are by far the most powerful legendary heroes. Same for the epic warriors (Faith and Joyce / Alexander and Maximus) – they come with a buff of 15% team damage (for female) and 15% team life (for male) whereas epic warriors in the game come with a 10% team damage / life buff.
So if you want to be the lucky one to own one of those special heroes, you have 17 hours left to make your bid!

Some facts on hero drop rate
Later in the game you will be able to find heroes on quests. The chance to even find a hero is 1/1500 spent energy. You are able to spend a maximum of 240 energy daily. So on average you will find a hero every six days – if you are fully active. The rarity of the hero is decided when it drops. It's very low for legendary (1%) and epic (5%) heroes.
Recruit heroes for Bread
You will also be able to buy heroes for Bread in the "Recruit" section but they are very limited. There are only 24 heroes every day for ALL players on the server + they are expensive!

You haven't heard about Holybread yet? Read this post to find out what it is all about!
Follow @holybread to read all latest posts.
Also join our discord server: https://discord.gg/DUZWuMK
Join holybread.io and grab your early bird gift of 20 Bread!