As some of you might have seen already we are about to bring you a brand new browsergame to the Steem blockchain! Public release is in January 2020. We will keep you updated and give you the exact date well enough in advance. Follow us if you don't want to miss it!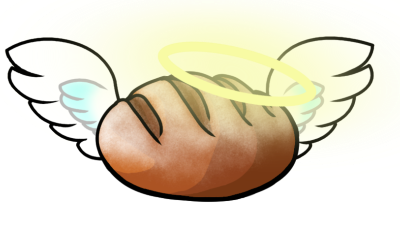 Current test round
We are one week in our current test round. It is doing great. A few bugs have been fixed, small things have been changed. The main concept is working! Our server does not show any signs of weakness. We are about 25 players on the server right now. We are prepared for a lot more players for the main release!
(Btw: All players will start at zero at the main release)
What is Holybread?
Holybread is a humoristic RPG style browsergame on the Steem blockchain with its story centered around the mysterious Holybread giving it's owner ultimate power. It can be played comfortably besides doing other stuff on the PC.
You as a player start with choosing your starter hero. It can be mage, archer or warrior. All have different features. Your hero is inexperienced and weak but full of great talent! You want to inflame his hidden powers so you choose to send him on quests. That takes time but your hero will gain experience and earn gold for you. He will get stronger and stronger.
With your gold you can buy equipment like weapons or armor an give it to your hero. Every strong hero needs good equipment.
You think your hero is strong enough to battle other heroes? Go into the arena and fight other players to find out. Battle your way to the top of the leaderboard to gain ultimate honor on Steem and earn real money.
Once you progress on your journey you will be able to get more heroes and take them in your team of up to three heroes which all come in different rarities, features, skins, names and more.
All of your heroes and items are posted on the Steem blockchain showing their true owner until eternity. Of course you can also decide to sell heroes or items on the players market for Steem.
Insights to the current test round
I am @thebluewin and responsible for the programming stuff in Holybread. I am also part of the test round and will show you the test round from my perspective now.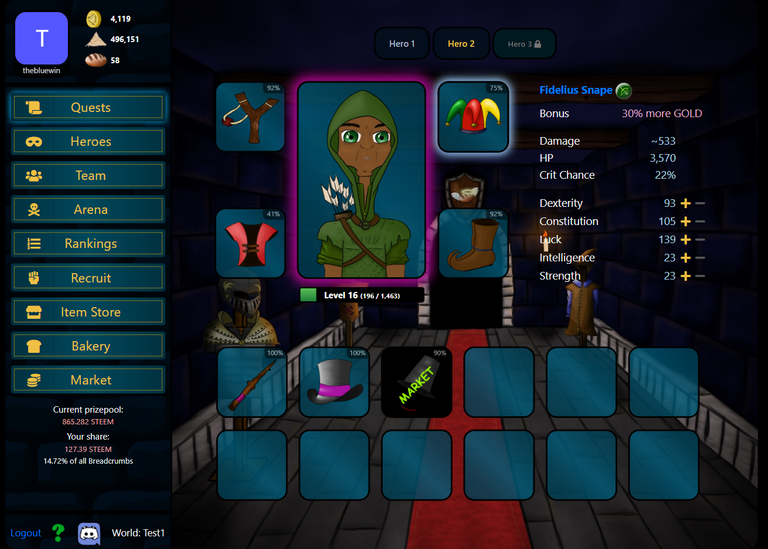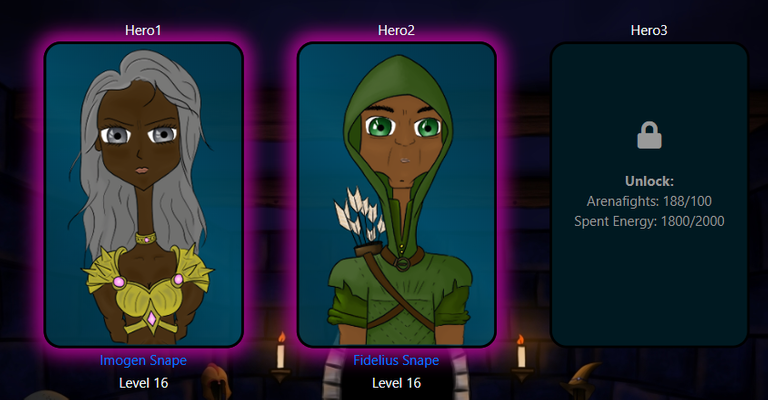 These are my two heroes currently. After one week I managed to get them to level 16. Max level is 100 and leveling gets exponentially slower. Both are in epic rarity (pink shiny borders). Their surname was chosen by me at the start. (Yes I am a Harry Potter fan). I am about to unlock my third hero slot, which only needs 200 more spent energy. Energy is spent for doing quests and regenerates over time.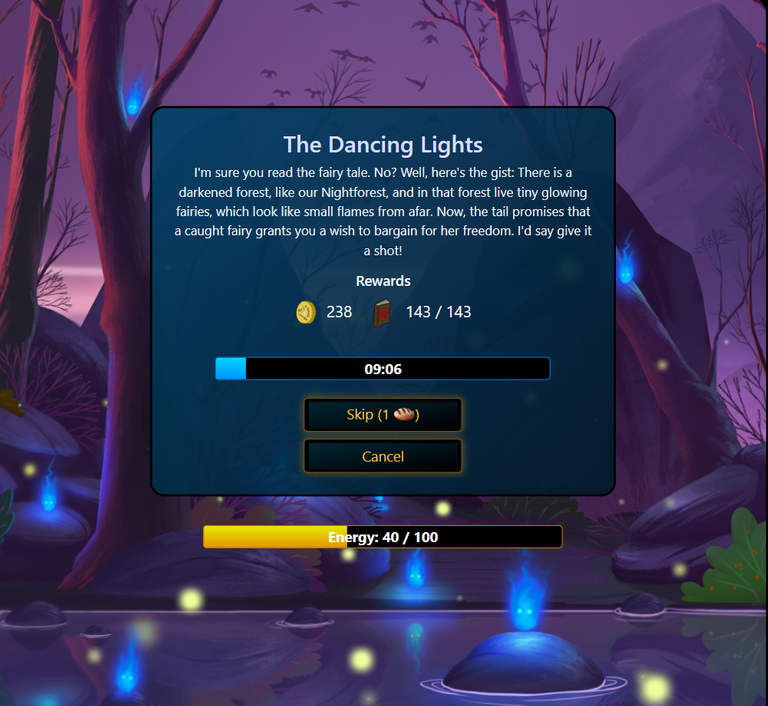 That's a quest I am currently doing. I will get 238 gold and 143 experience for both of my heroes at the end of it. You can always choose between multiple quests which one you want to do. They all give different amounts of gold and experience. You have to choose the best one for you. Want to buy this great weapon in the item store? Better do some quests which give a lot of gold!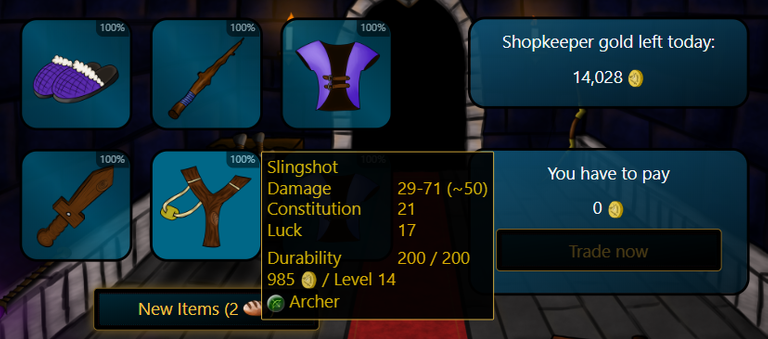 Speaking of item store.. I might want to buy this Slingshot. It has a lot of damage and the other stats are okay too.

Or I could buy this one on the players market. @dotwin1981 is selling it for 1 Dollar. Nah... I think the one in my item store is better.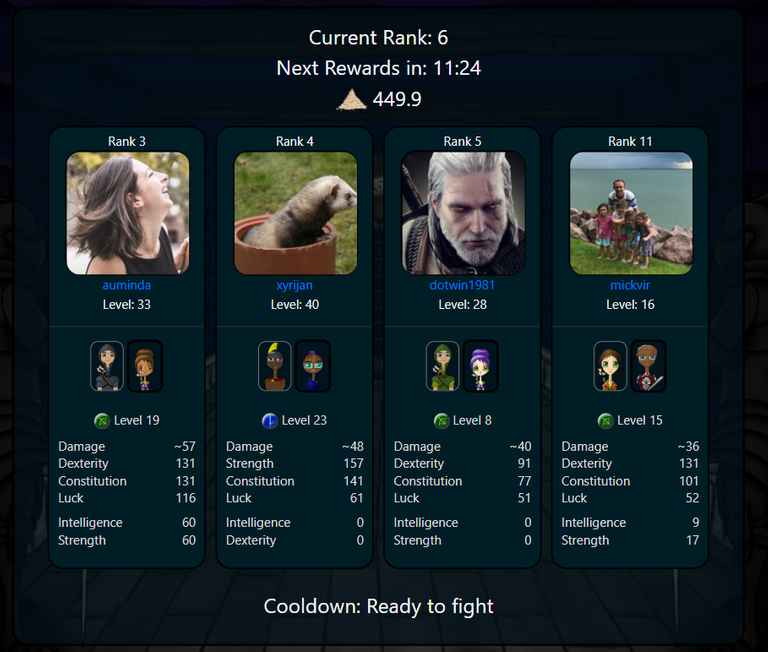 Here is the arena where I can select my next opponent. Currently I am falling in ranks. I was at the second rank a while ago but these players are doing a great job in beating me.
That was just a small peak inside the game. @delegate4gg is one of our test players and he posts great updates about his progress in the game. In case you want to collect more impressions of Holybread.

Future of the game
Currently our main focus is the main release but we want to think ahead of time. Our priority is to make it a successful fun game. We have a lot of idead for future updates once the first version of our game is open to the public. It's already a lot of fun and will be even better once we bring more updates. A few notes that come to our mind:
Guilds (fighting together against other guilds and impressive monsters)
Dungeons (solo fighting against powerful monsters)
Events
We are excited for the main release! I hope you too! And don't forget to tell your friends!