Tomorrow – Janury 27th 2020 – Holybread will be released! There are over 6500 people who pre-registered in the past 3 weeks. I remember @thebluewin telling me "I hope there will be at least 400 people who pre-register until release day!" Well, what can I say, we sort of reached that goal… times 16! Thank you so much guys - you are amazing!
If you are not one of the 6500 people waiting for the release – make sure to pre-register right now to receive 20 Bread as an early bird bonus: holybread.io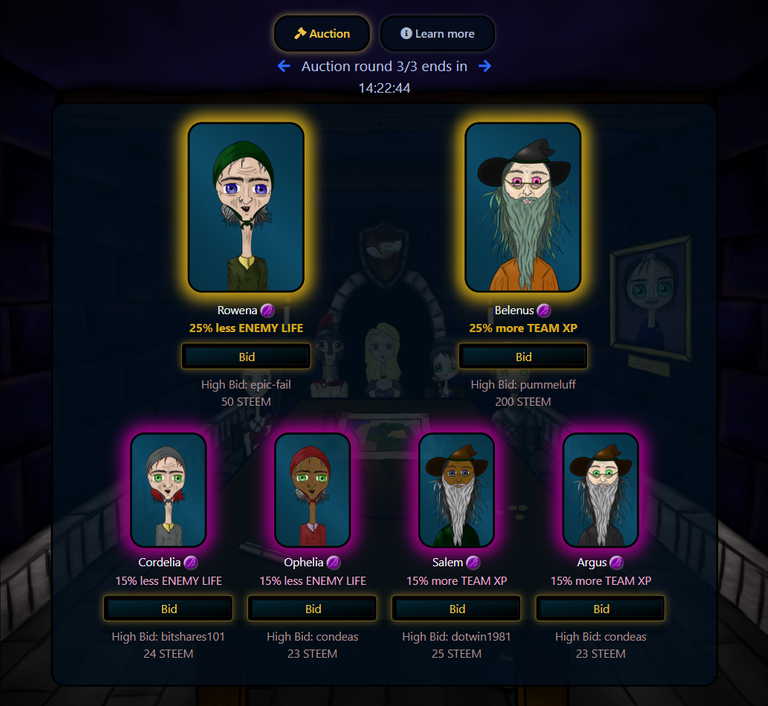 Auction round 3 ends soon!
The third and final round of auctions comes to an end in about 14 hours. This time you can bid on 2 legendary mage heroes and four epic mage heroes. Rowena comes with 25% less ENEMY LIFE and the two epic female mage heroes Cordelia and Ophelia come with 15% less ENEMY LIFE. This buff brings great advantage to you when you fight other players in the arena. All enemy heroes will have 25% / 15% less life points.
Male mage heroes provide your team with increased experience. You earn XP when doing quests. If you have Belenus in you team, all members will reveive 25% more TEAM XP on quests. The epic heroes (Salem and Argus) come with 15% more TEAM XP!
So make your bid within the next 14 hours to own one of the last special heroes.

Holybread is coming soon!
Tomorrow, January 27th 2020 at 8 PM UTC+1, the gates to the world of Holybread will open up. We hope you are ready an just as excited as we are!

You haven't heard about Holybread yet? Read this post to find out what it is all about!
Follow @holybread to read all latest posts.
Also join our discord server: https://discord.gg/fdHYBjV
Join holybread.io and grab your early bird gift of 20 Bread!