24 hours left until the second auction round comes to an end. When the first auction round was about to close, there were 800 pre-registered users on holybread.io. Today there are OVER 4200!!! We never expected so many people to be waiting for the release of Holybread. Thank you all so much, we can't wait to let the hunt for the Holybread begin.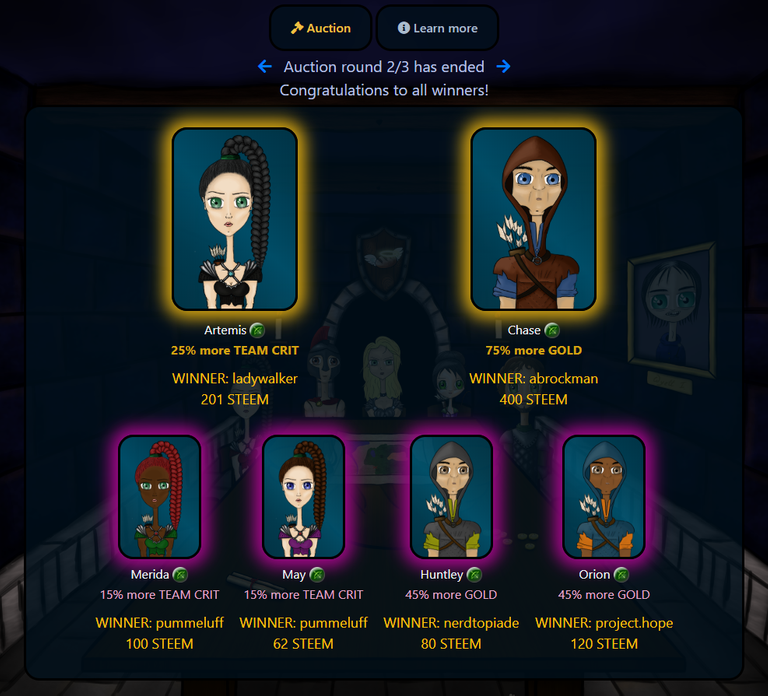 Edit: Our #1 Auction is successfully finished. You can watch the winners on our website. We would like to thanks everyone who has participated in any way!
Also, the #3 Auction has just started.
This round is dedicated to our legendary and epic mages.
---
Winners of round #2
Legendary
Artemis (25% more TEAM CRIT) belongs to @ladywalker / Tx
Price: 201 STEEM
Chase (75% more GOLD) belongs to @abrockman / Tx
Price: 400 STEEM
Epic
Merida (15% more TEAM CRIT) belongs to @pummeluff / Tx
Price: 100 STEEM
May (15% more TEAM CRIT) belongs to @pummeluff / Tx
Price: 62 STEEM
Huntley (45% more GOLD) belongs to @nerdtopiade / Tx
Price: 80 STEEM
Orion (45% more GOLD) belongs to @project.hope / Tx
Price: 120 STEEM
---
/Edit End
Auction round 2 - Archer
In this round of auctions you are able to bid on two legendary archers and four epic archers. Female archers come with a TEAM CRIT buff, which is actually one of our favorites. While legendary archers usually have a team crit buff of 20%, the ones on auction come with 25%. The epic female archers give you 15% TEAM CRIT instead of 10%. So Artemis, Merida and May will definitely be one of the strongest heroes in the game.
Legendary and epic male archers help you earn more Gold on a quest. You will need Gold in order to buy items and to skill your heroes. Chase (legendary archer) has a 75% more Gold buff and his fellow epic heroes (Huntley and Orion) a 45% more Gold buff. Usually legendary male archers bring in 60% more gold and epic archers 30%.
You have 24 hours left to make your bid on one of those. Don't wait until it's too late!

What's next?
As you can guess, the third round will be about legendary and epic mage heroes. As usual you will find two legendary heroes there (one female and one male) as well as four epic mage heroes (two female, two male).This will be the last round of auctions before the release.
There are only 8 days left until Holybread will be officially released. We hope you are just as excited as we are!

Hero buffs – an overview!
To give you an idea about how powerful all heroes from the auctions are, here is an overview on the buffs heroes usually have. In our last post we already talked about the droprate of a hero.

You haven't heard about Holybread yet? Read this post to find out what it is all about!
Follow @holybread to read all latest posts.
Also join our discord server: https://discord.gg/DUZWuMK
Join holybread.io and grab your early bird gift of 20 Bread!
Also feel free to use all graphics for your posts about Holybread!