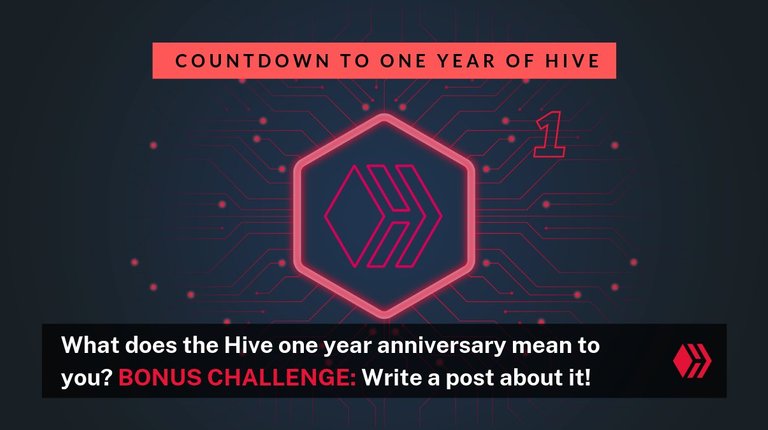 Have you been following along with some of the fun on Twitter from the Hive community? There have been some interesting questions and I believe @traciyork with the @hivechat team has been smashing it out over there. The final question, as you can see above, is asking for a post as a bonus. I'm going to sweeten the pot with 100 HIVE in rewards by adding a couple things:
Tweet out your post on #Twitter (obviously)
Make one of the first 5 tags #hiveyearone (so I can find it here 😜)
(the tough part) Make no mention of Steem or Justin Sun
I will PIMP my 9 favorites starting at 50 HIVE for 1st, 20 for 2nd, 10 for 3rd, and 2 HIVE each for the 6 others I liked - or maybe more, we'll see 😁. What is your Hive story? Have you gone through the storms, weathered the seas and have come out better on the other side? Do you think Hive will last another year? Three years? Ten years? Past your own lifetime? What does this milestone really mean to you?
I'll be looking forward to reading your answers and seeing how the community and all of our kikass members have grown this past year. You have until this post pays out to compose yours. 😎 The only piece of advice I can give for the post is to REMEMBER TO BE YOU! I always am, even with honey on my hands.


Is Voting #WITNESSES difficult?
Let me do it for you!
Set Witty as your --->PROXY VOTER!<---