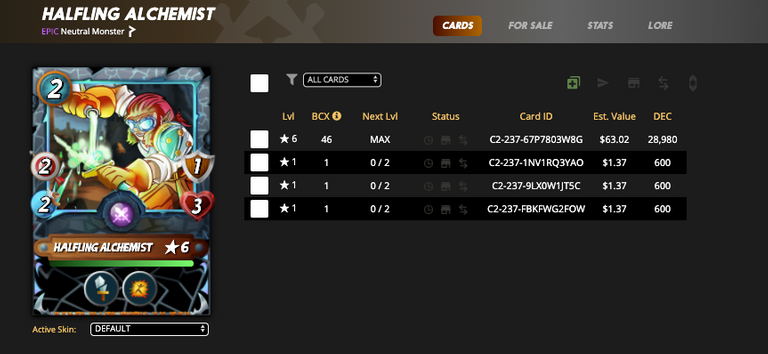 Just in time! I was able to get some packs this morning and get the required amount of Halving Alchemists to max mine out. I even burned a gold epic card to get over the hump of 200,000 DEC, but I justified that for two reasons: the card I burned wasn't one I really ever used and the Halving Alchemists I'd get for purchasing the packs would be worth more than the card I burned.
As you can see, I even ended up with a few more than I needed. It is my hope that this card will only go up in value as the ability to get one disappears. At the time of this posting, there are only 127 of them available to get through pack purchases. The airdrops will continue for a while still, but most people will not be able to get enough that way to max theirs out.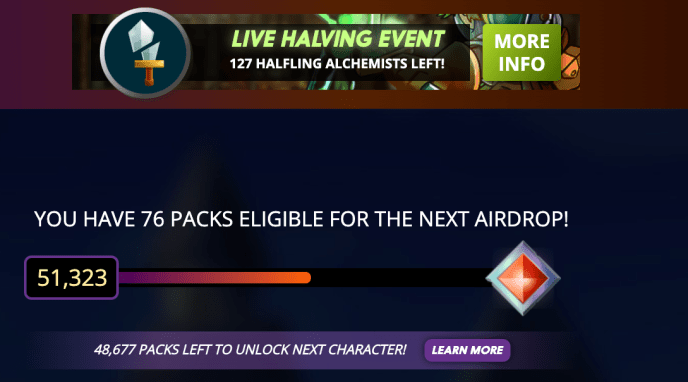 I got another one in the airdrop today for one of my Bronze League alt accounts. I've been playing those a little more lately, mostly to increase my chances of getting an airdrop. I got one of them to Silver III... mostly because I had like 20 different opponents flee the battlefield, many in succession. That's such a weird thing about the Bronze League. You'll get so many flees. I don't know who Ken Chung is, but his bots do that all the time. It's actually almost annoying to get paired up with them so often if you're trying to complete battles.
---
Posted from my blog with SteemPress : http://splinterlands.sharkthelion.com/halving-alchemist-is-now-at-max-level/
---