Paid to attend Hive Fest.

Hive Fest comes around each year. Normally it is not an event I would attend. Travel costs and so forth beyond my means. Also me not being there gives others the chance to look good.
This year I attended though. It was held in a virtual world with animated characters. I have experienced other virtual worlds and have expectations. The AltspaceVR world does not have the same quality of other virtual worlds. Saying that, a better enhanced world might restrict the ability for some users to log in. Due to bandwidth issues or computer capabilities. So over all I think the AltspaceVR world done the job just fine.
Shout out to @roelandp for the time and effort put into bringing about a Hive Fest for 2020.
From the depths of chaos in the year 2020 a hero rose up drew his sword and cut into the fabric of the universe and creating a new path for the Hivians to gather and spread the word.

In hindsight I should have took some screen shots. I did take a couple of snaps. Let me log in and see if I can open and get a screen shot of those. brb. (Not that you will notice that I went to do something else while you are reading this).
I found two pics. This first one is me arriving, just after stepping out of the helicopter.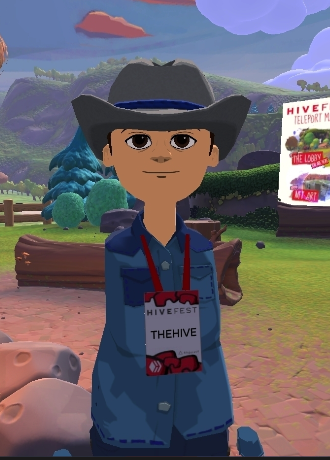 This second image is @JackMiller and myself at the event.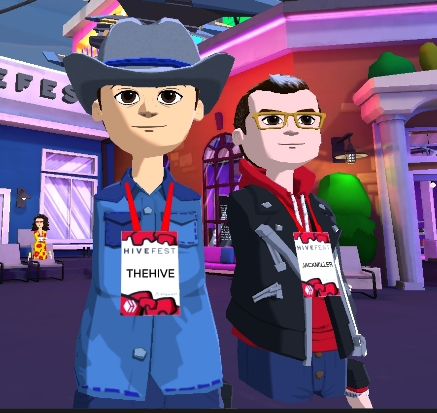 You can see there in both pictures ID tags hanging around peoples neck. These were not used to let others around know who you were, though did contribute to that a bit. They were also used for sharing tips that were donated for the event. By clicking on the tag and entering the letter "t" you gave people a share of the total reward pool.
There was over 4,000 HIVE in the pool to be shared among those who attended.
Today I got a message from my secretary Gina.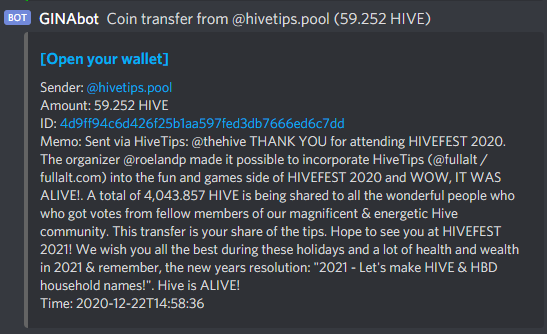 Just under 60 Hive for going to an event to try learn a bit more.
A shout out here to Jack Miller and his Hive Tips Crew. @hivetips
Did you know you can also use Hive Tips on other platforms like twitter too. You can also set up a patreon payment with it too.
There is a proposal pending right now for the Hive Tips project which can be seen here.
https://peakd.com/proposal/@fullalt/hivetips-proposal
This project opens doors for the communities on hive blockchain, to reach out to others and grow their communities. It opens the doors to expansion of the Hive eco system to new imaginations.
Give the proposal a read and a vote and begin to constructively get the word out there about the Hive blockchain.

Crypto Excahnge:
Ionomy:
https://ionomy.com/en/aff/d0afaf8f56804ce181c5ef5db43d4a21
Bittrex:
https://bittrex.com/Account/Register?referralCode=DHH-RXK-11E
Crypto Card Visa Blockcard
https://dashboard.getblockcard.com/i/SMvuCfUG
Discord Servers
Bro SGN: https://discord.gg/W2pdeDa
Hive Block chain Server: https://discord.gg/QxbgScK
Games
Free to play:
One Arm Bandits: https://brosgn.net?ref=923
Poker: https://brosinopoker.com
Music game: https://www.risingstargame.com?referrer=thehive