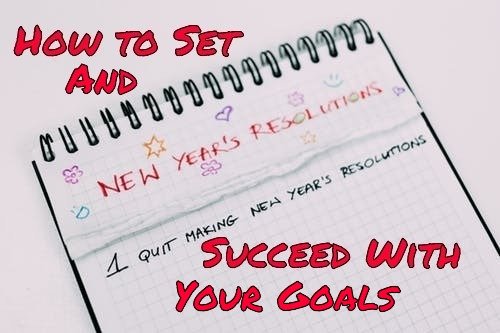 source edited in LunaPic
New Year's Day is considered a new beginning and this one even begins a new decade. You take time to reflect back over the past year and consider what went right and could have gone better. It's a time to think about your plans for the coming year and many people start out with a New Year's Resolution. I don't have a scientific study to quote, but I'd wager that the top three resolutions are (1) stop smoking (2) lose weight (3) get more exercise.
All these are worthy goals, so how do you set a goal and have the best success for achieving it?
The best chance of success is if you truly know the "WHY" of this goal and what it means to you. Take a step back and really analyze why you set that goal. It's a much bigger motivator to connect the goal to the reasons and not just a result. And it's an even better motivator to connect this goal to creating a better reality for other people in your life as well.
For instance, you set your goal at "I want to lose 20 pounds this year." If you just make a vague promise to yourself because you want to look better in your jeans, you probably won't have a lot of success with sticking with it. But if you ask yourself for a meaningful WHY losing 20 pounds would improve your life and your family's life, you have a much better chance of finding the motivation.
If you think about losing that 20 pounds because of your health - maybe you are prediabetic, or maybe you have a problem with joints that would be alleviated by carrying less weight - you can see that your family would be positively impacted by you improving your health. More energy and ease of movement for time with children. Being able to go out dancing with your partner.
After you know your WHY you can refine your goal into steps that you can control instead of a particular outcome. Instead of saying "I want to lose 20 pounds" you could say "I want to walk four times a week and I want to cut out snacking after 8:00 pm." These are small steps that you can achieve and you can also tie them into your family. Take the kids or spouse on that walk with you, and everyone can have fruit instead of potato chips for a snack.
Find the path of least resistance to make your choices easier. Don't join an expensive gym and take a series of complicated ZUMBA classes if that's not something you're going to really enjoy and want to stick with. Slipping on your tennis shoes and taking a short walk around the block is simple, free, and a natural stress release.
Look for alternate easier behaviors to replace bad ones - it's easier to add a pleasurable habit that it is to remove a bad habit. If your downfall is to eat late evening snacks, instead of just saying "I will not eat after 8:00 pm", give yourself something else to do in that time period that you enjoy. Maybe take up sudoku puzzles, learn to play SteemMonsters, knit or build model cars.
Don't be too hard on yourself. Self-reflection is essential to tracking your success but don't saddle yourself with hard deadlines. Make it more about progress and gaining momentum with your new routines.
Don't be afraid of failure either! If you get stalled or backslide, go back to your WHY and look at the progress you've made. Life is made up of both failures and successes, that's how we learn.
So if you decide to make a New Year's Resolution this year, find your WHY, get your plan together, and make this 2020 a great year for yourself!