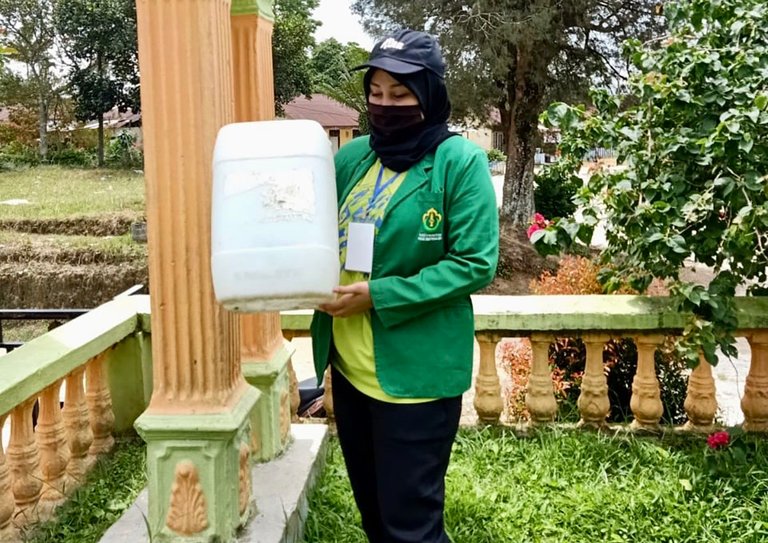 ---
Unlimited creativity is the key to the success of the Malikussaleh University Community Servive Program the middle of the Covid-19 pandemic that limits space. This is proven by the Group 183 who transformed used jerry cans into trash cans.
According to a member of Group 183, Rara Azura, when they had previously synergized with teenagers from the Al Jamiatul Hidayah Mosque to raise funds for orphans, they saw many unused jerry cans in the village of Bah Butong 2 Afd 1 Sidamanik District, Simalungun Regency, North Sumatra.
"We see that in the village there is still lack of knowledge on how to manage waste. Most jerry cans of oil are left alone. We think this waste can be used for something useful, "said Rara, Sunday (05/10/2020).
After discussing with the field supervisor, Yuli Asbar MSi, as well as getting full support from the local residents, Group 183 started working. The head of the group, Sakinah Dwia Desrizka, said they asked the residents to use the jerry cans of various residents and use them as garbage disposal containers. "They do not mind that jerry cans are taken rather than redundant," said the student of Communication Studies Program.
The 183 group then processes used jerry cans for trash cans in accordance with the color of jerry cans and types of waste to build a clean culture and is able to classify the types of waste in the community.
"We will put organic and non-organic rubbish bins in public places in the village or in Covid-19 Command Post since there is no trash bin there," added Rara Azura.
Yuli Asbar praised the creativity of the Group 183 and hopes that every program and activity they carry out will benefit the community. "If possible, the benefits of the student program can be long-term," said Yuli Asbar.***
---