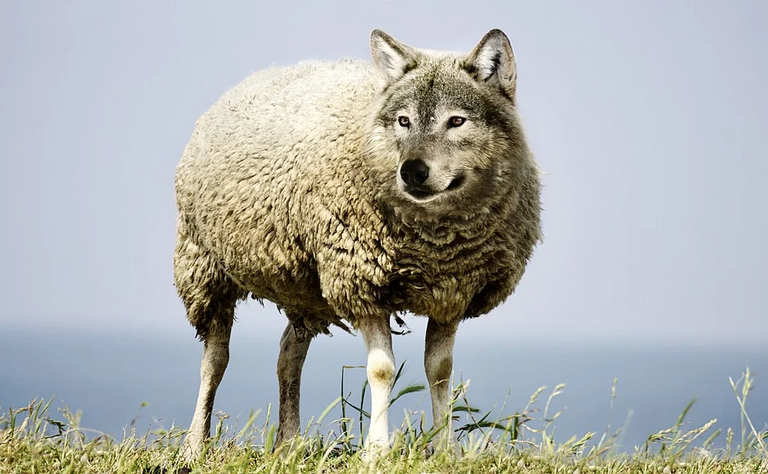 I get messaged a lot by a lot of people to vote on their content, proposal, or witness. It comes with having stake, and I generally ignore it.
It wasn't until recently I've been asked to stop upvoting people. In the last few weeks this has happened many times, and by a certain group of people. Initially I thought it was a joke but it has become a reoccurring theme.
About four weeks ago or so I had my first, by @enmy. I obliged as but was curious. She contacted me on Discord saying since I started voting her she stopped getting manual upvotes. Being curious I checked if that was the case, and sure enough it was. 99% of her rewards were by @appreciator and @rocky1 and when I voted her they would not. As I thought this was silly, I started to vote her again as I do not like to be told who to vote for and I think this is just silly.
A couple months ago I was asked to do a AMA by her community Rutablockchain in what I felt was a attempt to get me to do curation in their community based on the direction of the questioning. Again I don't like to be told who to vote for but I did add a few of the users I felt were putting in effort, @enmy being one of them.
Shortly after @enmy's request for me to stop voting her, she started to increase her daily posts to 4+ posts a day.
Not long later, I receive messages from multiple other members of Rutablockchain asking me to stop voting them or they will have to post 4+ times a day or quit Hive.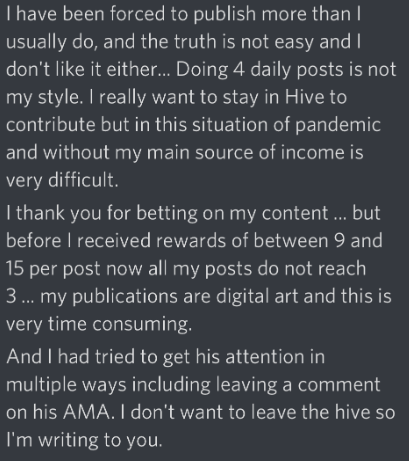 I have received multiple messages similar to the one above from multiple members of the Rutablockchain community (I think around five so far), all in the last few weeks.
@Enmy then logs into HiveWatchers and asks if it is ok if she makes multiple accounts and makes the account enmymente to increase her chances of getting those sweet sweet votes because mine are not big enough.
Then a little bit before this post I receive a message from her asking to stop voting her or she will make a post about me.
These two posts are the result of that threat.

Interestingly enough, if I don't vote on @enmy posts, she really gets nothing unless appreciator or rocky drop their $10+ votes. Many of these are just following mine I believe.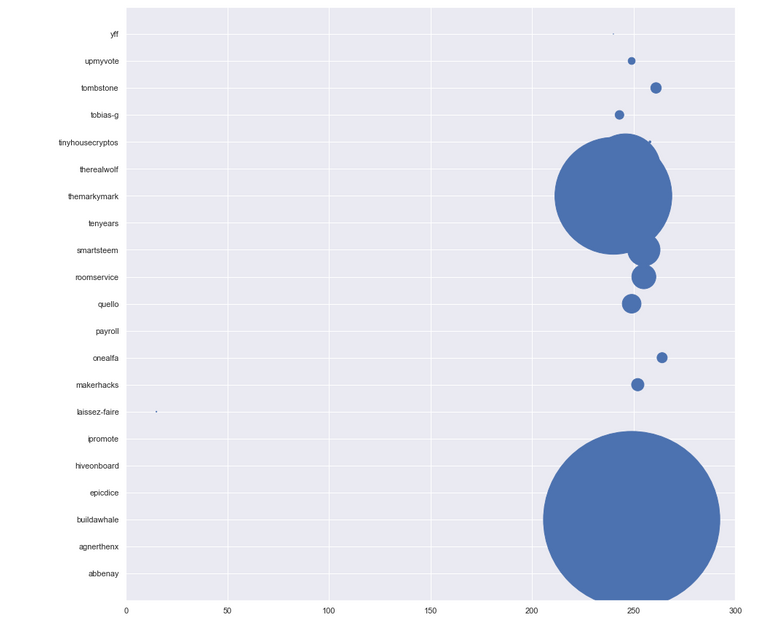 Those two massive circles are my votes for about $3-4 total. I vote most everyone with the same percentage and prefer to not drop massive votes on posts and just provide steady support to authors who put in effort.
Shortly after a few other Rutablockchain members contacted me I noticed appreciator started to mimic my votes with 1% votes on everyone I vote for as some form of retaliation for voting people he votes for. When I approached him he told me he doesn't feel the need to explain it to me.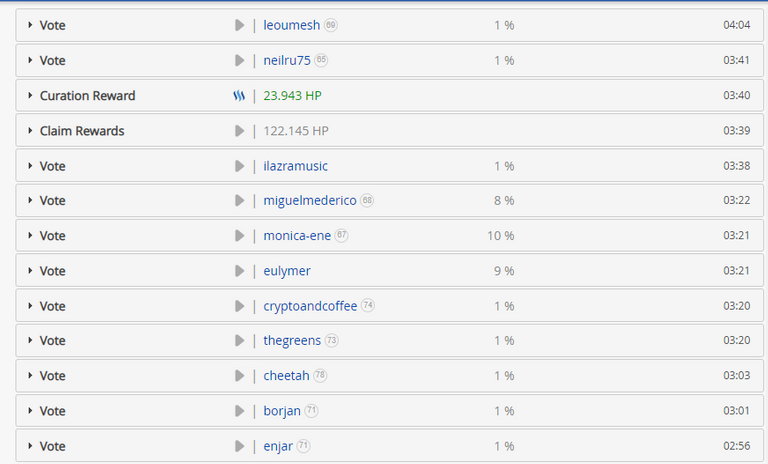 Appreciator normally votes 8-10% ($10+ typically) and all the 1% votes are troll votes an attempt to go after the curation I do.
While I have heard many claim downvotes are violence, I never thought upvotes would be treated similarly.
---
Securely chat with me on Keybase