I saw a few people posting about their witness votes including @shmoogleosukami, @cadawg and @rishi556, so I thought I could do the same. It is a good idea to review your votes once in a while. I found one I voted for was inactive and others who did not seem to be doing much, so I just changed some votes. I have met some of these people, so that has an influence on my votes, as does them being in the UK. I do not do this in hope of any favours. I primarily vote for witnesses who are actively making Hive better. Those are the ones who deserve to earn from providing this service and they should be making decisions about future developments.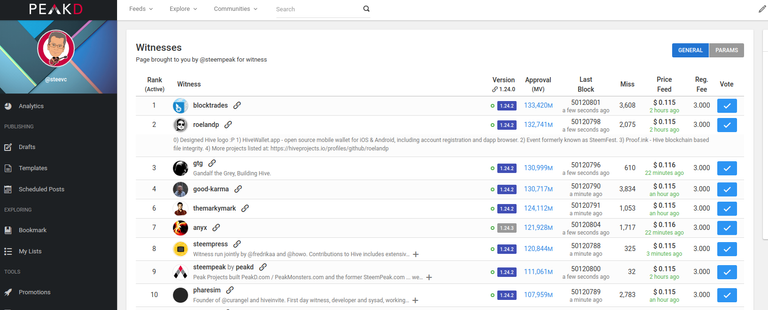 You can easily check your votes in Peakd.
I try to use all thirty of my votes and it is not too hard to find some to vote on. Please correct me if I have any details wrong. I do not follow all these people, so I may miss some developments. If you have thoughts on who is more worthy of my vote then I am open to suggestions. Some of these witnesses rarely post anything, but may still be contributing to making Hive work.
There are a few inactive witnesses who still have lots of votes, so check yours. If you use a voting proxy then check if they are updating their votes. Feel free to use me as a proxy.