Welcome to yet another of my #FollowFriday posts. I have done these for years across Tsu, Steem and now Hive. I think that when a platform lacks automated discovery tools then it is up to users to help others find interesting content. I try to expose accounts that I think are under-appreciated both in rewards and comments. We have plenty of great content that is just being seen. In some cases people will leave if they do not get good engagement and we cannot afford that. Do what you can to help out the greater community as we all benefit if it grows.
These are interesting times as cryptocurrencies go through yet another slump. Just about everything is down right now, but somehow Tron manages to go up.


Prices from @coingecko.
The Hive platform does still seem to be growing, if slowly. The main site is getting more engagement than Steemit. Less visitors, but more pageviews.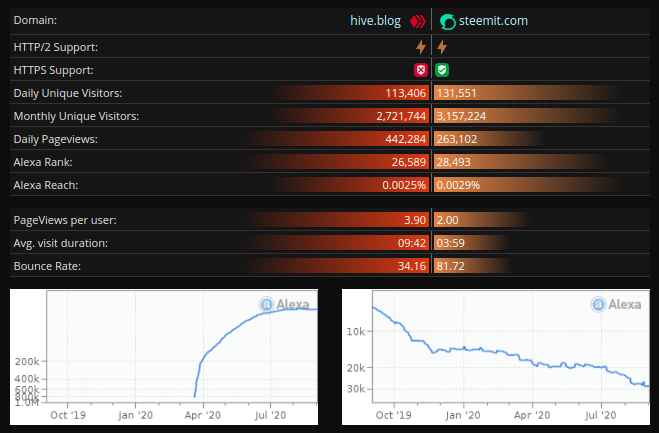 From Hypestat
Of course we have multiple front ends and overall they get far more use than the remaining Steem dapps.
And so to my weekly suggestions of people to check out:
I am sharing the post rewards with these people.
I will include my referral links for the Hive games I am playing if you want to use them. I do not make much from the referrals, but any extra passive income is welcome:
Rising Star is based around the music industry. You do missions to gain experience and earn Starbits which can buy you NFT cards. It is free to start playing and has a soundtrack of music from the community.
Cryptobewmaster is also free to play. You do tasks to get the ingredients to brew beer, which you can sell. It is also free to play. As with Rising Star you can just leave it running to accumulate some extra crypto with the occasional click.
I think everyone knows Splinterlands. You do need to buy a card pack to start off if you want to win cards and tokens. Doing the daily quests puts you into battle against other players. The rules have changed recently, but I still find it fun.
Hive five!