Some of you may be wondering what is the best way to convert from one blockchain to another. Today we are going to do a demonstration using a fantastic tool developed by @gerber, the BEESWAP TOOL!

This question was originally brought to our attention by @phoenixwren. Before recommending BeeSwap, we mentioned the way through Bitcoin as the 'main' way. Many people still view bitcoin as 'the master key', the one by which you access all others. And in this way it can give you more control (and privacy) to transact through bitcoin, and/or through private exchanges.

But beyond that, we don't really need bitcoin....there are local gateways around that offer, for a small fee, to exchange balance types. We are still very much in a 'Do it Yourself', or DIY period in crypto, which is why the best crypto communities always invent the best tools! Enter, BEESWAP by the innovative DCITY founder @gerber.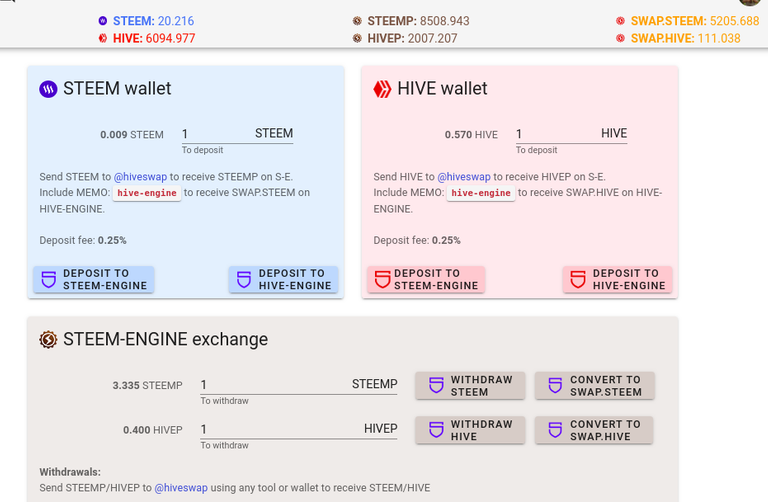 Here we have a six-balance gateway between our two blockchains. Liquid STEEM, its pegged s-e counterpart STEEMP, and the steem-engine pegged HIVEP token. On the other blockchain we have Liquid HIVE, its pegged h-e counterpart SWAP.HIVE, and the hive-engine pegged SWAP.STEEM.
ALL 'P' tokens like BTCP are on Steem-Engine. ALL 'SWAP' tokens like SWAP.BTC are on Hive-Engine.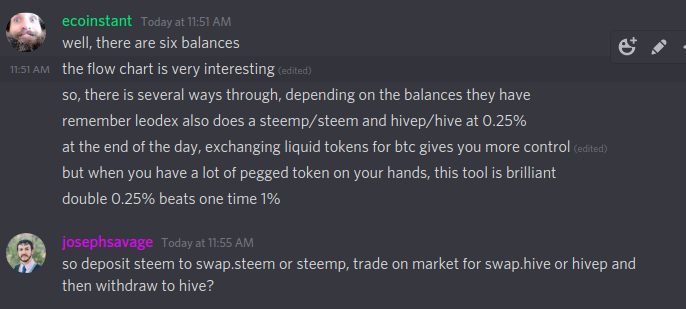 @josephsavage doesn't miss a beat. The process we are about to embark on has two options in both directions. Ahead, we will be converting STEEM to HIVE, but the process is mirror identical in the reverse.

Since there are two options, how will we know which is the right one? Let's go to the markets!


To sell our swap.steem at 0.71549 hive is like buying in the inverse:
1/0.71549 = 1.397

So which is better, 1.31 or 1.39? Since we are buying, a lower price is always better.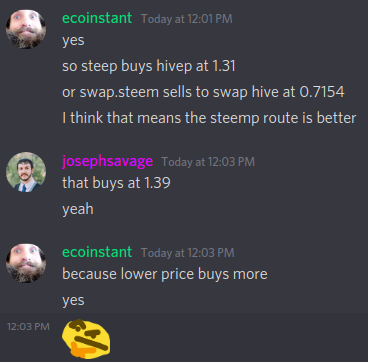 The math is true! These processes depend entirely on the market conditions at the time, which were quite well funded, meaning people are switching coins both back and forth. It also depends on the balance of the @hiveswap accounts, which maintains a very nice gateway service.
And remember, if you don't want to 'connect', just do it manually in keychain:

I also check the @leodex account, which also does 0.25% swaps between STEEM and STEEMP as well as HIVE and SWAP.HIVE.
Active developers are the key to any project being successful. Whether it be tools, games, maintenance or other service, it is active, creative humans that make being social worthwhile, and in the blockchain space it is the coderdev that makes the tools that broadcast DLT's soft power. Our fund will continue to participate and support great developers, projects and communities.
None of this is advice, it is all history. Use this tool at your own discretion with full awareness that 'all swaps and sales are final'.