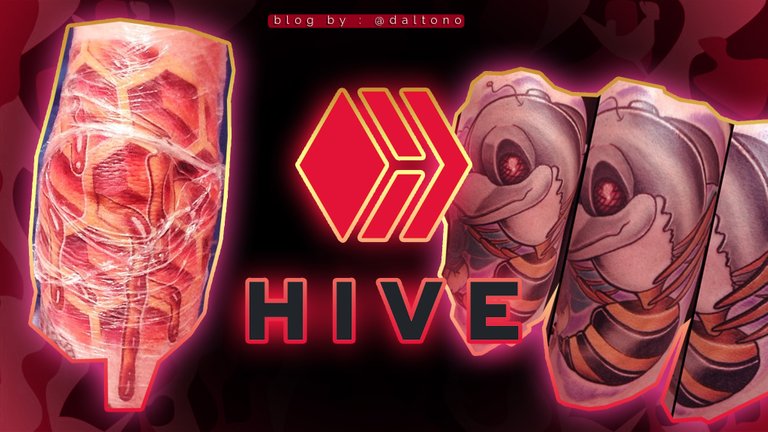 Steem may very well be finished & Hive begins tomorrow, yet I already have two Hive tattoos. Yes these are real tattoos, come take a closer look.
---
The end of Steem?
This very well may be my last Steem exclusive post. I plan to migrate with a large portion of our community to the new Hive blockchain. After Steemit has ruined everything for us here, we set off to re-build. This time it will happen at a rapid pace.
I will still post my content on Steem as long as it remains a place for me to earn more crypto. However if Steem loses all of its value, then I will have no reason at all to keep posting. Hard to believe that considering I have been posting daily on Steem since December 2017.
Thankfully I can continue to post every day, except on Hive instead of Steem. Hive will be truly decentralized, unlike Steem which has been subdued by Steemit's ninja-mined stake.
---
My Hive tattoos
If you haven't already read before, I have a blog detailing all of my tattoos. I have spent over 100 hours getting tattooed and over $10,000 over the last 9 years.
Two of my tattoos fit the new Hive theme perfectly. I have a dolphin/bee morph on my upper left arm and honeycomb on my left elbow.
Check out the photos and details below.
---
Honeycomb Dripping Honey
When did I get it : July 2013
Who was the artist : Tra Walker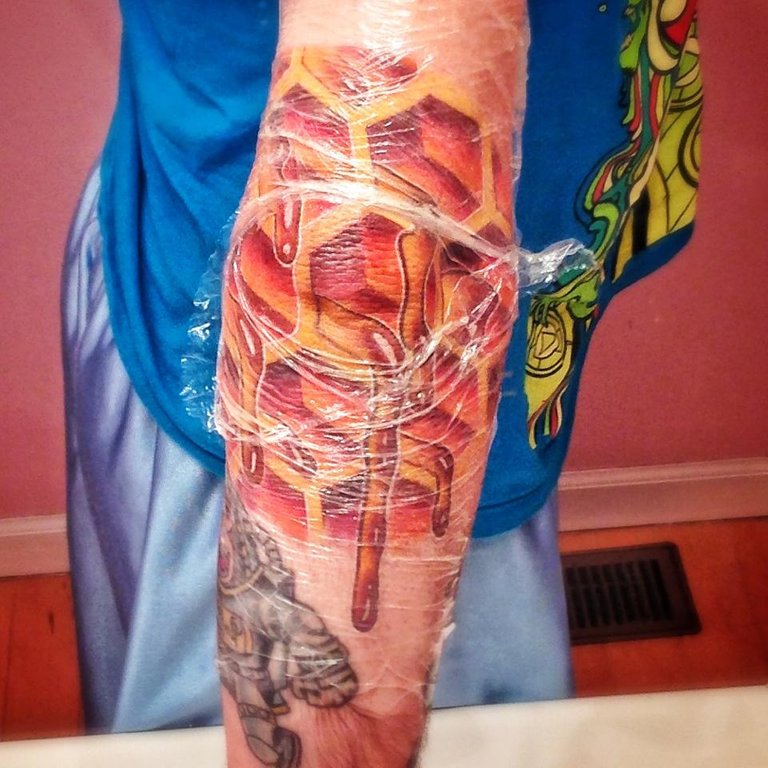 This photo was taken as soon as I got home from finishing this tattoo. My elbow was very swollen and I still had the plastic wrap on it (there is a better photo at the end of this post.)
—
Dolphin/Bee Morph
When did I get it : July 2014
Who was the artist : Jared "Moonbear" Duncan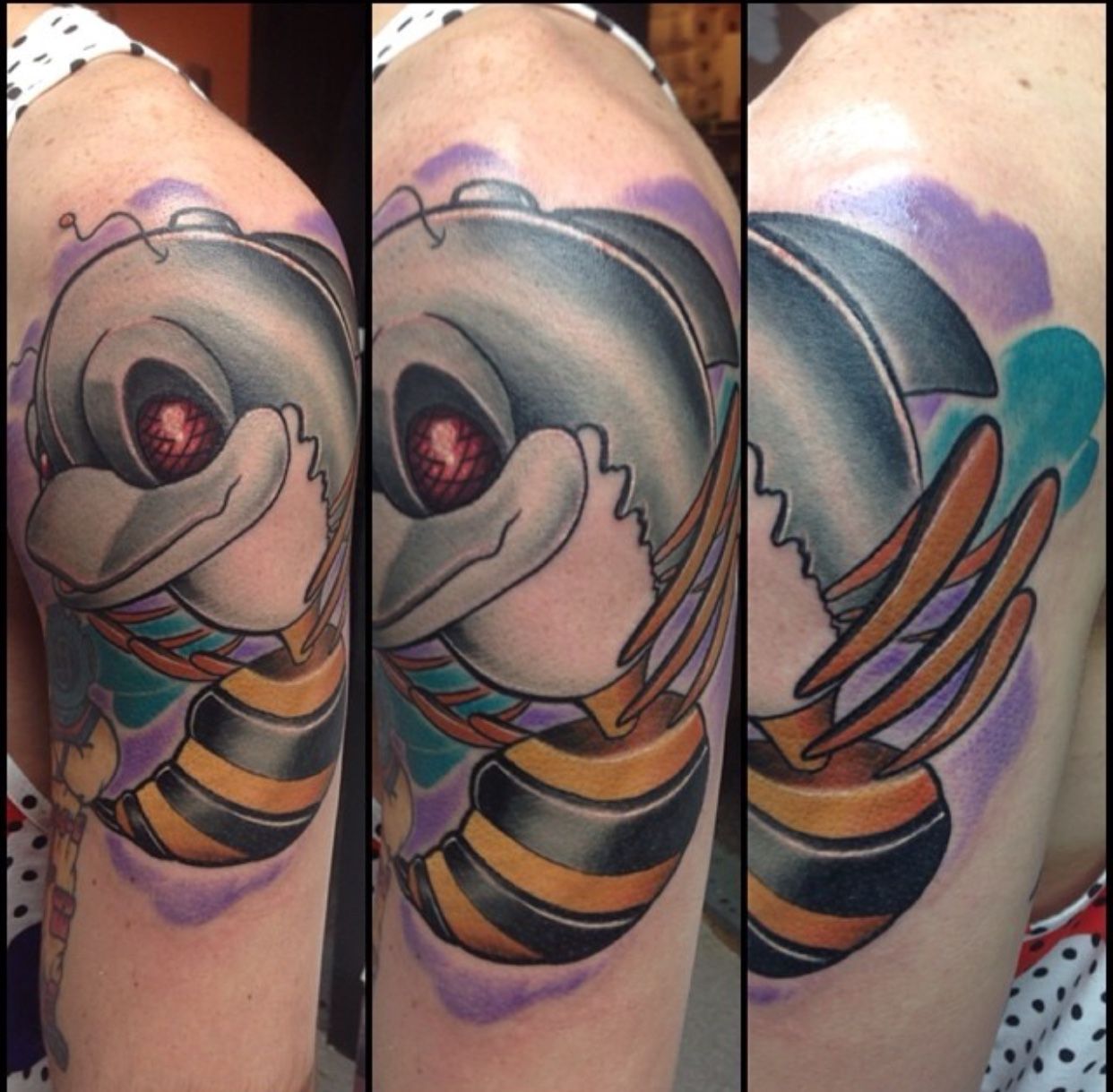 ---
Should I get a Hive tattoo next?
I have space on the inside of my left bicep for one more tattoo. I am considering something such as a hive with bees flying out of it. It would obviously be smaller than the other two mentioned in this post.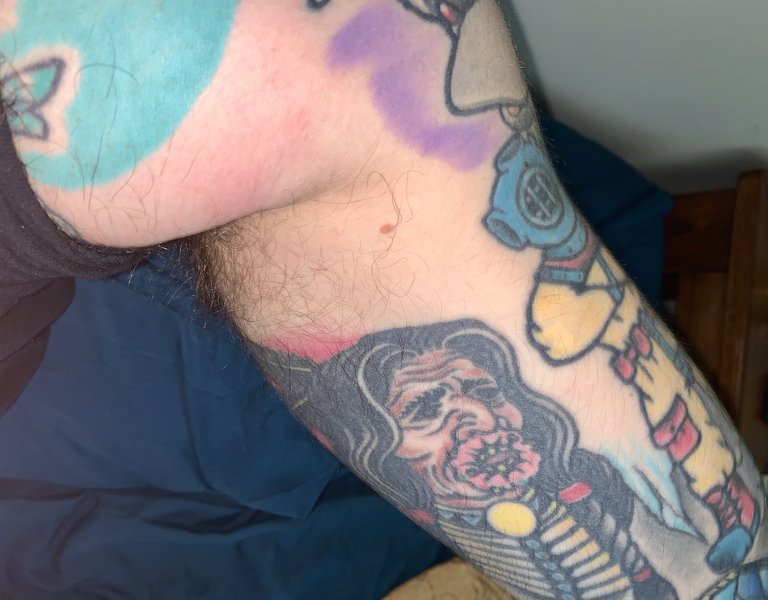 Does anybody else have a cool Hive-related tattoo idea? Leave a comment and let me know. I will be down to get one if I like the idea enough. I just have to wait for the tattoo shops to open back up. Thanks #coronavirus.
---
Here are a few bonus photos of my tattoos.