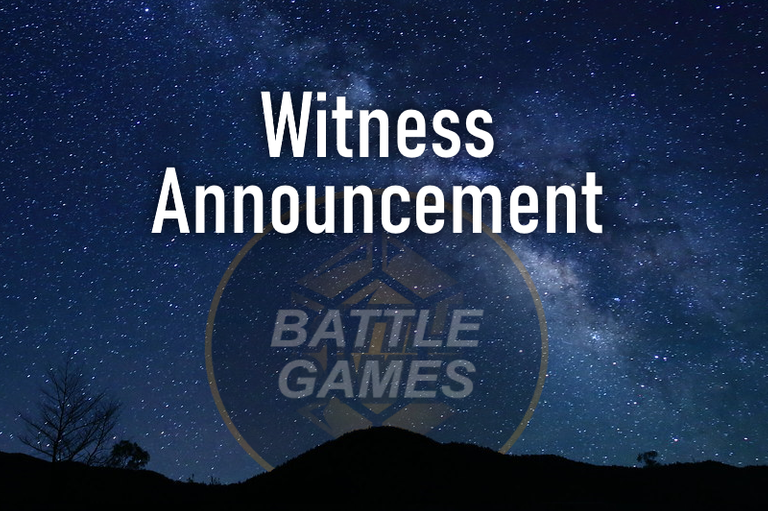 Proud To Announce Our HIVE Witness
Operating a witness node is our way of demonstrating commitment to maintaining the place where we all love to play, create, build, and earn, the HIVE Blockchain!
As you'll see in our witness road map we have a long term plan, and with it a solid commitment to the blockchain gaming community.
Our Mission ⚔️
We have made it our mission to promote Hive Blockchain Gaming to the world, and by doing so attract new users to our games and onboard them to the Hive blockchain. We are Hive blockchain gaming advocates, and believe fiercely that gaming is one of the best use cases for blockchain technology and that it should play a key role in adding value to and growing the Hive blockchain user base.
If this sounds like something you could get behind we would love to have your support with a witness vote. We pride ourselves on being accessible and engaging with members of the Hive gaming community. Feel free to reach out to us at any time with questions, comments, suggestions, or concerns.
Our Commitment 🛡🔑👊🛡️
Reliability: Our first priority is server up time. If at any time we run into any hiccups we will immediately focus on determining the root cause and a solution. I have access to a robust mobile data and home internet plan allowing persistent internet connectivity. I'm available and able to access our witness server through mobile SSH from anywhere at anytime.
For this reason I believe that we have an opportunity to be a reliable network presence. In addition we are committed to keeping the community up to date and in the loop with regards to our server status.
Transparency: The @battlegames witness server is managed by @agr8buzz, I'm not anonymous on HIVE as I do occasionally share information such as my name and location. In addition to this I'm happy to share my LinkedIn through Discord for anyone that is interested.
Values: Last but certainly not least we are committed to promoting and upholding a positive set of values: We believe strongly in protecting liberty, asset ownership, freedom of choice, thought, and expression, and a censorship resistant internet through blockchain technology. We are committed to upholding these values as a community, as a business, and as a witness on the HIVE blockchain.
Gaming: From day 1 our mission has been to support gamers, content creators and game developers here on the HIVE blockchain.
Server Specs ⚙️
Our witness is configured and running on a VPS provided by Privex Inc, a trusted company founded by one of HIVE's own top 10 witnesses @someguy123.
RAM: 8G RAM
Disk(s): 500G HDD
CPU(s): 4 cores
Network: 100mbps
This particular VPS is located in Sweden, a country known for a stable government/economy and stringent data privacy laws.
Our Witness Roadmap 🗺️⛵️
0-12 months: Within a years time our aim is to upgrade to a more powerful server with additional RAM and SSD. In addition to this we would like to add a seed node to assist with broadcasting transactions across the network.
1-3 years: Add a full public RPC node to our witness offerings along with a backup node capable of providing uptime continuity in the case of an unexpected outage.
Every Vote Counts 🐦👾🐦
A Battlegames witness vote is a vote for Hive Blockchain Gaming.
We believe fiercely in gaming as a blockchain use case and we're excited about our commitment to further the gaming community here on HIVE.
Every vote counts! It signals that we're a trusted community member and network participant and allows us to eventually earn rewards for signing blocks.
Our Ask 🙏🙏🙏
Please consider voting our witness on the HIVE blockchain.
You can vote using Hivesigner here: Vote for Battlegames Witness Here
Or vote through Peakd.com interface: Vote for Battlegames Witness Here
We are happy to answer any questions for you or hear your suggestions, the quickest way to reach us directly is in our Discord server, where we've created a #witness-talk channel specifically for this purpose.

See you on the battlefield!
-Battlegames