... is everyone now using an alt like @theycallmemyname ?
Well I've not dug that far into things to be able to tell you that, but I do have a couple of charts that perhaps show that new blood is joining the Hive.
The first chart is split into years and as you might expect, the fewest number of creators that posted in the past week arrived in 2016. I am one of the 271 accounts that arrived in 2016, although I didn't really get going until early 2017.
The interesting thing to note on the first chart is that accounts created in 2017 and 2018 are still here in more numbers than the accounts created in 2019. Was 2019 really that bad? 😝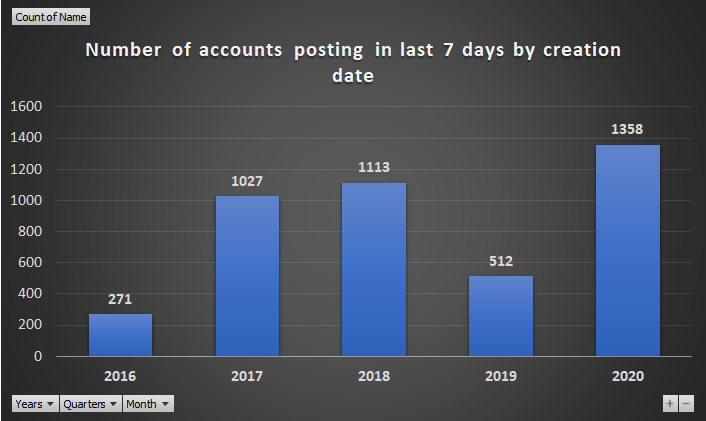 ---
Moving closer to the numbers and the next chart has the account creation date split into quarters.
Shout out to @blocktrades who is the only account that was created in the first quarter of 2016 that posted in the past week :)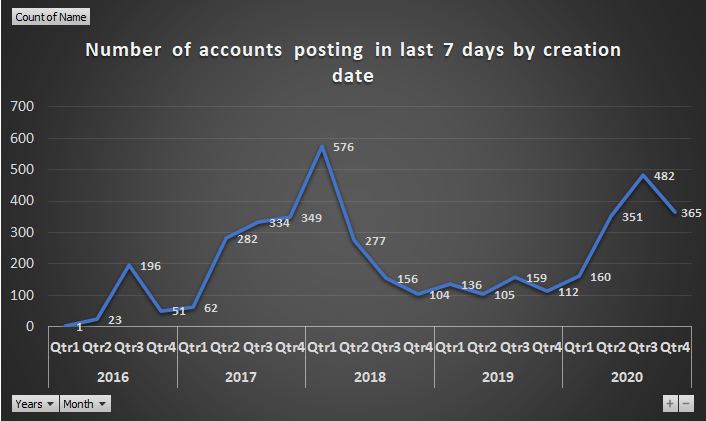 The lull through the final quarter of 2018 and throughout 2019 is plain to see. Yeah OK, 2019 was pretty dire.
Finally, an even closer look for those with good eyesight, not much different looking from the quarterly chart but I thought I'd throw it in anyway.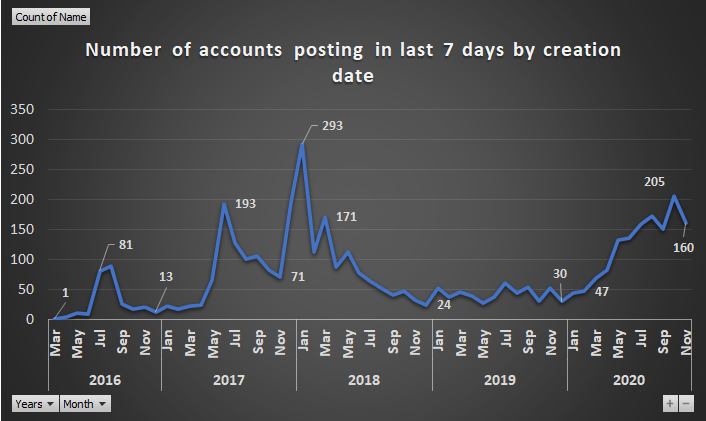 Soo, what's the conclusion? I guess the new chain has helped spark the revival - numbers picked up from around March-April this year, but they have continued to increase.
November is only 12 days old and so I expect that total to surpass last month, meaning it would be the largest influx of new accounts since the crazy times of end 2017 (December is highest) and early 2018.
With a small tick-up in HIVE price these past few days, is something slowly happening?
Cheers
Asher