When I wrote my last post about Sugar Cookie Day, I thought our new family tradition was over. Honestly, it is really not surprising that Sugar Cookie Day turned into Sugar Cookies Days (plural).
We quickly realized we left a few families off the list that we wanted to bless on the first day. And while we were at it, my kiddos added a few more names to the list.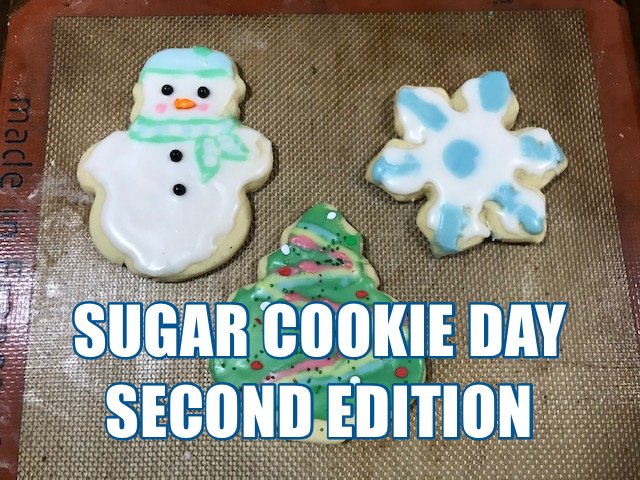 More Lessons Learned
Baking Cookies Is Not Just About Baking Cookies describes some of the life lessons that Sugar Cookie Day has taught our family.
In this post, I will share a few more things that we have learned or are in the process of learning.
Sacrifical Generousity
Honestly, this is a lesson that I am trying to learn. My wife and kiddos are already much better at this aspect of life than I am.
I would have called it quits after the first Sugar Cookie Day. My justification would have been "we have already blessed so many people" and "it takes a lot of time and effort." While those statements may be true, they also speak about the condition of my heart.
Some might call me "generous," but am I willing to give to the point of it hurting a bit? Often, I am willing to give from my abundance, but there is an imaginary line (defined by life experience and my unique characteristics) that I don't want to cross.
Sacrificial giving and generosity is not just an issue of financial giving. It is also important to think about the amount of time ("our time") that we are willing to give to others.
Feeling convicted!
Remorse and Reconciliation
Not only did my wife and kiddos spend hours in the kitchen baking and decorating the sugar cookies, but they also spent a couple of hours driving from house to house.
From my experience, sitting in a car next to a plate full of cookies is the perfect recipe for temptation.
My family could not drop off the cookies for one of the families because of a time crunch. During the drive, those cookies got smashed a bit as well. They did not look their finest, but they would have tasted great.
One of my daughters was reaching her tipping point. She was hungry, in the back seat, and kept looking at the slightly disfigured cookies.
As always, when my crew pours through the doors of our home, there is a lot of noise and chatter. As everyone settled down, someone remarked how something looked wrong with one of the remaining cookies.
My wife just chalked it up to being a rough car ride filled with lots of kiddos. We moved on, not thinking much about it.
Well, most of us were able to move on. Do you remember the child who was so tempted? Well, come to find out, she could not resist the delicious, slightly deformed sugar cookie.
This is the confession letter that my wife received this morning:
Mommy, I lyed to you and eat the hat and carrot noise of the snowman. Sorry will you forgive me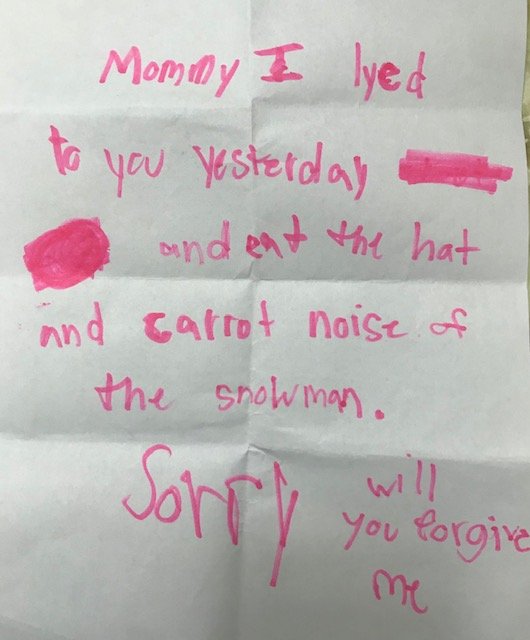 There is something to be said about asking for forgiveness (even if it is not until the next day). This little lady probably had a torturous night. She internalizes so much. She uncharacteristically "wanted" to go to bed early. No one had a clue what had happened (except her) until she wrote this letter.
I hope my children learn to truly forgive and genuinely ask for forgiveness. Life is too important (and too short) for reconciliable issues to keep family apart.
As a father, I want to teach my kiddos by example, and sometimes life comes full circle, and they remind me of the lessons I have taught them (that I need to be reminded of).
People Are Always Watching
My wife lost one of her newly purchased earrings during the first Sugar Cookie Day. She wanted some great Christmas-themed earrings to add to the festivities. Unfortunately, she lost one of the earrings while dropping off cookies.
One of my friends sent me this video. He noticed someone "suspicious." This is my wife picking up the lost earring.
This is a great reminder that people are always watching, and I don't mean in the creepy video file kind of way.
Our friends, neighbors, and acquaintances see how we live life as a family. People are watching as we celebrate our highs and as we push through our lows.
Being watched can often be a painful and embarrassing process. But there are even more precious eyes that are looking at us - our kids. They see how we live life and the degree of integrity we have.
This reminds me that I need not just to speak truth into my children's lives, but I need to model how to live out truth each and every day.
Final Thoughts
Who knows? I might get surprised with a third Sugar Cookie Day. 😀
Honestly, this post is not about the cookies. It is about finding moments to connect with and grow with the people that matter most to us.
I hope that your year has been filled with joy and happiness, despite a global pandemic and the chaos that might be taking place in your own four walls.
Lean into the everyday teaching moments! Teach in word and by example. Find opportunities to sneak in more teachable moments in the fun and exciting events of life, like Sugar Cookie Day!
Thanks for stopping by!