Hi hivers - Hola hivers
Hello, beautiful Hive community, I hope that this Sunday you are spending quality time with your loved ones, last night doing academic activities with my son, he expressed to me that he was very bored, having been locked in the house for so long, due to the quarantine. I looked, among the things I had on hand with useful material and we both decided to make an hourglass, but since we did not have sand or a large amount of salt or flour, we decided to build it with different old grains that I had stored, since I was in elementary school when they sent me to do an activity, and what better use than to make excellent use of it so that William can get out of the routine and further strengthen the union of mother and son.
Hola linda comunidad de Hive, espero que este domingo estén pasando tiempo de calidad con sus seres queridos, anoche realizando las actividades académicas con mi hijo, me expresó que estaba muy aburrido, por tener tanto tiempo encerrado en la casa, debido a la cuarentena. Busqué, entre las cosas que tenía a la mano con material de provecho y ambos decidimos realizar un reloj de arena, pero como no teníamos arena o gran cantidad de sal o harina, decidimos construirlo con diferentes granos viejos que tenía guardado, desde que yo estaba en primaria cuando me mandaron a realizar una actividad, y que mejor que darle un excelente uso para que William pueda salir de la rutina y fortaleciendo más la unión de madre e hijo.
---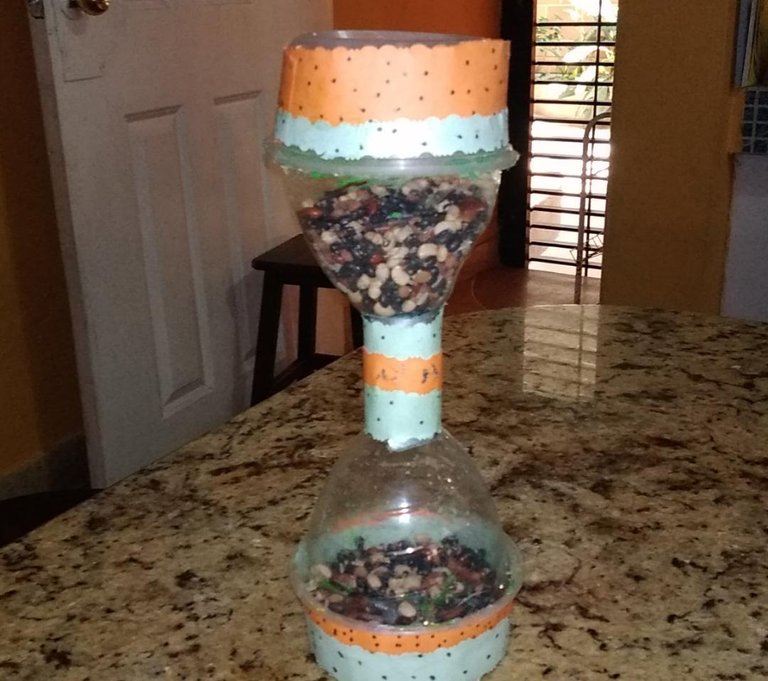 ---
Our magic grain clock helps us to put teamwork into practice, encourages the concentration process, patience, gross motor skills and perform a competitive activity, when he starts the clock and see how by reversing the clock grains fall from top to bottom in a limited time, this filled him with great excitement. Evaluating the behavior assumed by him during this activity, I was able to realize that new concepts were created in his vocabulary such as: full, empty, down, up, fall, all this when seeing the grains go from one container to another and from this This way can be achieved in the child to develop his imagination and creativity.
Nuestro reloj de granos mágicos, nos ayuda para poner en práctica el trabajo en equipo, incentiva el proceso de concentración, la paciencia, la motricidad gruesa y realizar una actividad competitiva, cuando él pone en ejecución el reloj y ver como al invertir el reloj los granos caen de arriba hacia abajo en un tiempo limitado, esto lo lleno de gran emoción. Evaluando la conducta asumida por él durante esta actividad, pude darme cuenta que se fueron creando nuevos conceptos en su vocabulario tales como: lleno, vacío, abajo, arriba, caer, todo esto al ver pasar los granos de un envase a otro y de esta manera se puede lograr en el niño desarrollar su imaginación y su creatividad.
---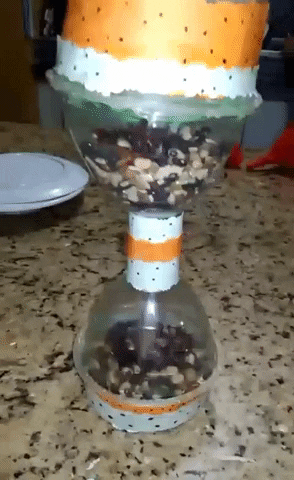 ---
The materials to use:
• Different types of grains
• Two plastic soda bottles with their caps
• Cutting knife
• Scissor
• Silicone
• Colored cardboard (choose yours to your liking)
• Two plastic butter lids or, failing that, two small plastic butter containers
• Glue to place the cards.
• Plastic tape.
• A funnel
Materiales a utilizar:
•Diferentes tipos de granos
•Dos botellas plásticas de refrescos con sus tapas
•Cuchillo para cortar
•Tijera
•Silicón
•Cartulina de colores ( escoger ustedes a su gusto)
•Dos tapas plásticas de mantequilla o en su defecto dos envases plásticos de mantequilla pequeño
•Pega para colocar las cartulinas.
•Cinta plástica. •Un embudo
---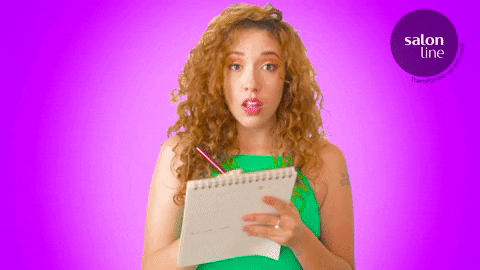 ---
Steps for the elaboration of the magic clock
. Heat a knife in the kitchen over high heat to cut the previously marked containers (keep children away from the fire to avoid any accident).
Pasos para la elaboración del reloj mágico
.Calentar en la cocina con fuego alto un cuchillo para poder cortar los envases, previamente marcados, (mantener alejados del fuego a los niños para evitar cualquier accidente).
---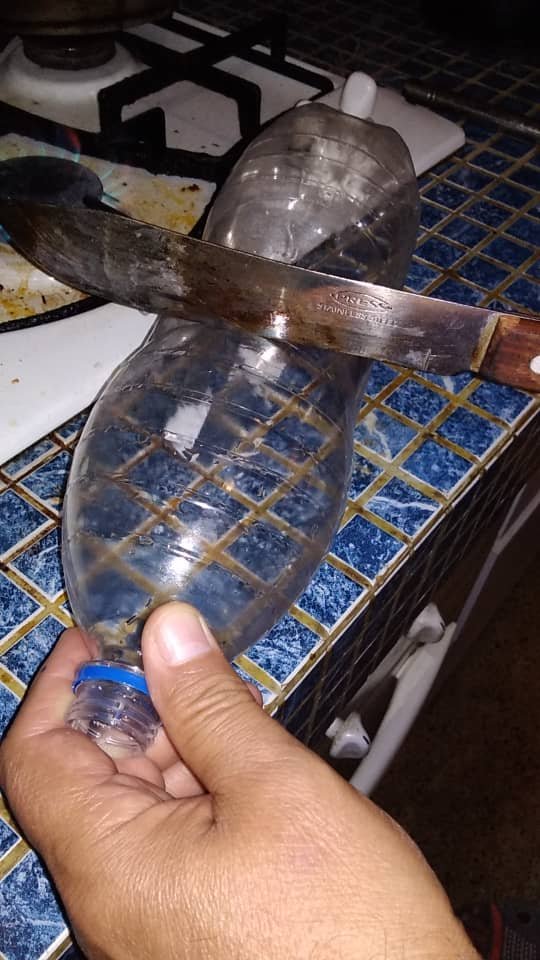 ---
.Then the butter or margarine containers are glued to the bottom of the bottle to serve as a base for the surface, pierce the lids with a hot knife to allow the grains to pass from a bottle to the other.
.Luego se procede a pegar en la parte inferior de la botella los envases de mantequilla o margarina para que sirva de base a la superficie, perforar las tapas con un cuchillo caliente a fin que permita el paso de los granos de una botella a la otra.
---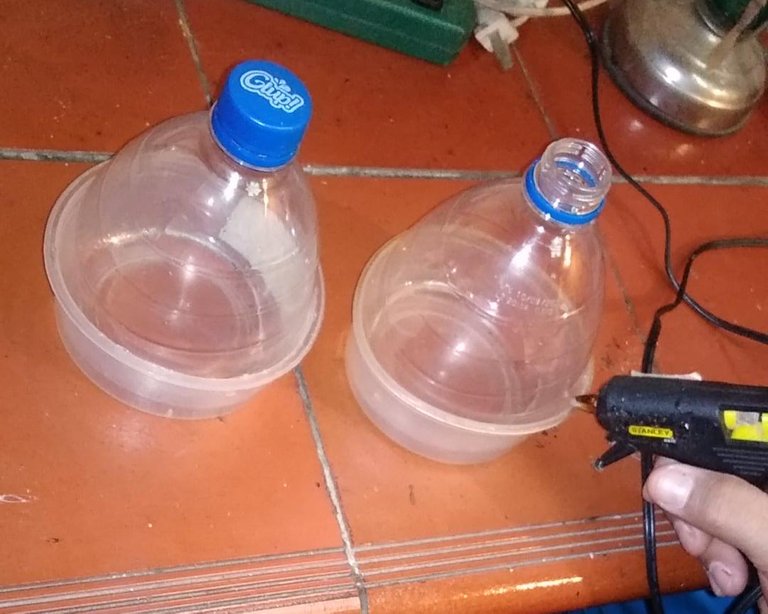 ---
. By using the funnel, the grains are placed inside the bottle, until the bottle is mixed.
. Mediante el uso del embudo, se procede a colocar los granos dentro de la botella, hasta la mistad de la misma.
---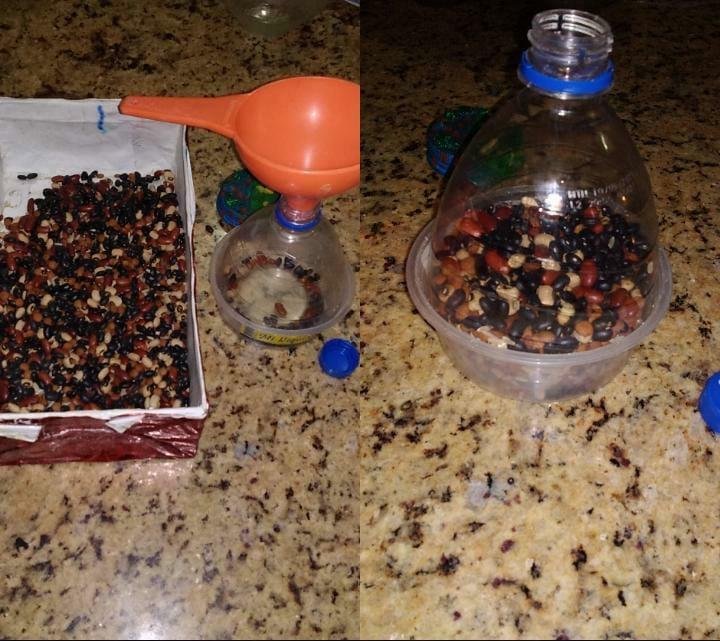 ---
Use silicone on the lid of the container to serve as a base, seal it with the other end and reinforce it with strong plastic tape to prevent the grains from coming out.
Utilizar silicón en la tapa del envase para que sirva de base, sellarlo con el otro extremo y reforzarlo con cinta plástica fuerte a fin de evitar que se salgan los granos.
---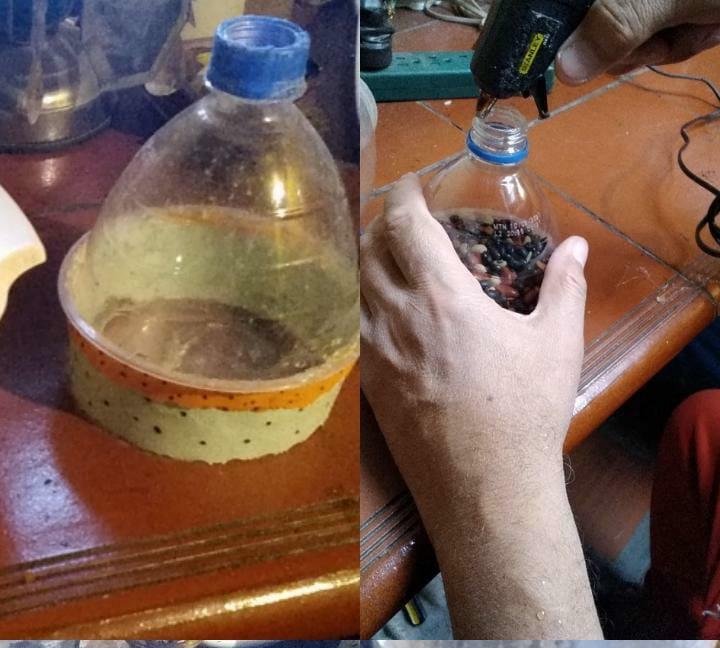 ---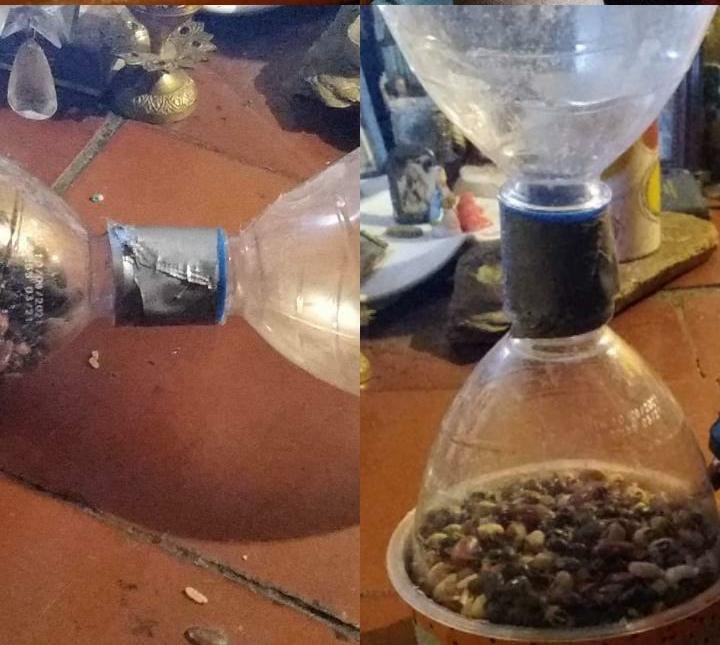 ---
. Cut and glue the cards according to your preference and decorate using all your imagination.
. Recortar y pegar las cartulinas según su preferencia y decorar utilizando toda su imaginación.
---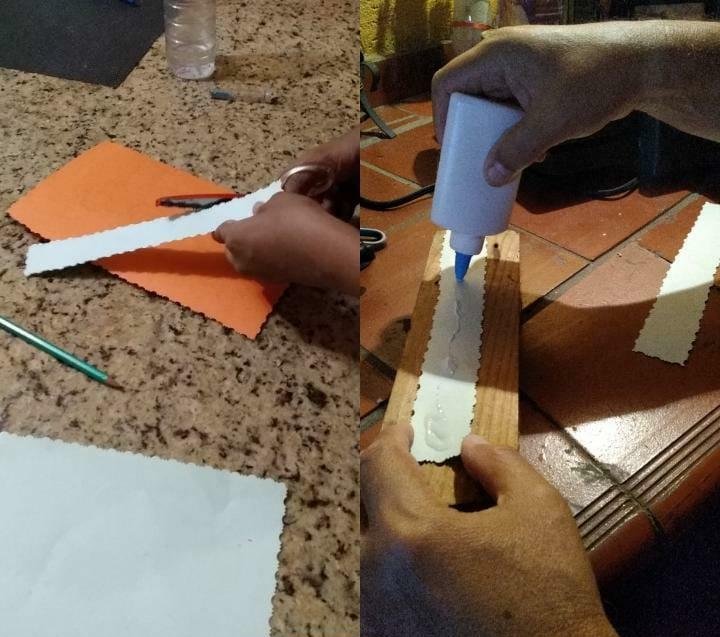 ---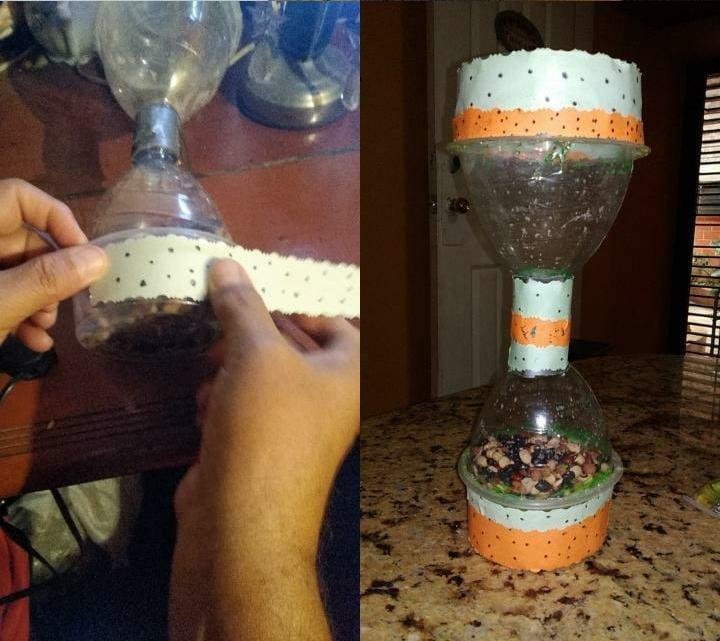 ---
My son was fascinated by the making of the magic clock, useful materials were used, expressing that his new toy was fantastic. I hope you can put this fun activity into practice. From our experience it was a pleasure to be able to get out of the ordinary a bit and has great benefits for our children, contributing with their imagination.
Mi hijo le fascino la elaboración del reloj mágico, se utilizaron materiales de provecho, expresando que su juguete nuevo era fantástico. Espero que puedan poner en práctica ésta divertida actividad que desde nuestra experiencia fue algo grato poder salir un poco de lo cotidiano y posee grandes beneficios para nuestros niños, contribuyendo con su imaginación.
---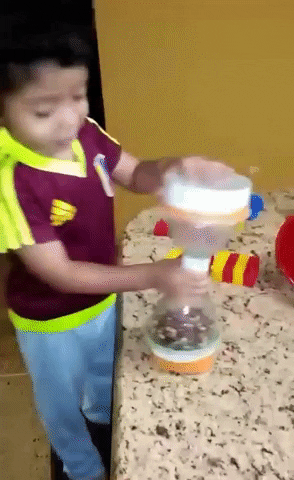 ---
Thank you for taking the time to read my post, I hope you enjoy this excellent activity, dedicated to our children. It is important to mention that my father gave us the support for this activity.
Gracias por tomarse el tiempo para leer mi post, espero sea de su agrado ésta excelente actividad, dedicada a nuestros niños. Es importante mencionar que para esta actividad nos brindó el apoyo mi padre.
---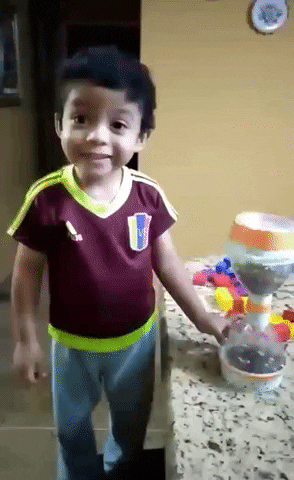 ---
All photos are my property and were taken from my smart phone.
Todas las fotos son de mi propiedad y fueron tomadas desde mi celular inteligente.
---
---
Children's creativity has no limits, and we must reinforce it.
....Until next time....
❤️❤️❤️❤️❤️❤️
La creatividad infantil no tiene límites, y debemos reforzarla.
....Hasta la próxima....
❤️❤️❤️❤️❤️❤️
---