Hi Edders family!
Today we got the opportunity to take the teaching in a different direction. Pets!

Scrub a Dub
So one of the things we were putting off, at least I was, was getting a pet lol. We had a cat for a few years with our son and he got to know her and help me clean the litter box and stuff but not really much more than that because he was young and she didn't really like him because he was too fast for her.
Fast forward about 2 months ago we were at a store and next door to it was a pet store. I had no idea he recognized the sign on the store until he told us he wanted to go in the pet store! We were confused but he watches some good shows on YouTube that have pet stuff on it so we weren't too surprised. So ever since then he's been really asking for a pet since we had to give our cat up for the better quality of her health and life in the summer. He was thinking we could get a hamster or something but that was a hard no from me. I've had pets all my life and I enjoy them but I want some time where I don't have to care for another being besides my human family lol. Some call it mean, I just want time! Lol
So we settled on a fish after he was saying he really hoped that Santa would bring him a fish for Christmas. They get ya with that stuff! Hard to say no when they have that real joy in their eye saying it lol.
So we got the fish a few days ago, Tuesday I think it was. We got these little molly fish or something. They are cool and they fit okay in the tiny tank we have. It was time to clean the tank though, it was getting cloudy! I had been talking about it most of the day and he was really excited to help, he's always the little helper which is great. Takes longer but that's okay it's fun for him even if I have to keep telling him to not do this or that. I couldn't take a picture of the fish capture and transfer the poor things were terrified enough lol. It came time to clean the rocks!
Boy these things were dirty! I'm not thrilled about cleaning it every 4 or 5 days but it makes the little man happy and he gets to help me do it. We were trying not to lose any of the rocks down the sink since some of them were tiny but cleaning them wasn't too easy!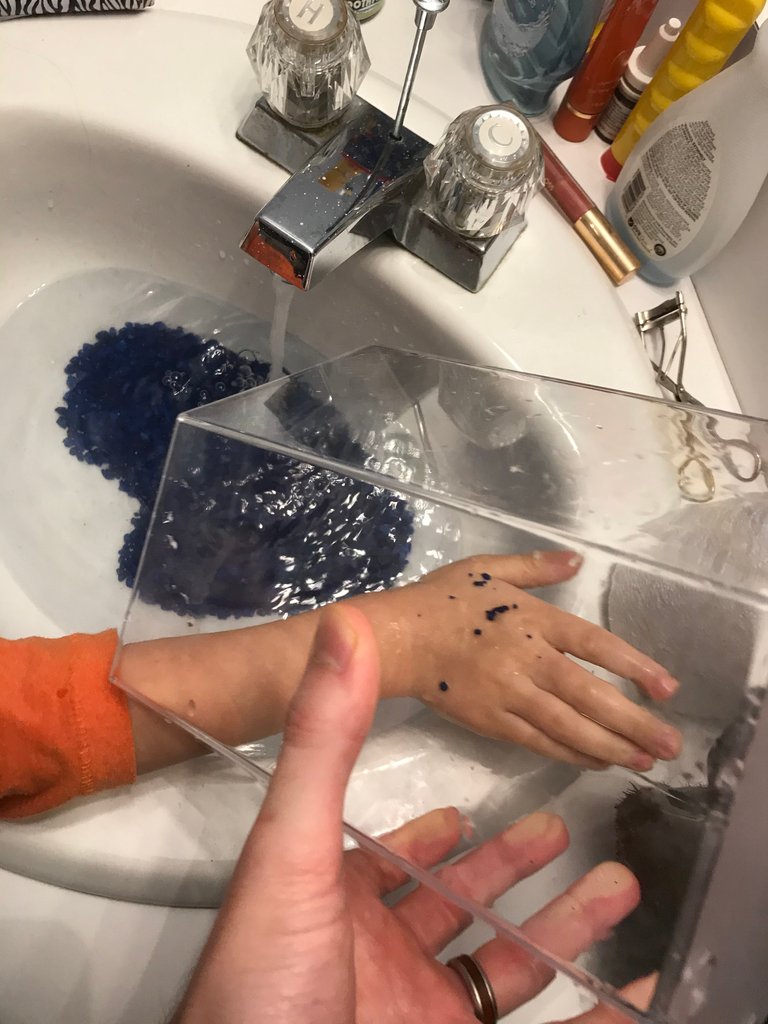 Kitchen food strainer definitely comes in handy lol. We had to strain all of the rocks through this in hopes that it was good enough to get all of the food and poop of them. Unfortunately it wasn't too good, once I started to put the water back in the tank you could see it was still really cloudy lol oh well. We will get better next time!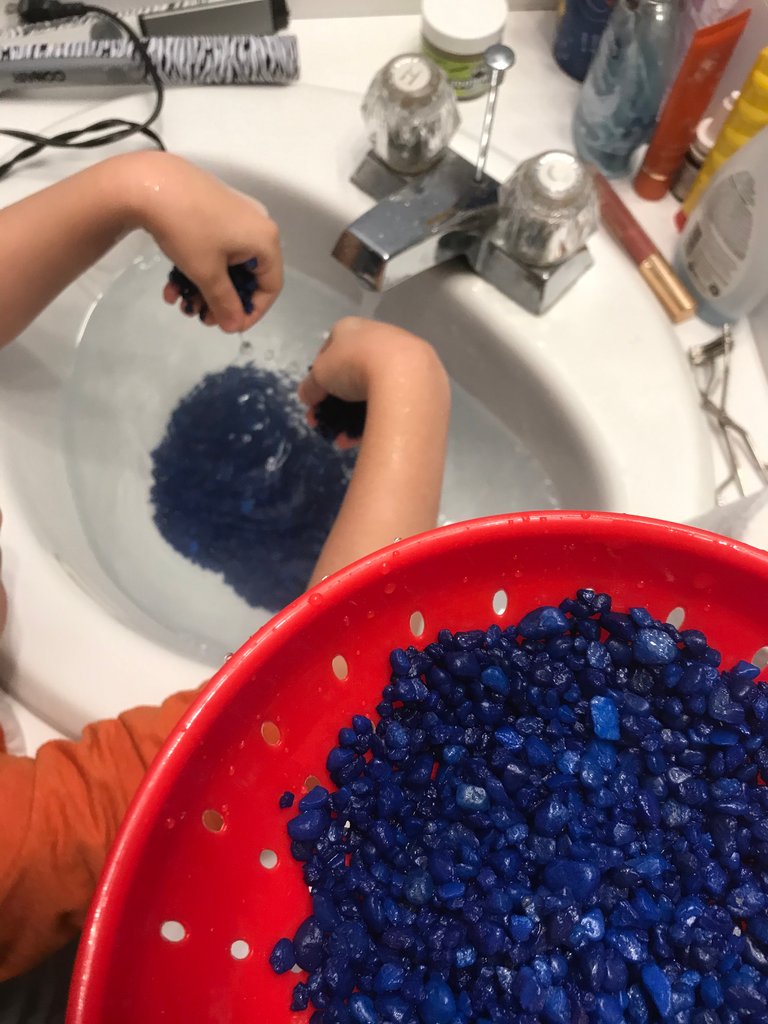 The fish are thankfully pretty cool looking. Trouble is, these fish don't lay eggs they give live birth. And she's pregnant.. great lol. More fish coming!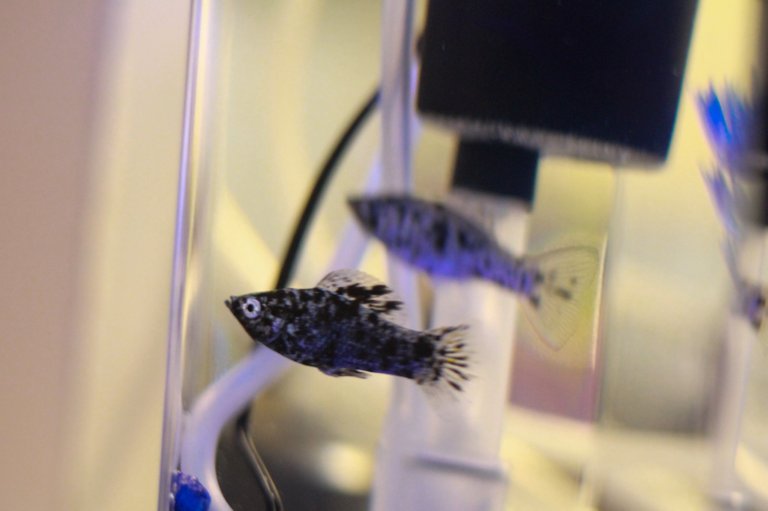 Lessons
So the fish and pet are good lessons for him though. It teaches responsibility to him. He is the one responsible for feeding them every day, you only have to do it once but he's more than happy and willing to do it so we are letting him do it all. He hopefully will keep up the streak of keeping them fed but he loves to watch them and he can see them every day where the cat he wouldn't see because she would hide from him. He has also been learning more of the things that it takes to keep different animals and stuff alive. The fish tank with the filters, pumps and lights is a lot different than a cat that just wants food and water. You have to work harder to keep the fish alive and happy so he's been doing good so far. If the fish does give birth it will be interesting to see how he will be excited for it. Apparently though the fish eat the babies so we have to be careful of that lol.

Connect with me!
Do you want to get paid, in crypto, for searching the internet? Try using and signing up for Presearch to earn some great crypto! I've currently got 1,415 PRE tokens, with a market value of $27.57. It doesn't sound like a lot but when you search using sites like Google you get paid $0! Join Presearch to break Google's stranglehold on the internet searches. If you'd like to sign up, use my referral link!
https://www.presearch.org/signup?rid=513043