Good Day Guys
It's the last day of the month of April and let me share with you what happened during my day.
When I woke up I continued writing my article and I got ready for work. I left the house at around 7:38. While I was driving, it was really traffic at BGH. I was wondering why was it traffic and I was nervous at the same time because I was going to be late for work. It wasn't moving and I heard the sirens of an ambulance, I checked my mirror and there's an ambulance rushing and I gave it away. After a while, the lanes started moving. As I was moving closer there were 3 lanes merging into 1 lane. I finally saw a glimpse of what happened, there was an accident with a motorcycle and the ambulance was already there. I hope that person was okay. The flow of traffic was really slow and I was still rushing.
I was able to finally park and I was walking really fast just to go to my workplace. I passed through the triage and when I timed in, it was 8:00:45. I was late but I'm not sure if they are going to count the seconds. When I got to my department I was kinda sweaty
My colleague brought her pet which is a bearded dragon named Forest and it really looked cool to look at because of the new accessory that it's wearing, a leash with wings. If only the wings had the same color. It was just taking photos of it while waiting for our doctor's rounds. Just look at its smile. Doesn't it look adorable?
Actually, some of my workmates don't like it. But the one who hates it the most is our Doctor. She would freak out whenever my colleague brings Forest near.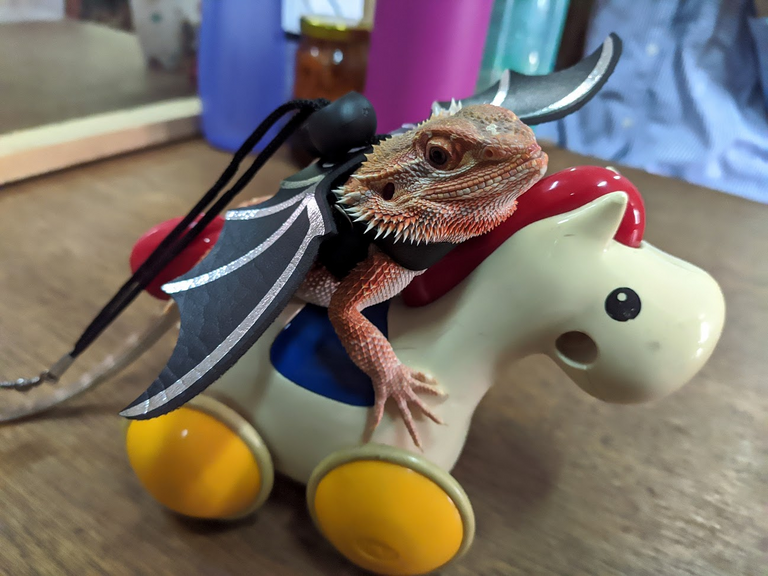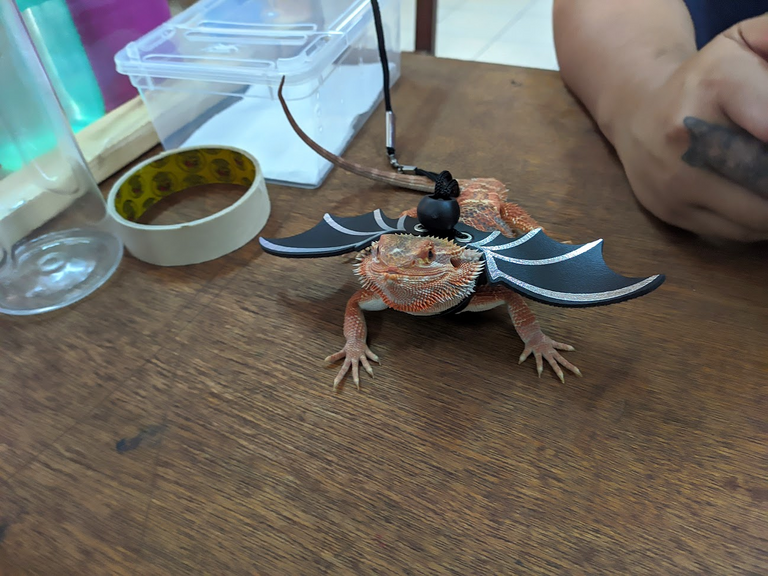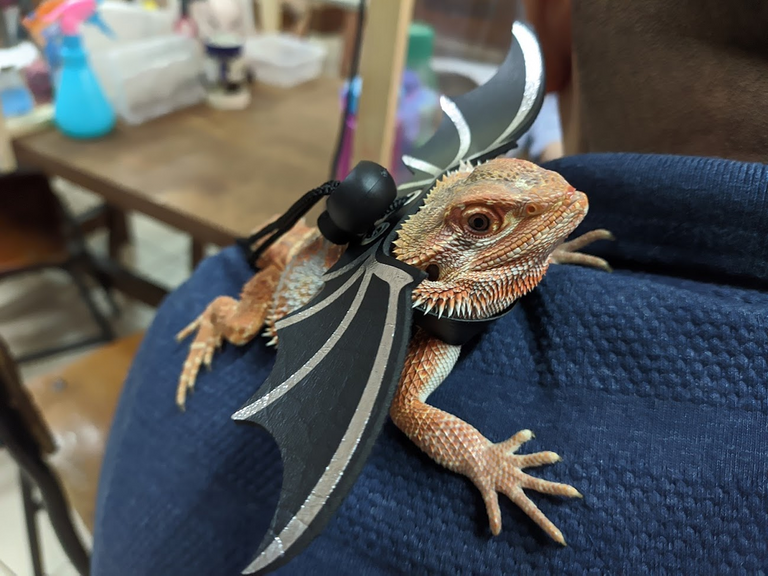 Our doctor finally was done doing the rounds but it was a little bit later than usual and we were endorsed on what to do to each patient. So as soon as we were finished we went up already. We went to patient 1 and he's our new patient. He suffered from a stroke and he could barely move his right arm. He's already an old man but he looks young. It was really fun talking to him because he would make a lot of jokes. After finishing his treatment, we went to patient 2. We were already 2 therapists so we were able to convince her to stand. It was her first time standing after a long time but we had to support her because she was really weak. The first round of standing she was able to stand for a minute and the second round was for 2 minutes which was a total of 3 minutes. We also did some exercises. She's really a funny patient because one of the doctors did her rounds and she asked "Sino ang Maganda sa atin?"(Who's Beautiful from us?) and the patient replied "Ako"(Me). We were just laughing with my colleague.
We went to patient 3 but we noticed that his Oxygen saturation was low it was around 88-89% so we said to the nurse on duty that we will go back later. We then went to patient 4, she already stood yesterday so it was time for ambulation. It was really difficult to make her ambulate because she couldn't maintain her balance because of her weakness from the stroke so we had to guide her. After we finished we had to go to the other building where we had 2 patients. We went to patient 5 and after a long time of deferrals and refuses we were able to treat him. We went to patient 6 but as we entered her room she was already eating. It was 11:30 already and we went to our patient whose room is just across our department. We were able to treat patient 7, he's also a stroke patient but he's really weak. I really feel bad for this patient.
We then disinfected then ate lunch. After lunch at around 1:20, we went back up to the 4th floor from the basement to continue treating patient 3 but the nurse on duty said that he just ate and he might vomit the food if ever we treated him so we said that we'll just go back later at around 2 and the nurse agreed. We went to the other building and treated patient 6. We were able to make her walk after a long time of not walking. Though when we were talking to her she sounds depressed and ask if that's going to be her state until she dies. We told her that she's still in the recovery stage, we also told her to help herself so that she'll recover faster. We went back to patient 3 and was able to treat him, we even taught his watcher what to do if ever they bring him home. I felt bad for this patient because for some reason there were ants attacking him already. So we were killing it during the treatment. After the treatment, we were on our way down, and we spotted one of our batchmates who's in clerkship already. It was nice seeing her.
We went to our department, disinfected, charged the patients, did our notes, and updated the doctors regarding their patients. We were just talking to each other and I also found time to rest while waiting for it to hit 5 o clock. I was really excited to go home because I was hungry and I was also thinking that we won't have work tomorrow.
I got home disinfected then practiced playing my instrument. After practicing I used my computer then ate dinner. I spoke with my girlfriend and I actually slept early than usual. I hope that you guys enjoyed the last day of the month of April!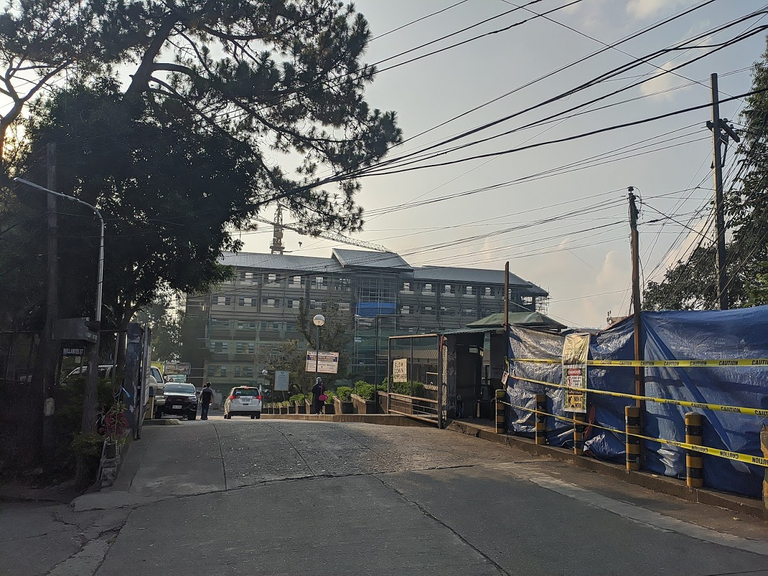 Thanks for reading and Stay safe always!
The photos used in this post are owned by me .

EARN BITCOIN CASH BY CREATING AN ACCOUNT HERE AND POSTING