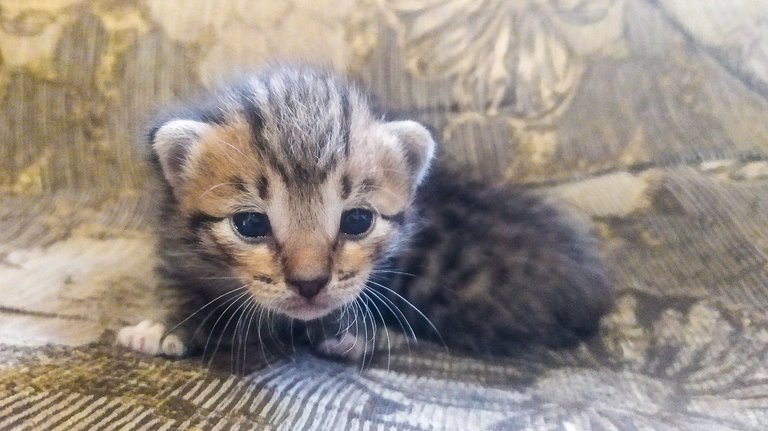 A cordial greeting, this way
@RafaelGreen
lover of nature and travel, this time I write about a situation that happened in my house and possibly has also happened in others.
In Venezuela during these moments we are entering the rainy season, which makes areas without roofs and patios vulnerable places for pets, in my house we have a patio with trees and plants, in this we had the visit of a domestic animal that was not our pet.
This animal was a beautiful cat, with green eyes, gray fur and tiger-like stripes, she was pregnant, but in my house we thought she was someone's pet and was just passing through. The thing is, this kitty got used to constantly passing through my house, if there were leftovers she was always given some, sometimes we would find her walking along the walls and on the ceilings.
Un cordial saludo, por acá @RafaelGreen amante de la naturaleza y los viajes, en esta ocasión les escribo sobre una situación que sucedió en mi casa y posiblemente también haya sucedido en otras.
En Venezuela durante estos momentos estamos entrando en la estación lluviosa, lo que hace que las zonas sin techos y patios sean lugares vulnerables para las mascotas, en mi casa tenemos un patio con árboles y plantas, en este tuvimos la visita de un animal doméstico que no era nuestra mascota.
Este animal era una gata hermosa, con unos ojos verdes, un pelaje gris y rayas parecidas a las de un tigre, ella se encontraba embarazada, pero en mi casa pensamos que era la mascota de alguien y solo estaba por allí de paso. La cuestión es que esta gatita se acostumbró a pasar constantemente por mi casa, si habían sobras siempre se le daba un poco, a veces la encontrábamos caminando por las paredes y por los techos.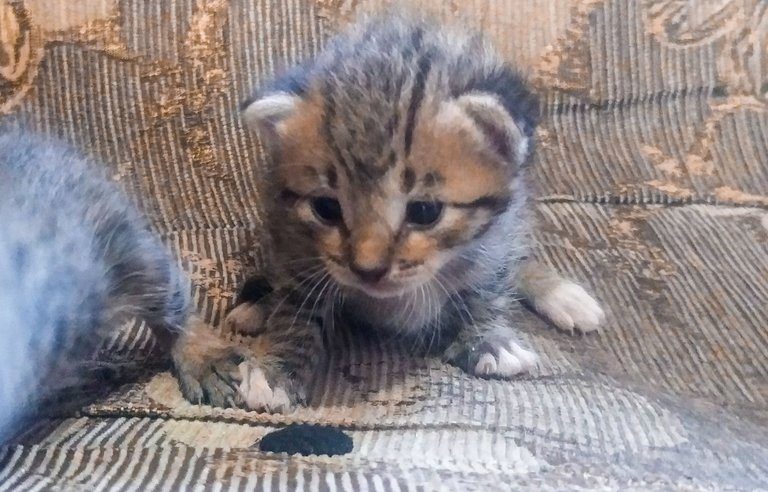 One day the cat disappeared for about three days and when we saw her again she was skinny, that is, she had already had her offspring, and we imagined that she had them in her owner's house, however, animals are instinct beings and I think they look for the most suitable place for their offspring to be safe.
A few days ago, in the rainy season, there was a kind of storm, a lot of rain, the whole day water was falling from the sky with force, and I went out to the yard to see the plants and the falling rain, when suddenly I heard the meowing of some cats, but it was an innocent sound almost asking for help. These cats that were meowing loudly were the kittens of the cat that we were constantly watching pass by.
Un día la gata desapareció como por tres días y cuando la volvimos a ver estaba flaca, o sea ya había tenido a sus crías, he imaginamos que las tenía en la casa de su dueño, sin embargo, los animales son seres de instinto y creo que buscan el lugar más idóneo para que sus crías estén a salvo.
Ya en temporada de lluvias, hace pocos días hubo una especie de tormenta, mucha lluvia, todo el día cayendo agua del cielo con fuerza, y salí al patio a ver las plantas y el caer de la lluvia, cuando de pronto escucho el maullido de unos gatos, pero era un sonido inocente casi que pidiendo ayuda. Estos que maullaban fuerte eran las crías de la gata que con constancia veíamos pasar.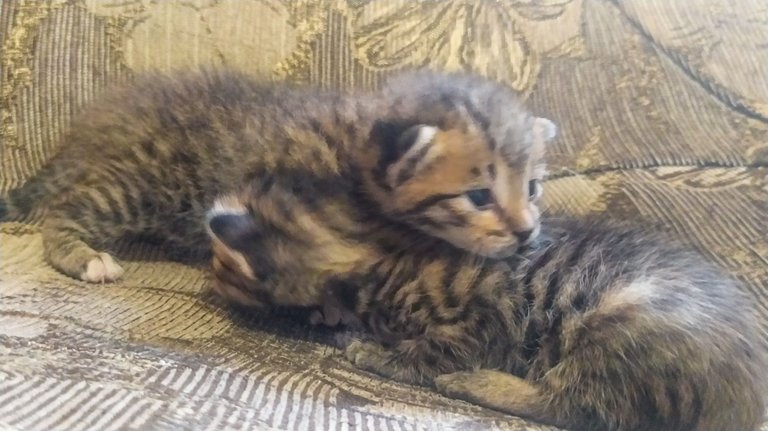 When I approached the place where the sound was coming from, I realized that there was more than one cat, and these were newborn kittens barely a week old at the most, using the little strength they had to ask for help, they were soaked and very cold, since they were shivering.
They were two beautiful kittens which I took, dried and put in a box with a piece of cloth, there they spent the night, dry and warm, safe from the storm. The next day at dawn I went to check on these cats and observed them healthy, tender and I will note that they are very small.
Cuando me acerqué al lugar de donde provenía el sonido, me di cuenta de que se encontraba más de un gato, y estos eran unos gatitos recién nacidos apenas con una semana máximo, utilizando la poca fuerza que tenían para pedir ayuda, estaban empapados y tenían mucho frío, ya que temblaban.
Eran dos gatitos hermosos lo cuales tomé, sequé y metí en una caja con un pedazo de tela, allí pasaron la noche, secos y con calor, a salvo de la tormenta. Al siguiente día al amanecer fui a chequear estos gatos y los observé sanos, tiernos y acotaré que están muy pequeños.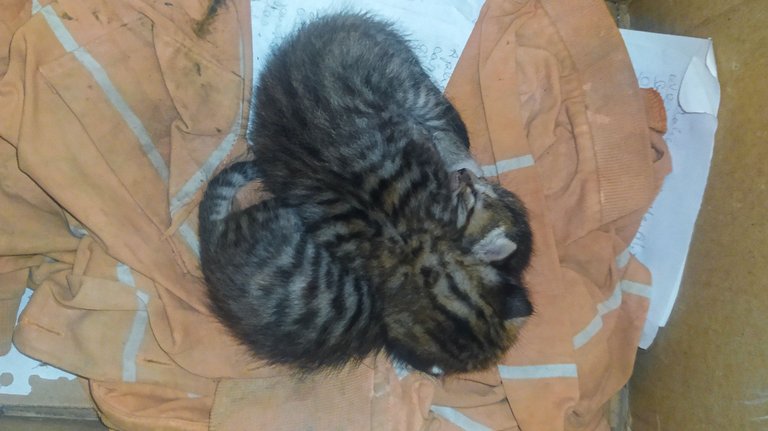 ---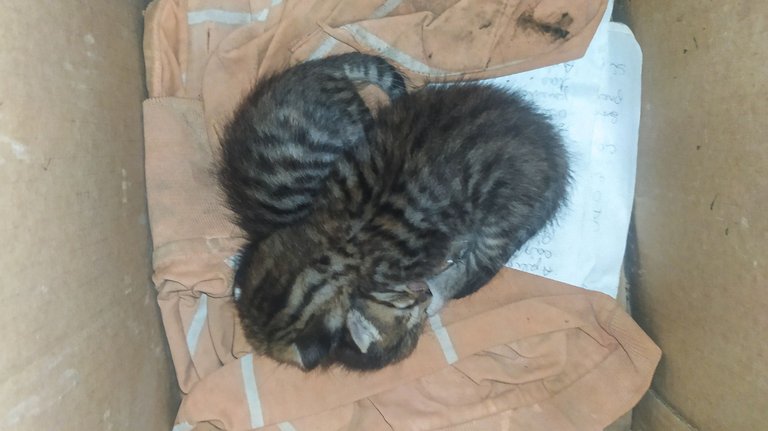 I saw the mother the next day, when the rain had stopped claiming her children, I took the box and put them back where their mother considers them safe. I think that if I have the opportunity to help an animal I have to do it, for this reason I want to get a home for these little friends that now inhabit my house. I am a person who rarely frequents my house since I live working from place to place and I can't be responsible for them.
I brought you this story and situation, because I thought it was good to help these helpless beings that will soon be someone's pets. We must love animals and nature.
Thank you for reading.
A la madre la vi al siguiente día, cuando la lluvia había cesado reclamando a sus hijos, tomé la caja y los volví a colocar donde su madre los considera a salvo. Pienso que si tengo la oportunidad de ayudar a un animal tengo que hacerlo, por esta razón quiero conseguirle un hogar a estos amiguitos que ahora habitan mi casa. Soy una persona que muy poco frecuento mi casa ya que vivo trabajando de lugar en lugar y no me puedo hacer responsable de ellos.
Les traje esta historia y situación vivida, ya que me pareció bueno poder ayudar a estos seres indefensos que pronto serán las mascotas de alguien. Debemos amar a los animales y a la naturaleza.
Gracias por leer.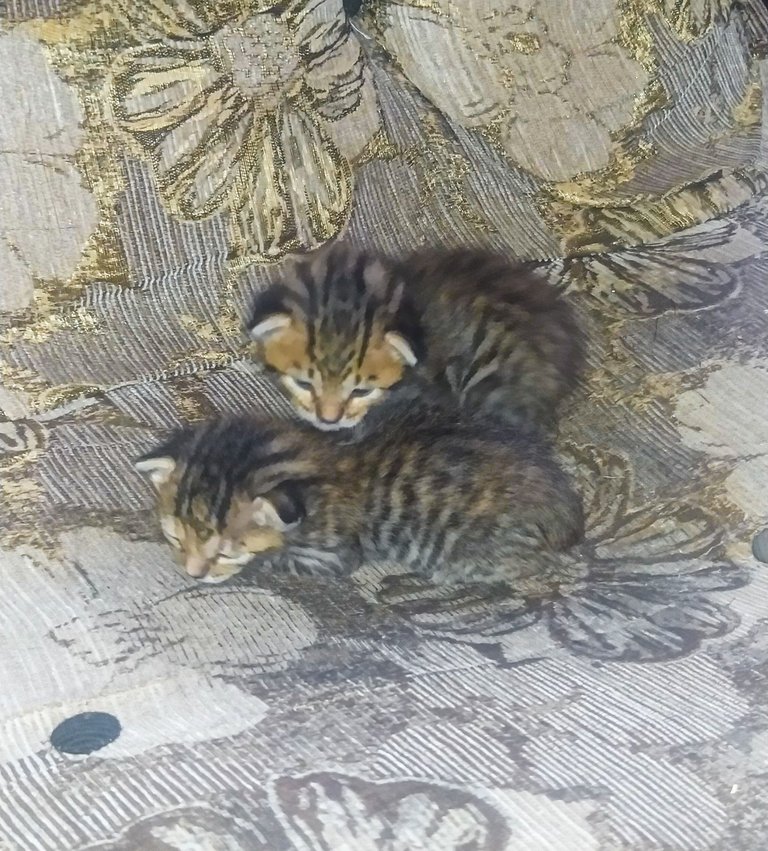 ---
---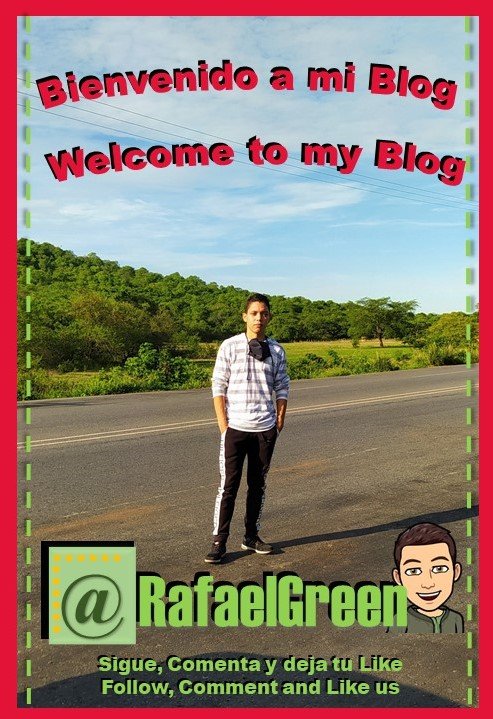 [ESP]Bienvenido a un pedazo de mi mente, un espacio de @RafaelGreen, Militar de profesión, Licenciado y Bloguero. Aventurero, narrador de aventuras y experiencias, camino a ser creador de historias. Conociendo lugares nuevos, ecologista por pasión, buscando la mejor forma de emprender y lograr mis metas. Llevándote a conocer lugares de Venezuela, contando una historia, una aventura y algo más. Si te gusta mi contenido, no olvides dejar un comentario, tu like o tu opinión, y muchas gracias por el apoyo.
[ENG] Welcome to a piece of my mind, a space of @RafaelGreen, Military by profession, Graduate and Blogger. Adventurer, narrator of adventures and experiences, on my way to being a storyteller. Knowing new places, an ecologist by passion, looking for the best way to undertake and achieve my goals. Taking you to know places in Venezuela, telling a story, an adventure and something more. If you like my content, don't forget to leave a comment, your like, or your opinion, and thank you very much for your support.
---
Mi idioma nativo es el español por lo que uso Deepl para mis traducciones.
Las fotografías son de mi propiedad, usé la cámara del Redmi Note 8 para las fotografías, edite con PowerPoint y retoque con lightroom.
"Somos una partícula en el universo con el poder de cambiar el mundo"
Si te gusto el escrito deja tu opinión y si tienes alguna observación constructiva no dudes en hacerla.
---
My native language is Spanish so I use Deepl for my translations.
The pictures are my own, I used the camera of the Redmi Note 8 for the pictures, edited with PowerPoint and retouched with lightroom.
"We are a particle in the universe with the power to change the world"
If you liked the writing leave your opinion and if you have any constructive observation do not hesitate to do it.

Banner designed by myself in PowerPoint / Banner diseñado por mi persona en PowerPoint.