[Eng/Spa] Dodo, one of a kind for me.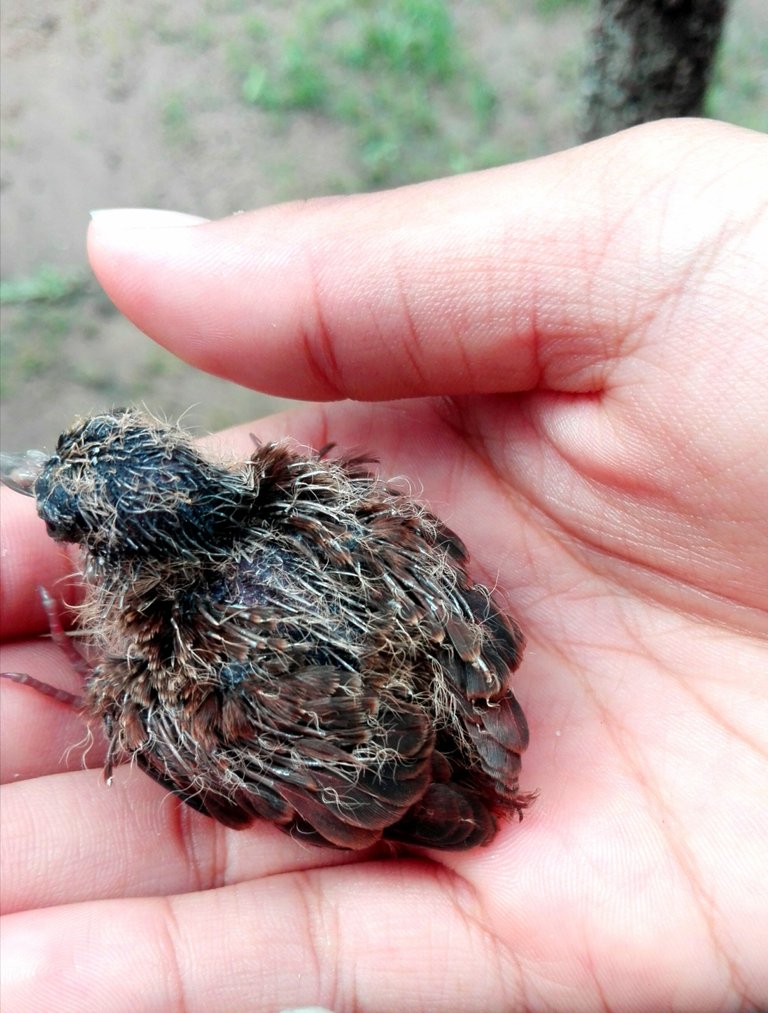 Hello dear Hive friends, I share with you my entry in this nice activity in which you can participate by visiting this post. So this is my story:
Hola queridos amigos de Hive, comparto con ustedes mi entrada en esta linda actividad en la que puedes participar visitando este post. Entonces esta es mi historia: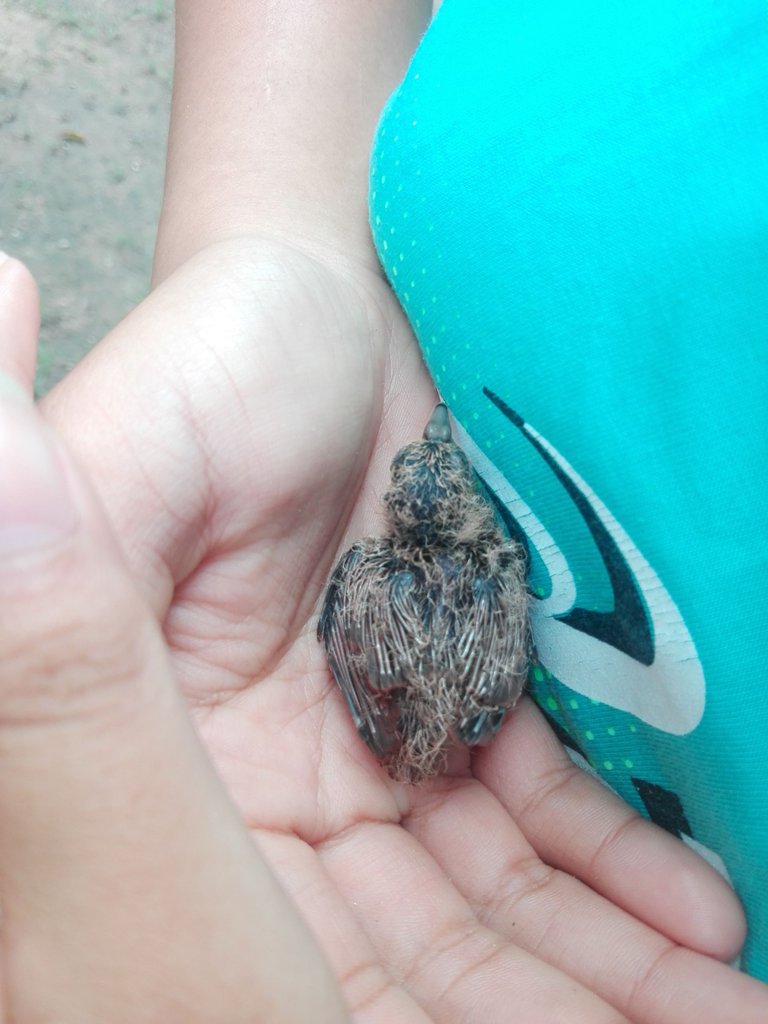 Español
Un día normal, debía salir a hacer unas cosas, luego de cerrar la puerta de mi casa, di dos pasos y sentí que tenía algo en el pie, al bajar la mirada noté que se trataba de un nido, rápidamente comencé a revisarlo a ver si tenía algunos huevos y no, no los tenía pero sí conseguí un pequeñito pichón que estaba muerto, quizá murió por el impacto al caer decidí enterrarlo con su nido, pero cuando levante lo levante sentí que algo Se movió dentro, era otro pichón, estaba tan dentro del nido que no sufrió ningún daño. Puse el nido en una rama alta de ese mismo árbol sin tocarlo demasiado para no dejar mi olor en el y sus padres vinieran a buscarlo.
Salí a hacer las cosas que debía hacer, pero todo el tiempo estuve preocupada de que el pichón volviera a caer, unas horas después volví y todavía seguía ahí, ya era tarde y no quise dejarlo afuera en la noche porque hay muchos gatos cerca así que le hice un nido en una pequeña caja y puse una bombilla cubierta con un paño grueso para darle algo de calor durante la noche, y así comenzó nuestra historia juntos.
English
A normal day, I had to go out to do some things, after closing the door of my house I took two steps and I felt that I had something on my foot when I looked down I noticed that it was a nest I quickly started to check it to see if it had some eggs and it did not have them but I got a tiny chick that was dead maybe it died from the impact When it fell I decided to bury it consumed but when I lifted it up I felt something move inside it was another chick it was so far inside the nest that it did not suffer any damage I put the nest on a high branch of that same tree without touching it too much so as not to leave my smell on it and its parents would come looking for it.
I went out to do the things it was supposed to be, but all the time I was worried that the chick would fall again a few hours later I came back and it was still there and it was late and he didn't want to leave it outside at night because there are many cats nearby. So I made him a nest in a small box and put a light bulb covered with a thick cloth to give him some warmth during the night and that's how our story together began.
---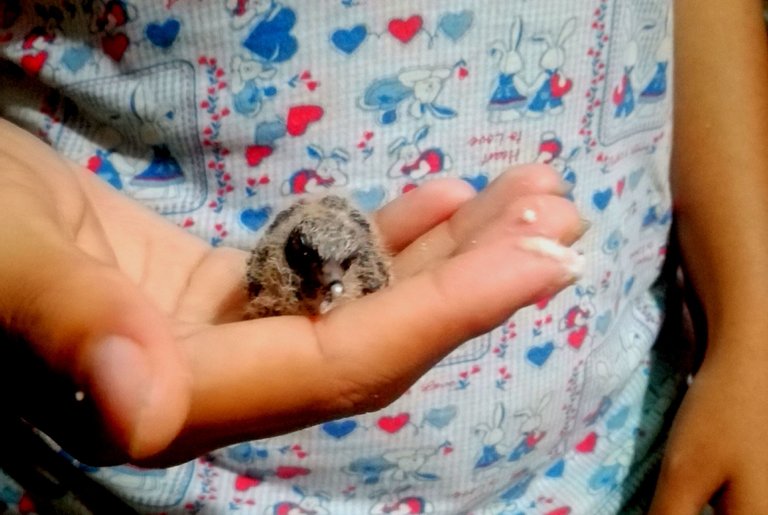 ---
What is your pet's name and why did you decide to name him/her that? / El nombre de mi mascota y porqué le llamé así
Le llamé Dodo, decidí llamarlo así porque no sabía qué tipo de ave era y al no ver otra igual, pensé que único, por lo cual le puse el nombre de un ave ya extinta, simplemente porque era único en su especie para mí.
I named him Dodo, I decided to call him that because I didn't know what kind of bird he was and not seeing another one like him, I thought he wanted to be unique, so I named him after an extinct bird, simply because he was unique in his species for me.
---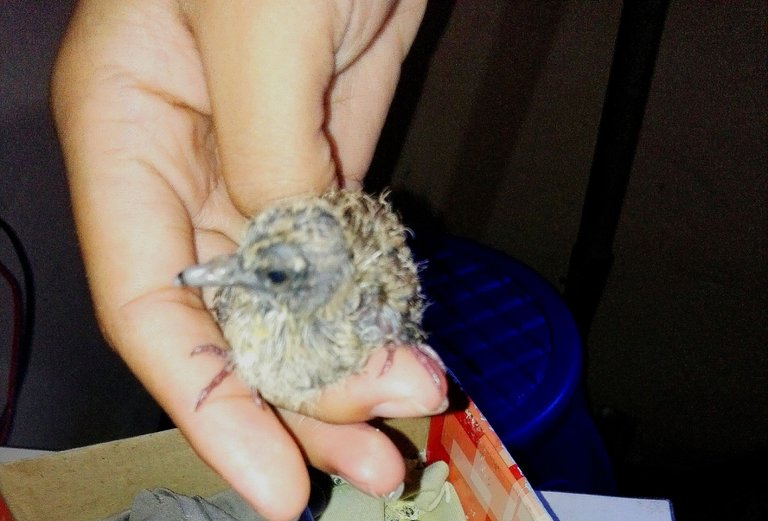 ---
What was the funniest thing that happened to you with your pet? / Lo más divertido que me pasó con mi mascota
Lo más divertido que me pasó, fue que como era yo quien a diario alimentaba a Dodo me reconocía como su mamá, así que era la única persona que podía acercarse y tocarlo, cuando alguien más se acercaba lo atacaba, picoteándole fuerte las manos o levantando las alas en posición de combate. Esto era realmente gracioso, pero también me parecía un poco tierno.
The funniest thing that happened to me was that since I was the one who fed Dodo on a daily basis, he recognized me as his mom, so I was the only person who could approach and touch him, when someone else came near he would attack him, pecking his hands hard or raising his wings in a fighting position. This was really funny, but I also thought it was kind of cute.
---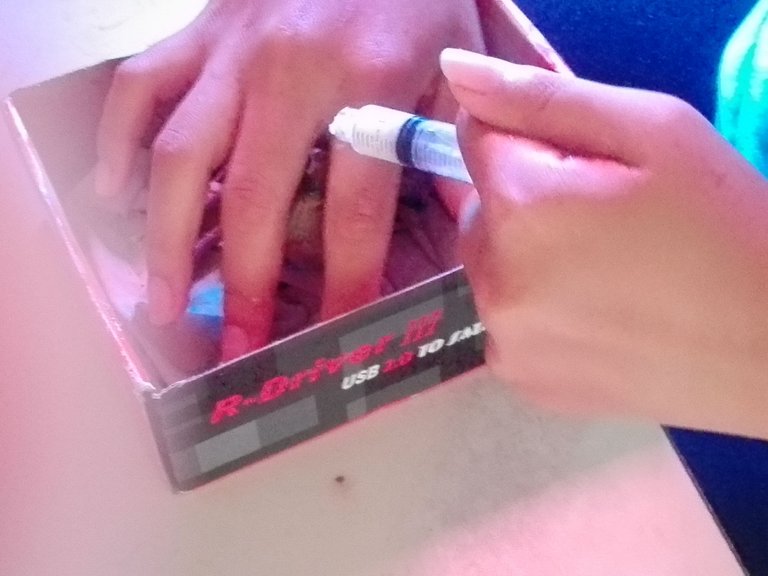 ---
What is your pet's favorite food? / ¿Cuál es la comida favorita de mi mascota?
La comida favorita de mi mascota es algo a lo que en mi país llamamos "fororo" es harina de maíz tostado, este se cocina con un poco de leche líquida y azúcar, pero para dodo era sólo con agua, quedaba como una masa, agitaba mucho sus alas de alegria cuando lo comía.
My pet's favorite food is something that in my country we call "fororo" is roasted corn flour, this is cooked with a little liquid milk and sugar, but for dodo it was only with water, it was like a dough, he flapped his wings with joy when he ate it.
---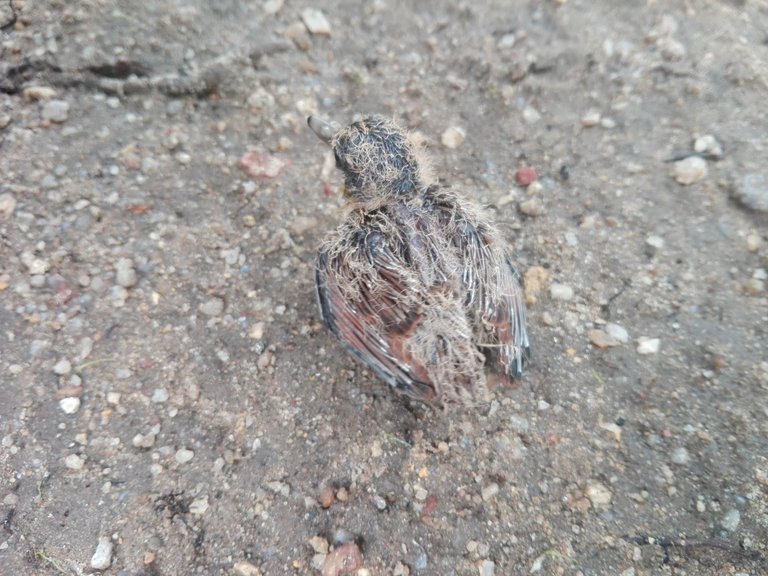 ---
Yo no quería tener una mascota porque sufro demasiado al perderlas y es algo que incluso me causa depresión, así que había decidido no tener una nunca más, pero en esta ocasión simplemente no podía cumplirlo, no podía dejar a Dodo afuera y a penas lo tuve cerca unos días, era tarde, ya me había enamorado.
Todas las fotos las tomé yo con mi teléfono Huawei p8 Lite.
Espero te haya agradado mi post, lo hice con mucho cariño. Nos leemos la próxima ocasión.
I didn't want to have a pet because I suffer too much when I lose them and it's something that even causes me depression, so I had decided not to have one anymore, but this time I simply couldn't do it, I couldn't leave Dodo outside and as soon as I had him around for a few days, it was too late, I had already fallen in love.
All photos were taken by me with my Huawei p8 Lite phone.
I hope you liked my post, I did it with love. See you next time.
---
---
---
---