Recordandote mi querida Duquesa (Esp/Eng)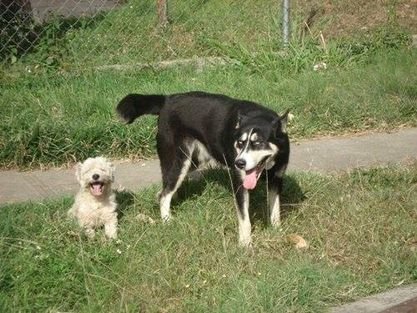 Juan y Duquesa

Español

Aun recuerdo cuando decidimos tenerte, corría los años 90 cuando pensamos en tener una nueva mascota, pues la que habíamos tenido anteriormente había muerto en un accidente en un viaje que hicimos al interior del país, de manera muy trágica pero ya esa es otra historia.
Llegamos descorazonados de ese viaje sin nuestra preciada Dakota, un conductor malvado por puro gusto nos mato al animalito..., sufrimos mucho al llegar a casa sin nuestra niña. Mi hija mayor que para ese tiempo estaba como de 8 años (Hoy día tiene 26) llegó muy deprimida sin su mascota, entonces entre su padre y yo quisimos darle el regalo de otra mascota.
Contactamos con los dueños de la mamá de Duquesa, que era una bella loba siberiana blanca y ya estaba a punto de tener a sus cachorros. El dueño quería vender las crías lo mas rápido que le fuera posible, así es que estuvimos pendientes de su nacimiento, al momento de nacer Duquesa el dueño nos dijo que teníamos que llevárnosla a los 15 días, cosa que me pareció muy precipitada.
Pero nosotros nos comprometimos a buscarla y a pagarle su dinero para la fecha, obviamente para el era un negocio mas pensándolo después, pero para nosotros era un pedacito de carne muy bello. Al llegar el momento la fuimos a buscar junto a la niña, mayor alegría para ella y también para nosotros.
Fuente/Source
Era una cachorrita negra con sus paticas blancas y la punta de su cola como una mota blanca, en una palabra adorable. Pero muy exigente desde que la tuvimos a cargo era un bebé ya le teníamos su tetero, su cama y cobijas, su leche para bebés, pues supusimos que tendría que tomar su leche como todo lactante, afortunadamente no le cayo mal ni nada, eso si tenia que pararme de madrugada a darle sus onzas de leche y ella feliz.
Le pusimos después de un buen debate de nombres el nombre de Duquesa, por su porte altivo y bellos ojos azules, por que parecía de la realeza , con el tiempo el nombre le fue sentando perfecto.
Para mi hija fue la alegría de la casa para mi una responsabilidad mas que tenia a cargo pero con todo el amor del mundo, pues quien se resistía a ese peluche negrito, nadie. Creció muy rápido y junto a ella sus travesuras.
Las papeleras del baño o el papel toallet todavía en sus empaques eran su entretenimiento favorito, tenia que ponerlo bien alto fuera del alcance de ella pues en varias ocasiones me empapelo muebles, camas, pisos con ellos, cuando hacia eso siempre se escondía debajo de las camas por que sabia que siempre salía regañada.
Para mi hija era muy chistoso, pero para mi recoger todo ese desastre no lo era, sin embargo también me reía con sus ocurrencias. Un día mi ex se puso a prepararse un sándwich de jamón y queso y ¿adivinen quien le robo el jamón? ¡Duquesa!
Y así muchas anécdotas. Era una gran guardiana a pesar de ser muy dócil, no era agresiva pero siempre avisaba de situaciones con sus ladridos o actitudes. Quienes la conocían sabían que era muy dócil, quienes no con su porte imponente y sus ojos azules serios pensaban que era de temer, cosa mas lejos de la realidad.
Era la compañera de juegos preferida de mi hija y sus amigos. Duquesa era conocida por ser amante de los niños siempre jugaba con ellos persiguiéndolos y si era con la pelota mucho mejor, era un espectáculo.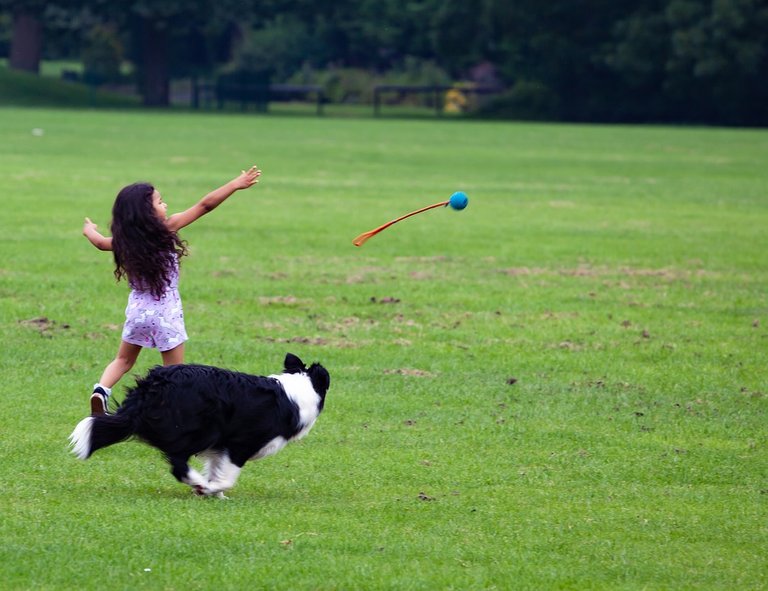 fuente/Source
Pasaron los años y con ellos sucedieron otros eventos personales, mi niña y yo tuvimos que irnos de casa, me separe del que era mi esposo y donde estaba no podía tener a mi amada Duquesa fue un choque muy fuerte para nosotras, nos entristecimos mucho eso se sumo a todo lo demás.
Para nuestra Duquesa fue un choque muy fuerte y se deprimido bastante, mi niña la visitaba lo mas que podía pero no era igual para ninguno, mi dos niñas la pasaron muy mal, Duquesa y mi hija. Ella aullaba mucho imagino que nos extrañaba y eso nos partía el corazón, no fue agradable, al poco tiempo ella enfermó, pues dejó de comer pienso que se deprimió bastante pues ya no tenia compañía como antes.
Mi ex la llevo al medico, pero nada pudo hacerse por ella, simplemente murió, sin una explicación, fue muy duro su perdida para todos, pues las mascotas se convierten en parte de las familias, en un miembro mas por eso nunca se olvidan.
Es el día de hoy y todo la recordamos a ella y sus travesuras, de su compañía y de su lealtad, espero exista un cielo de mascotas allá, tendré dos esperando a Dakota y a mi amada Duquesa.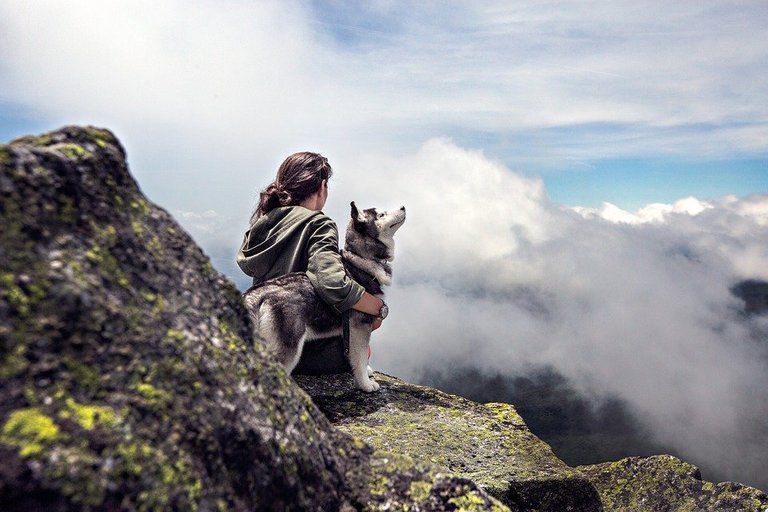 Fuente/Source

English

I still remember when we decided to have you, it was in the 90's when we thought of having a new pet, because the one we had previously had died in an accident on a trip we made to the interior of the country, in a very tragic way but that is another story.
We arrived home heartbroken from that trip without our precious Dakota, an evil driver just for the fun of it killed the animal..., we suffered a lot when we arrived home without our little girl. My eldest daughter who was about 8 years old at the time (today she is 26) arrived very depressed without her pet, then between me and her father we wanted to give her the gift of another pet.
We contacted the owners of Duquesa's mother, who was a beautiful white Siberian she-wolf and was about to have her puppies. The owner wanted to sell the puppies as soon as possible, so we kept an eye on her birth. When Duquesa was born, the owner told us that we had to take her away after 15 days, which I thought was very hasty.
But we committed ourselves to look for her and to pay her money for the date, obviously for him it was just one more business thinking about it later, but for us she was a very beautiful little piece of meat. When the time came, we went to pick her up together with the girl, a great joy for her and also for us.
She was a black puppy with white paws and the tip of her tail like a white speck, in a word, adorable. But very demanding since we had her in charge, she was a baby, we already had her bottle, her bed and blankets, her baby milk, because we assumed that she would have to drink her milk like any other infant, fortunately she did not get sick or anything, but I had to stand up at dawn to give her ounces of milk and she was happy.
We named her Duchess after a good debate about names, because of her haughty demeanor and beautiful blue eyes, because she looked like royalty, with time the name was perfect for her.
For my daughter she was the joy of the house, for me she was one more responsibility I had to take care of, but with all the love in the world, because who could resist that little black teddy bear, nobody. She grew up very fast and along with it her mischief.
The wastebaskets in the bathroom or the toilet paper still in its packaging were her favorite entertainment, I had to put it high out of reach of her because on several occasions I soaked furniture, beds, floors with them, when she did that she always hid under the beds because she knew that she always came out scolded.
For my daughter it was very funny, but for me to pick up all that mess was not, however I also laughed with her witticisms. One day my ex made a ham and cheese sandwich and guess who stole the ham? Duchess!
And so many anecdotes. She was a great guardian despite being very docile, she was not aggressive but always warned of situations with her barking or attitudes. Those who knew her knew that she was very docile, those who didn't with her imposing demeanor and serious blue eyes thought she was to be feared, which was far from the truth.
She was the favorite playmate of my daughter and her friends. Duquesa was known to be a lover of children, she always played with them, chasing them and if it was with the ball, even better, it was a spectacle.
The years passed and with them other personal events happened, my daughter and I had to leave home, I separated from my husband and where I was I could not have my beloved Duquesa, it was a very strong shock for us, we were very sad and that added to everything else.
For our Duchess it was a very strong shock and she became very depressed, my daughter visited her as much as she could but it was not the same for either of us, my two girls had a very bad time, Duchess and my daughter. She howled a lot, I imagine she missed us and that broke our hearts, it was not pleasant, soon after she got sick, she stopped eating, I think she became very depressed because she no longer had company as before.
My ex took her to the doctor, but nothing could be done for her, she simply died, without an explanation, her loss was very hard for all of us, because pets become part of the family, one more member, that is why they are never forgotten.
It is today and we all remember her and her antics, her company and her loyalty, I hope there is a pet heaven there I will have two waiting for Dakota and my beloved Duchess.
Translated with www.DeepL.com/Translator (free version)
La foto es de mi Album familiar/ The photo is from my family album
https://www.tutorialesteemit.com/recomendaciones/separadores-de-texto-para-blog/
---
---