😻 El gato más tierno // The cutest cat 😻
Hola queridos amigos hiver. Dejé pendiente solo por unas horas, una publicación lista sobre mis dibujos de autos porque he decidido que les hablaré del gato más tierno del universo, para unirme al concurso de Hive Pets, por cierto es mi primera vez en esta comunidad y me parece un lugar muy lindo para conocer mucho sobre mascotas. He visto a mi mamá @parauri preparar su publicación sobre nuestra mascota y le dije que quería hacerlo también porque amo mucho a nuestro gato, ella me apoyó con algunas fotos suyas que verán con su firma y otras las tomé yo con su magnífica cámara y aquí estoy amigos, para presentarles con mucho orgullo y amor a mi mascota.
---
Hello dear hiver friends. I left pending just for a few hours, a ready post about my car drawings because I have decided that I will tell you about the cutest cat in the universe, to join the contest of Hive Pets, by the way it's my first time in this community and I find it a very nice place to know a lot about pets. I have seen my mom @parauri preparing her post about our pet and I told her I wanted to do it too because I love our cat so much, she supported me with some pictures of her that you will see with her signature and others I took with her magnificent camera and here I am friends, to present you with much pride and love to my pet.
Foto / Photo @parauri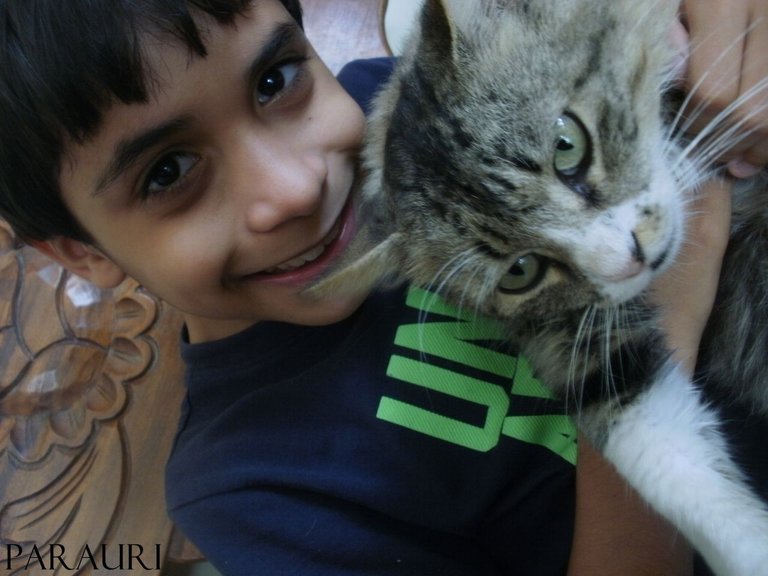 ¿Cómo se llama mi gato y por qué ese nombre?
Realmente este gato me ha colmado la vida y se llama Cattico. Ese nombre se lo puse yo, una vez de casualidad me salió de la boca y creo que por los instintos del gato a él le gustó 😊
Mi Cattico es un gato muy peludito, gracioso y flojito, ya que cada vez que duerme tiene una cara tierna y graciosa que me encanta. Por eso me provoca decirle Caaaaaattiiiiiiiicooooo muy agudo pero suave a la vez. A pesar de lo tierno tiene un aspecto de cara seria, muy única y tierna.
---
What is the name of my cat and why this name?
This cat has really filled my life and his name is Cattico. I gave him that name, once by chance it came out of my mouth and I think he liked it because of the cat's instincts 😊
My Cattico is a very fluffy, funny and lazy cat, because every time he sleeps he has a tender and funny face that I love. That's why he provokes me to call him Caaaaaaaattiiiiiiiiiiiicooooo very sharp but soft at the same time. Despite the tenderness he has a serious face look, very unique and tender.
Fotos / Photos @parauri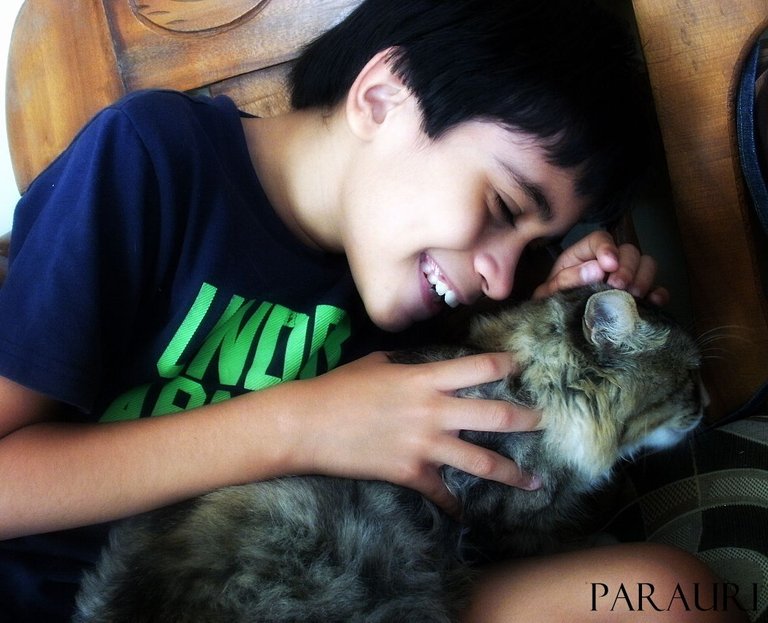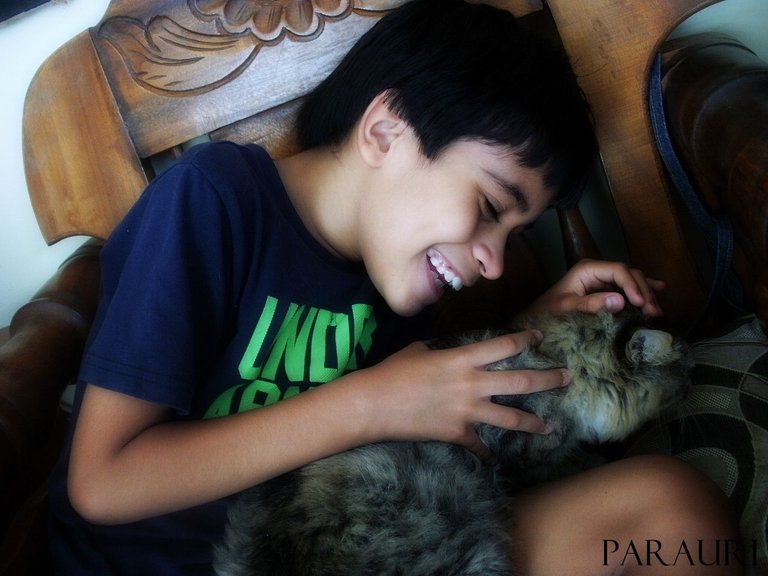 ¿Lo más divertido con mi mascota?
Este amado gato también me ha dejado unos recuerditos porque a veces me muerde cuando juego con él. Es que cuando lo veo no puedo evitar querer jugar con él, pero no siempre está de humor para ello, la verdad parece que nunca quiere jugar conmigo porque es un gato adulto y serio, mi mamá dice que es por la edad, que debo jugar con el sin acosarlo tanto porque se cansa y se molesta y ahí es cuando me muerde.
---
The most fun with my pet?
This beloved cat has also left me some little memories because sometimes he bites me when I play with him. It is that when I see him I can't help but want to play with him, but he is not always in the mood for it, the truth is that he never seems to want to play with me because he is an adult and serious cat, my mom says it is because of his age, that I should play with him without harassing him so much because he gets tired and gets upset and that's when he bites me.
Foto / Photo @parauri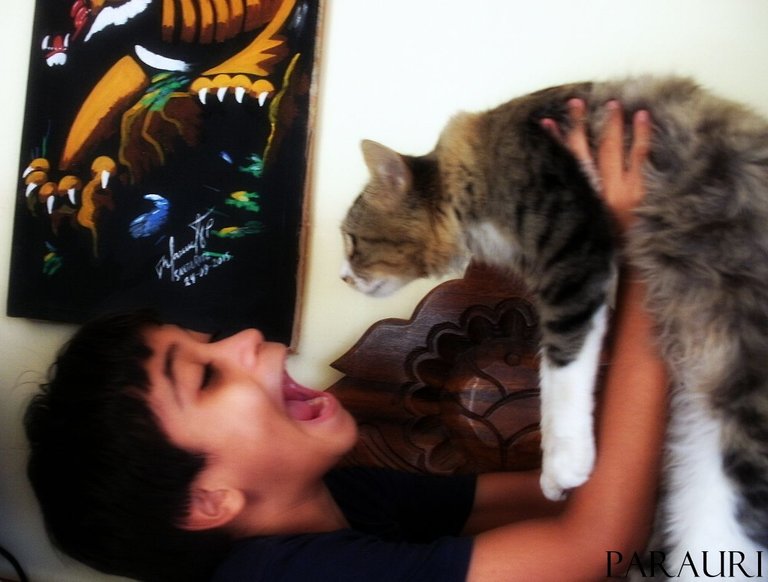 Me gusta ver cuando el gato da vueltas en el piso, eso lo hace estando acostado, lo que me causa mucha risa y me dan más ganas de jugar con él.
---
I like to see when the cat spins around on the floor, he does that when he is lying down, which makes me laugh a lot and makes me want to play with him even more.
Fotos / Photos propias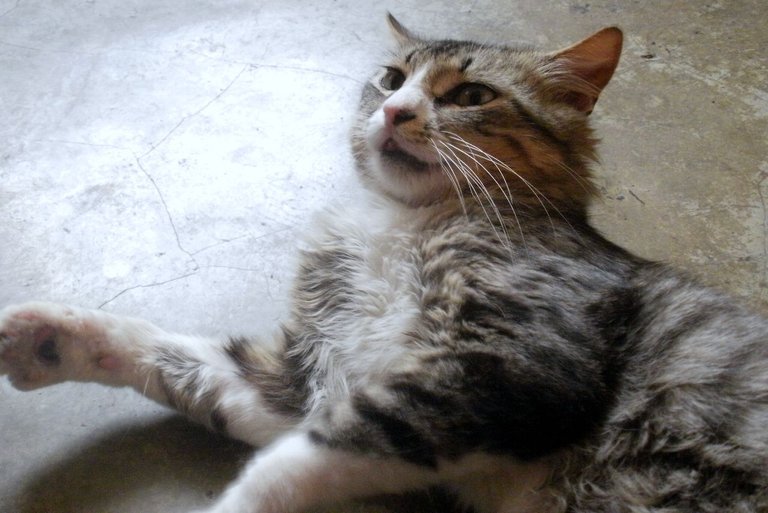 Un juego fijo es ponerle el pie para que lo cace pero debo tener cuidado porque él está alerta y tiene reflejos muy rápidos. Un descuido y me atrapa el pie con sus garras, para luego clavar sus colmillos. Todo es juego pero el Cattico tiene cara de pocos amigos y esa expresión me da más risa. Los gatos son muy graciosos y tiernos.
---
A fixed game is to put my foot out for him to hunt but I have to be careful because he is alert and has very fast reflexes. A carelessness and he catches my foot with his claws, and then he sticks his fangs in. It's all play but the Cattico has a very unfriendly face and that expression makes me laugh even more.
Fotos / Photos propias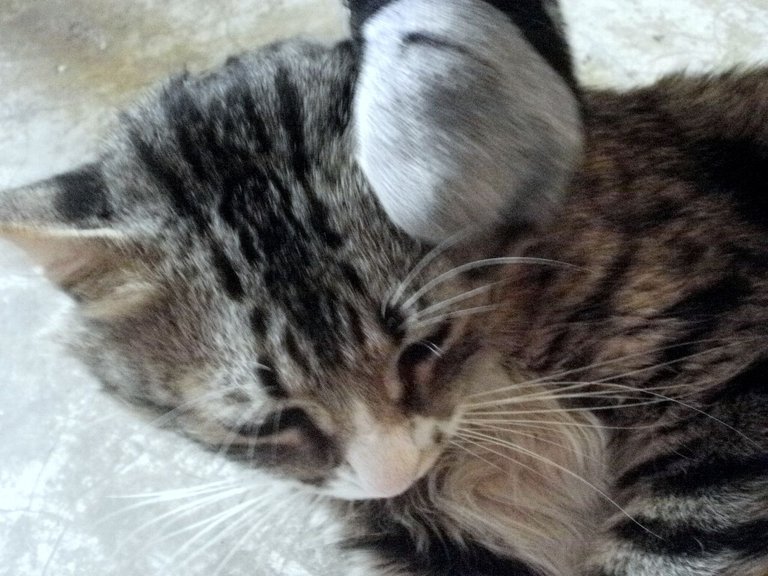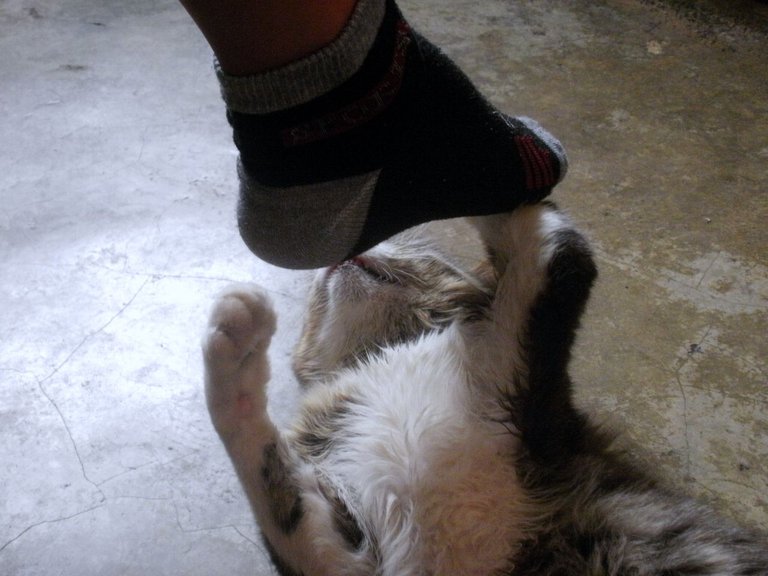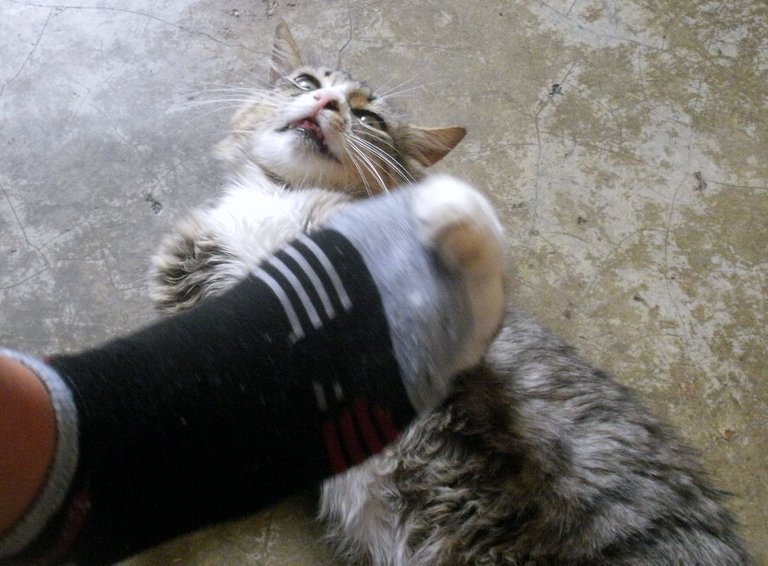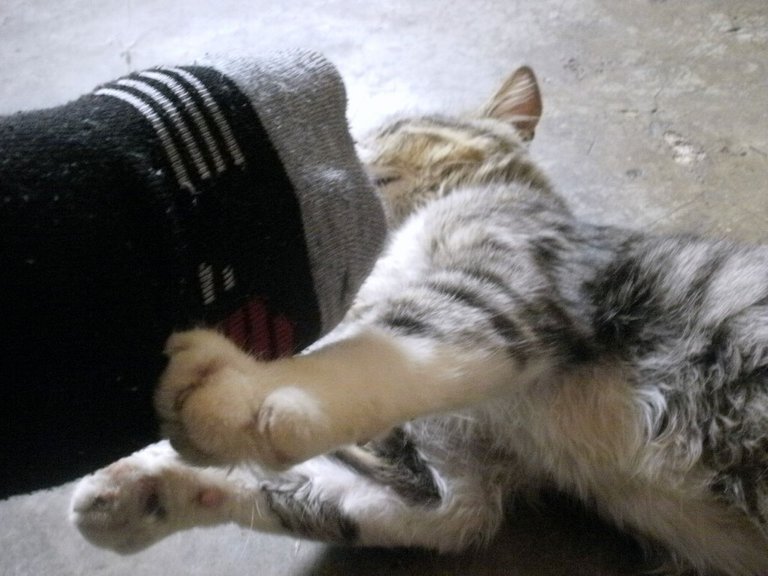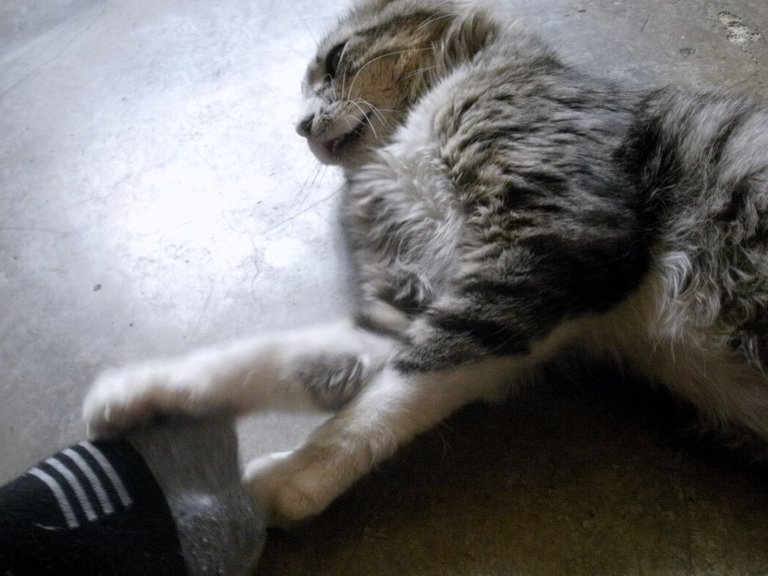 Es como un imán y es inevitable no querer tocarlo, por eso mi mamá le desinfecta el cuerpo y las patitas al entrar en la casa porque él es un gato que le gusta salir mucho y no se queda quieto dentro de la casa. Se va para la calle y donde vivimos hay varios casos de Covid-19 y ya saben, hay que cumplir siempre las medidas de bioseguridad, pero Cattico anda caminando y acostándose en la calle, lo que es un problema porque no se puede estar bañando cada vez que entra a la casa y bueno, para poder cargarlo y jugar con el mi mamá lo rocía con un spray que preparó con agua y un poquito de cloro. Los gatos son muy libres y más el, que es un gato rescatado porque unos vecinos lo abandonaron en la calle.
---
He is like a magnet and it is inevitable not to want to touch him, that is why my mom disinfects his body and paws when he enters the house because he is a cat that likes to go out a lot and does not stay still inside the house. He goes to the street and where we live there are several cases of Covid and you know, we must always comply with biosecurity measures, but Cattico walks and lies down in the street, which is a problem because he cannot be bathed every time he enters the house and well, in order to carry him and play with him my mom sprays him with a spray she prepared with water and a little bit of chlorine. Cats are very free, especially him, who is a rescued cat because some neighbors abandoned him in the street.
Foto / Photos propias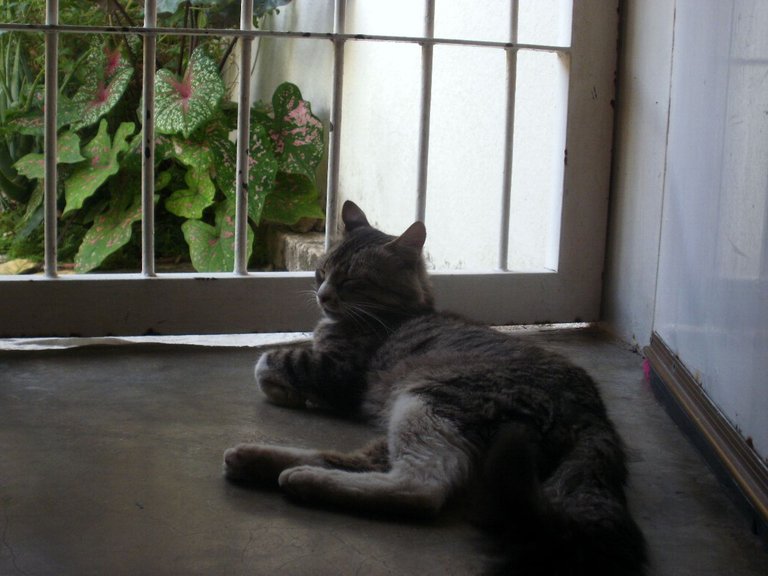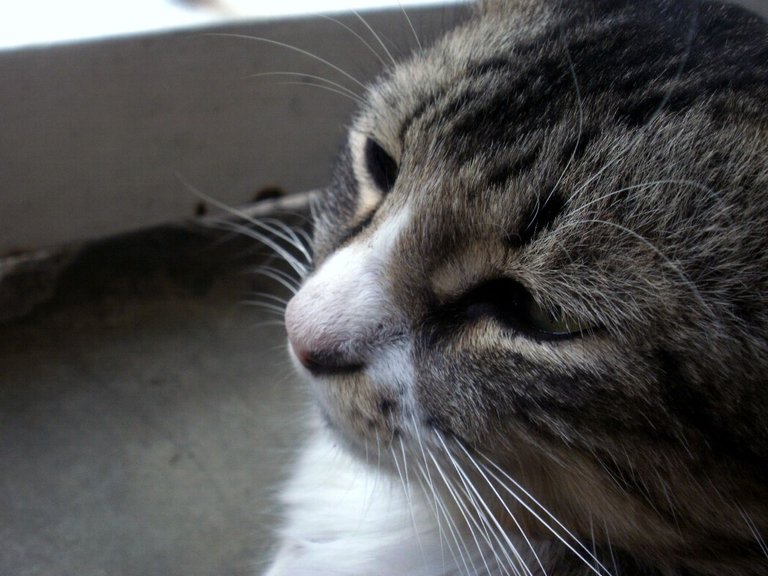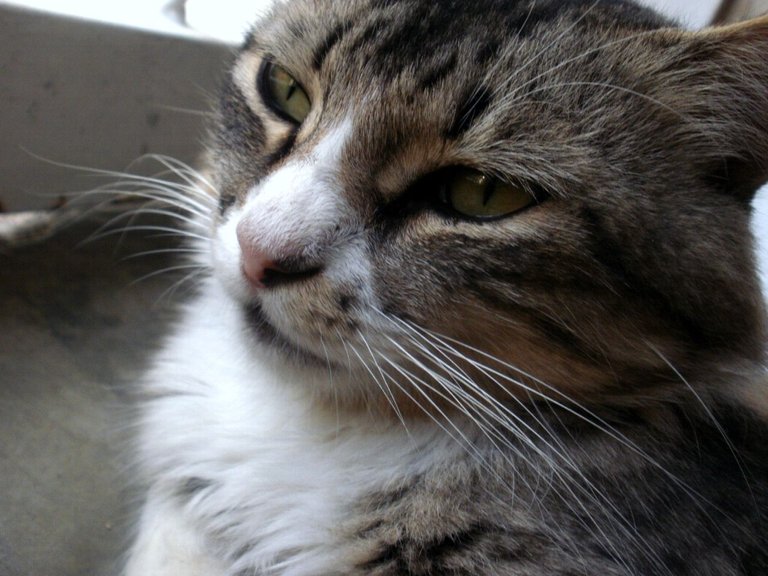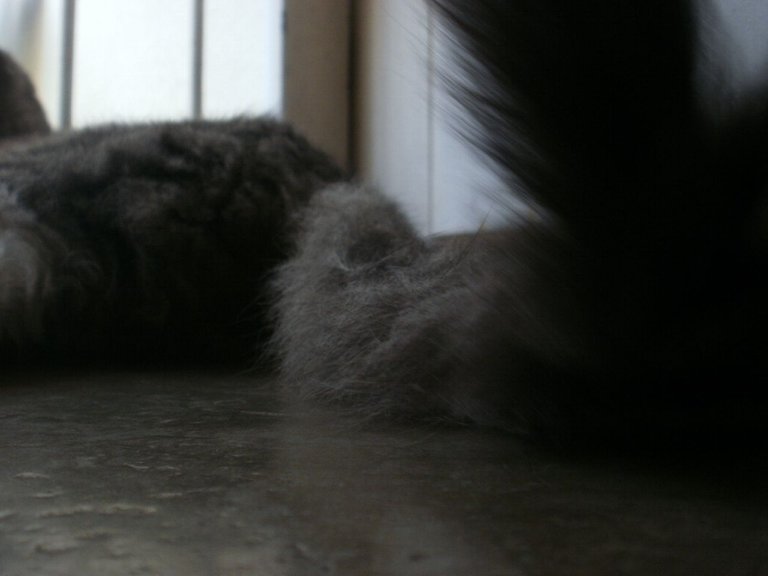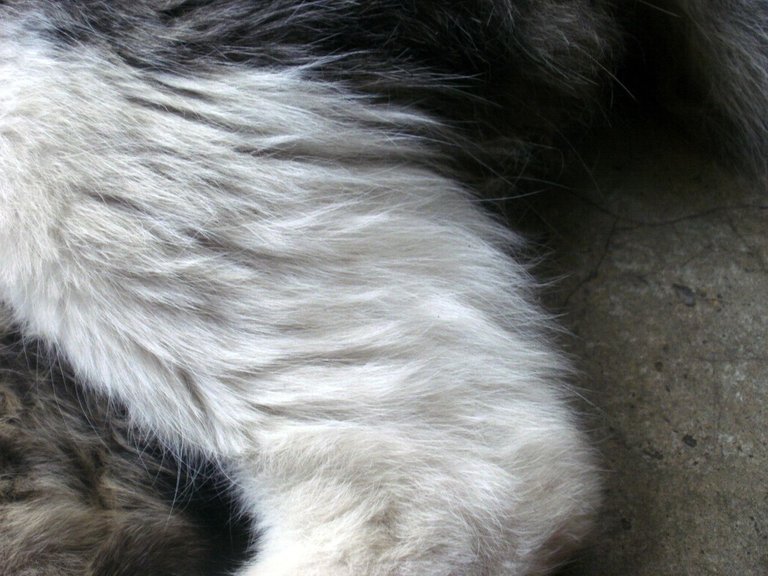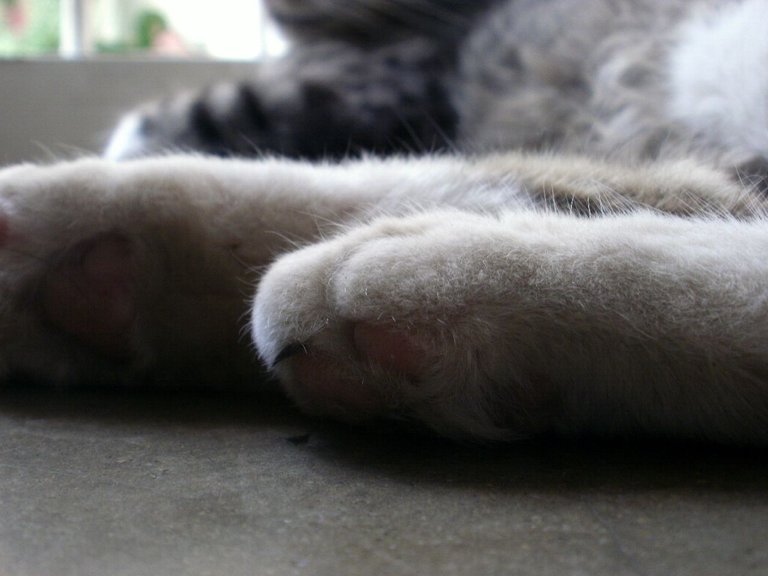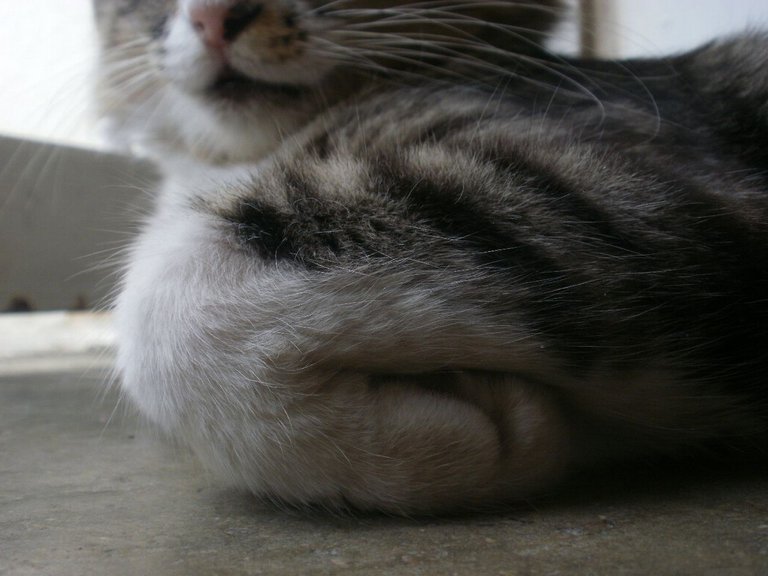 ¿Cuál es su comida favorita?
Parece que todas las comidas son sus favoritas que me cuesta contar cuál es su preferida. Él es de buen comer, como yo, así que debe ser porque dicen que los animales se parecen a los dueños, eso es bueno porque a él le gusta mucho arroz, frijoles, lentejas, todos los granos, pollo, pescado y algunos vegetales.
Y si algún día no le gusta el menú, pone una expresión de pocos amigos y eso me da mucha risa. Y deja la comida allí, pero al rato viene y se come todo lo que hay.
---
What is your favorite food?
It seems like all foods are his favorite that I have a hard time telling which one is his favorite. He is a good eater, like me, so it must be because they say animals take after their owners, that's good because he likes a lot of rice, beans, lentils, all grains, chicken, fish and some veggies.
And if one day he doesn't like the menu, he puts on a little friendless expression and that gives me a lot of laughs. And he leaves the food there, but after a while he comes and eats everything that's there.
Foto / Photo @parauri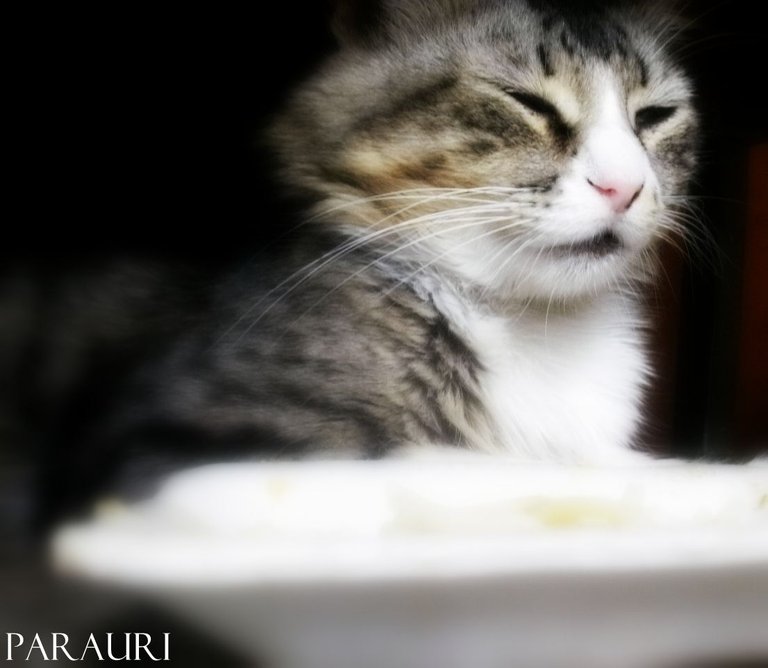 También les cuento que mi Cattico tiene un gran apetito, tanto que parece un barril sin fondo. Está muy acostumbrado a que mi mamá vaya al patio trasero de nuestra casa para ponerle comida, incluso cuándo va a hacer algo tranquila el va detrás de ella corriendo creyendo que le va a echar comida. Eso es así todo el día, él puede estar durmiendo y si mi mamá se mueve en la casa él sale disparado dando carreras detrás de ella. Todos nos divertimos con Cattico, lo quiero mucho y deseo que dure mucho tiempo con nosotros.
---
I also tell you that my Cattico has a big appetite, so much that he looks like a bottomless barrel. He is very used to my mom going to the backyard of our house to put food for him, even when she is going to do something quiet he goes after her running thinking she is going to put food for him. That's how it is all day long, he can be sleeping and if my mom moves in the house he comes running after her. We all have fun with Cattico, I love him very much and I hope he lasts a long time with us.
Foto / Photo @parauri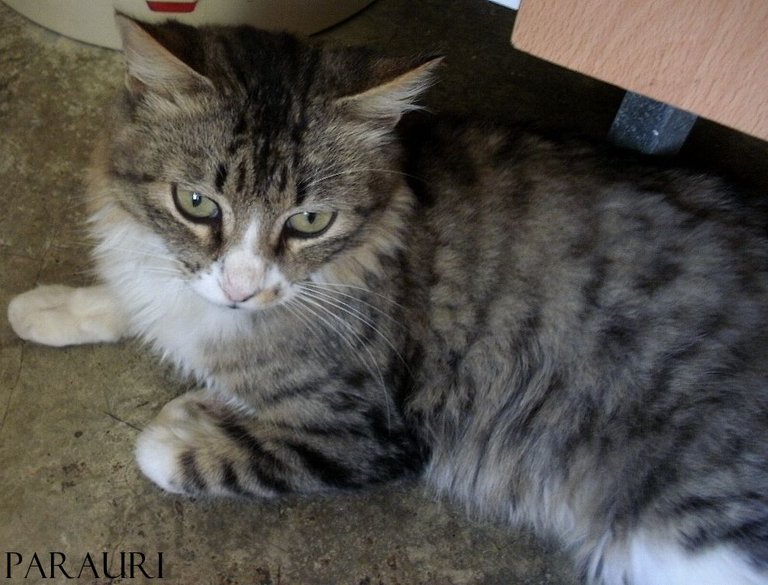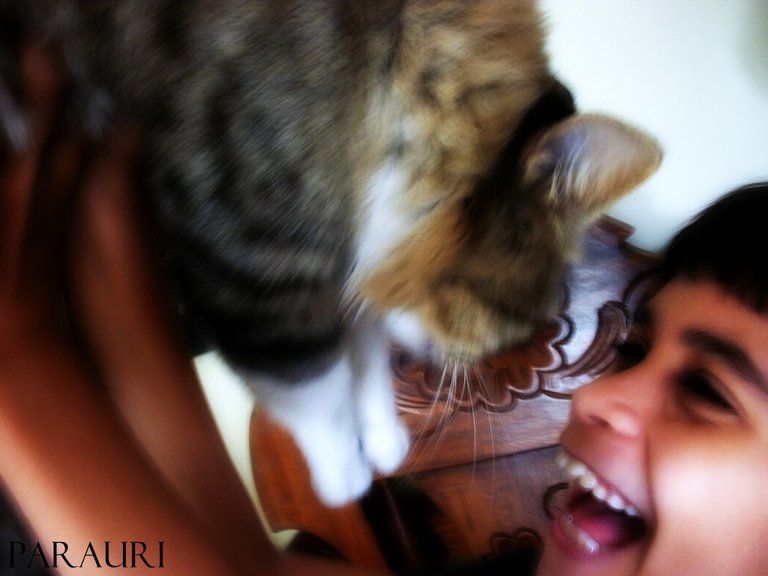 Hasta pronto queridos amigos Hivers ha sido un gran placer hablarles sobre mi Cattico, espero que estén bien. Gracias a @ocd por dar la oportunidad de este concurso en Hive Pets, que me permite a mí y a otros amigos hivers expresarnos sobre las tiernas mascotas y sus caritas divertidas.
Amigos, si alguien quiere participar aquí está la explicación del concurso.
Espero que se cuiden mucho.
---
See you soon dear friends Hivers it has been a great pleasure to tell you about my Cattico, I hope you are well. Thanks to @ocd for giving the opportunity for this contest on Hive Pets, which allows me and other hivers friends to express ourselves about the cute pets and their funny little faces.
Friends, if anyone wants to participate here's the contest explanation.
I hope they take good care of themselves.

Publicación con Contenido y Fotos de @alandesign.
Las Fotos de @parauri están identificadas.
---
Publication with Content and Photos by @alandesign.
Photos by @parauri are identified.

---
---