In the year 2012, a cat puppy started appearing in the house every day. As his visit became frequent, we gradually adopted him. At first, he started to come in shyly and we did not let him inside the house, he was only allowed to stay in the yard. However, soon after, he was sleeping comfortably on the living room furniture.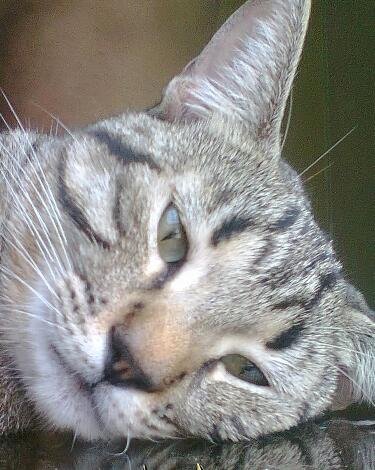 Own photography.
Since in my family it was not our intention at that time to adopt a cat, but we were not reluctant to accept it, we never got around to giving him a name. However, he was in our house for about a year as I recall. He was essentially a stray cat, even though he arrived as a puppy, he did not spend much time at home, he was a bit wild and rough, more than once he got on the table while we were eating.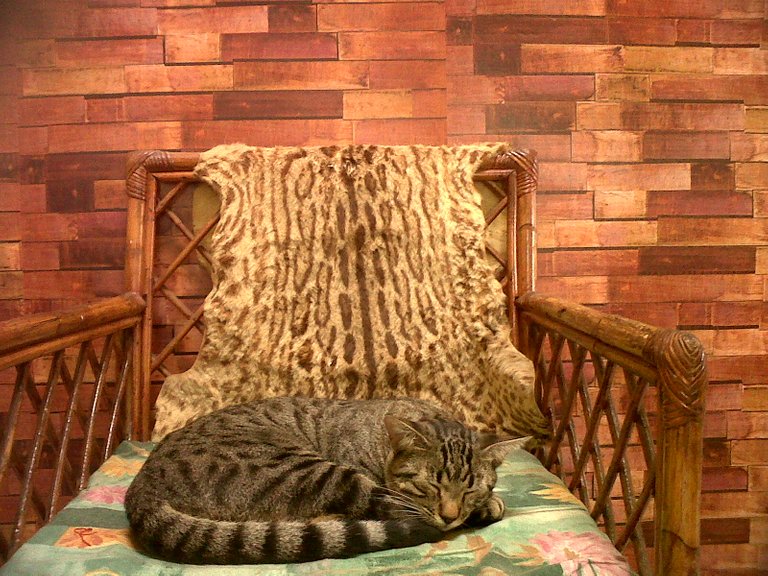 Own photography.
Shortly after arriving at the house, he grew to the normal size of an adult cat, and used to go out a lot to the street. Many times he would bring mice and frogs into the house. Sometimes he would get lost for days, and arrive as if nothing had happened, only to eat and then leave again.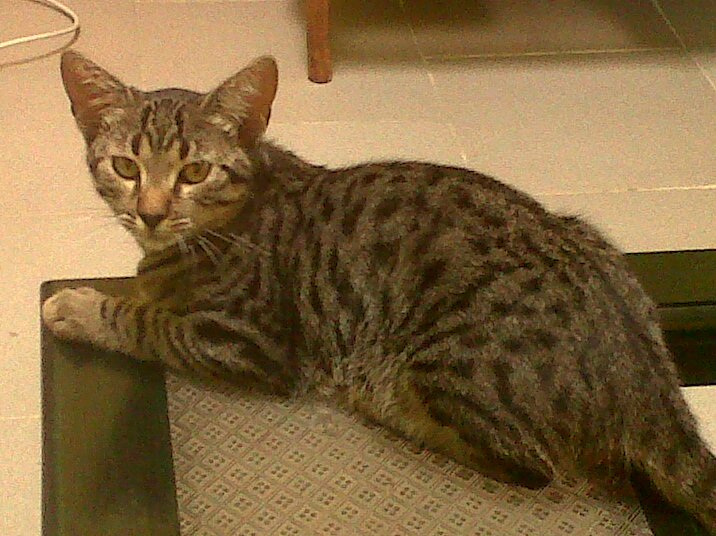 Own photography.
One anecdote I remember about this cat is that once he arrived with a very bad smell and his face was swollen as if he had been bitten by some insect. Since it was very difficult to bathe him because he was very wild, we took advantage of the fact that it started to rain and left him outside without the possibility of entering the house, then he started to get wet with the rain, he mewed loudly and tried to enter through a window. This may sound cruel but after that the cat was cleaned up and recovered.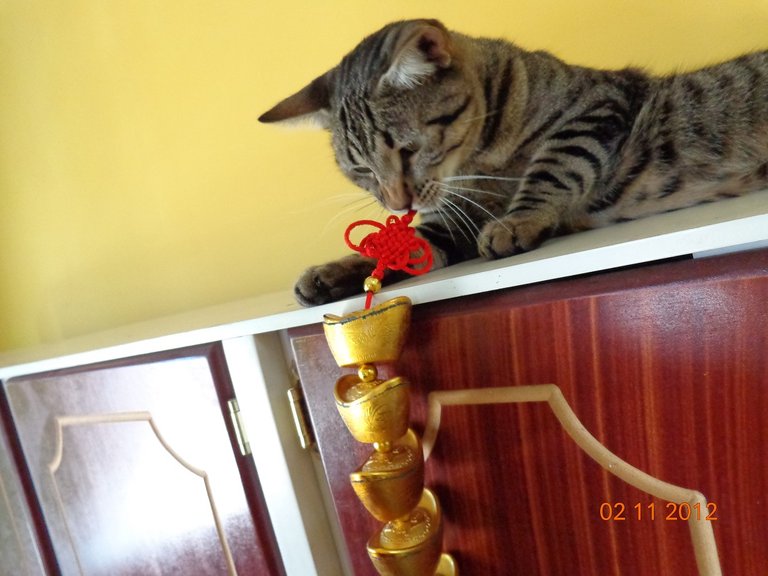 Own photography.
He liked to play from time to time. At that time we had a puppy dog that would not stop bothering the cat, and the cat would respond with loud scratches. The cat would get behind some furniture and the dog too, but the cat would come out through a different exit, leaving the dog confused. One day, he left and didn't come back to our house, we didn't know what happened to him. It was not in our plans to sterilize him, so it was to be expected for a cat like this.
---
Translated to English with the help of DeepL.com.
En el año 2012, un gato cachorro empezó a aparecer en la casa todos los días. Como su visita se hacía frecuente, fuimos poco a poco adoptándolo. Al principio, el empezaba a adentrarse tímidamente y no lo dejábamos pasar al interior de la casa, solo se le permitía estar en el patio. Sin embargo, poco después ya dormía cómodamente en los muebles de la sala.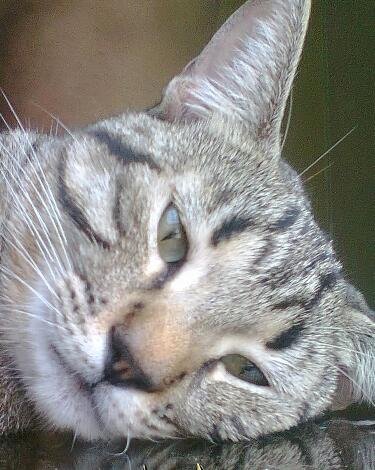 Fotografía propia.
Ya que en mi familia no era nuestra intención en ese momento adoptar un gato, pero no estábamos reacios a no aceptarlo, nunca le llegamos a poner un nombre. Sin embargo, estuvo en nuestra casa por más o menos un año si mal no recuerdo. Era un gato esencialmente callejero, a pesar de que llegó siendo cachorro, no pasaba mucho tiempo en casa, era algo salvaje y basto, mas de una vez se montó en la mesa mientras comíamos.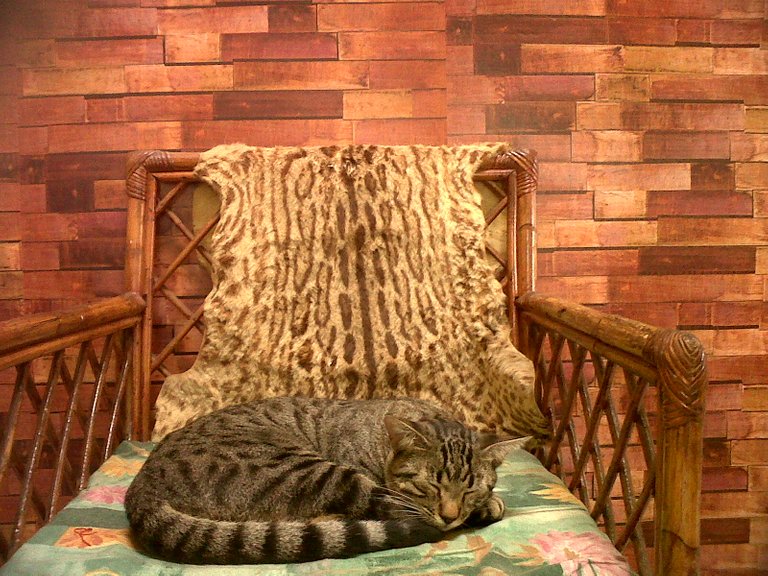 Fotografía propia.
Poco tiempo después de llegar a la casa, creció hasta el tamaño normal de un gato adulto, y solía salir mucho para la calle. Muchas veces traía ratones y ranas a la casa. A veces se perdía por días, y llegaba como si nada, solo a comer y luego volver a irse.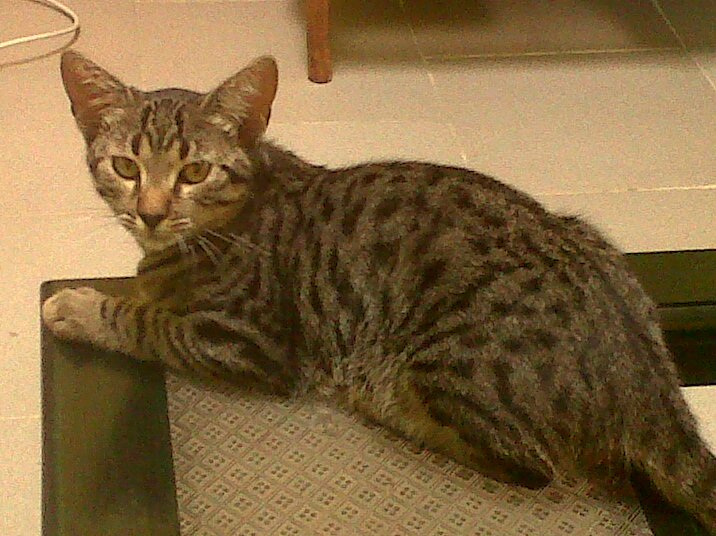 Fotografía propia.
Una anécdota que recuerdo de este gato, es que una vez llegó con un muy mal olor y la cara la tenía hinchada como si lo hubiera picado algún insecto. Ya que era muy difícil bañarlo porque era muy salvaje, aprovechamos que empezó a llover y lo dejamos afuera sin la posibilidad de entrar a la casa, luego empezó a mojarse con la lluvia, maullaba fuerte y trataba de entrar por una ventana. Esto puede sonar cruel pero luego de eso el gato quedó limpio y se recuperó.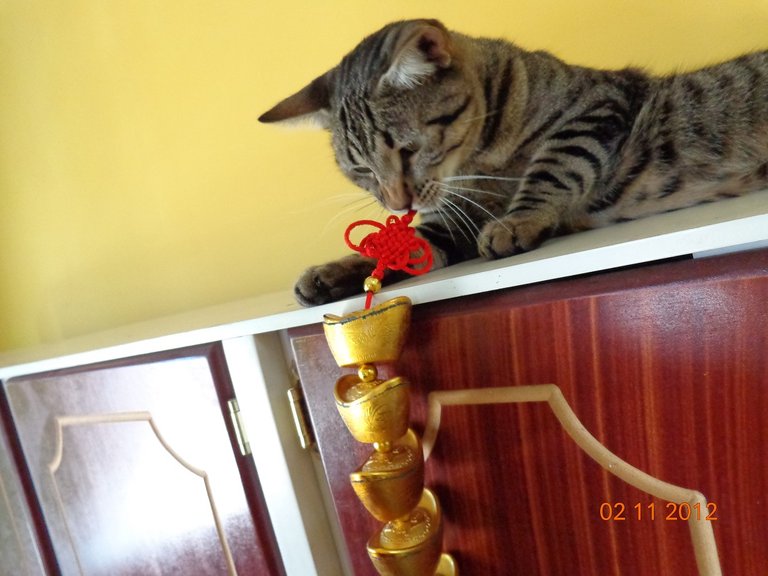 Fotografía propia.
Le gustaba jugar de vez en cuando. En ese entonces teníamos un perro cachorro que no paraba de molestar al gato, y este le respondía con aruñazos fuertes. El gato se metía detrás de unos muebles y el perro también, pero el gato salía por una salida diferente, dejando al perro confundido. Un día, este gato se fue y no volvió más, no supimos que fue lo que le pasó. No estaba en nuestros planes esterilizarlo, así que era de esperarse para un gato como este.
---
¡Gracias por visitar!..¡Thanks for visiting!