Hi fellow Hiveians,
Today I wanted to share some really fun, at least for me, learning of SQL and how I learned how to properly do some joins! I also did some cool references as well.


Redacted Learning
Sorry for having redact a lot of the core content of it but one of the things that I just want to point out is there are no red underlines that signify things got screwed up! I was really proud of this work. With the things I work with, I'd rather protect my job and explain what I did than put more information in there than is necessary!
I will hopefully be applying this same knowledge to working with Hive data at some point this fall when I can get more time to breathe at work. I'm able to do what I do now and post but not a heck of a lot outside of that so I'm looking forward to having some opportunity later.
I'm learning how to use statements such as "like" and "between" to narrow my results down to provide things that are useful.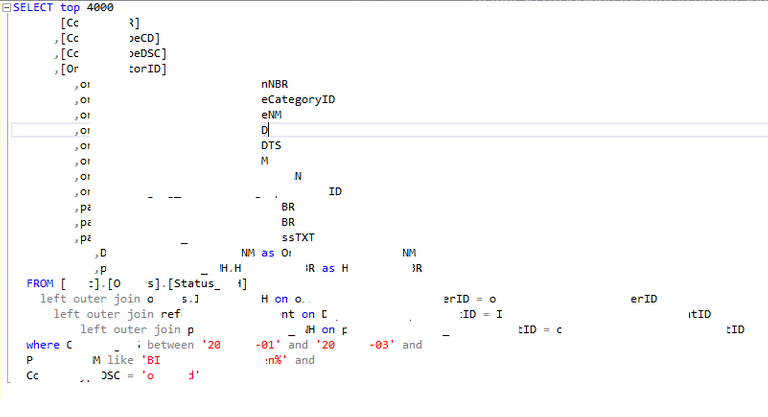 So the data I was working with has been a bit challenging. Given that this is my second week working in SQL, I felt really good that I was able to make a join on my own! I had a bit of help from a colleague of mine but once she showed me what to do for some of it, I was able to get one set up! I was really excited to get that rolling.
I wasn't sure the process of doing multiple left outer joins and I'm still not entirely clear on what the function does but I am learning it.
The way I am figuring it out is that if I am trying to query data from one table and that table doesn't have all of the info on it that I want, I can add columns from other tables to it. When I do that with a left outer join, it's taking the original table and adding chunks of the other table into it. This has been a huge help because as people who use SQL know, at least in my experience, all my information isn't in one table! I'm having to link 3 and 4 different tables to get the data I want. A bit tedious but exciting, at least for me, at the same time!
Ambiguity
So in writing this post I also stumbled on another piece of information that will prove very helpful for me in understanding some of the errors I encounter!
I would often get an error when I was doing my left outer joins that something wasn't ambiguous. I was like what the hell does that mean? I deleted the line because that's what it seemed to want me to do.
Hive SQL
My plans for doing this type of work is so that I can how to use SQL to query the Hive database and pull data from it. I want to be able to get information I am curious about exploring further so that I can build some visualizations. It may be a pipe dream for this year but I am sharpening my skills in these areas every week so it's been a fun ride!

Connect with me!
Do you want to get paid, in crypto, for searching the internet? Try using and signing up for Presearch to earn some great crypto! I've currently got 1,629 PRE tokens, with a market value of $27.97. It doesn't sound like a lot but when you search using sites like Google you get paid $0! Join Presearch to break Google's stranglehold on the internet searches. If you'd like to sign up, use my referral link below and spread the word!
https://www.presearch.org/signup?rid=513043