Intro
Bangladesh is a populous country in South Asia. It is very difficult to compare Bangladesh in season and variety with other nation. In this country of conspiracy, as the seasons change from time to time (every two months) a variety of vegetables and fruits are available in different seasons. When the temperature and weather change from season to season, there is a change in various fruits and vegetables as well. So, we who live in Bangladesh can have taste of different fruits at different times. In today's Market Friday I'm going to show you a beautiful view of the sugar-cane trade.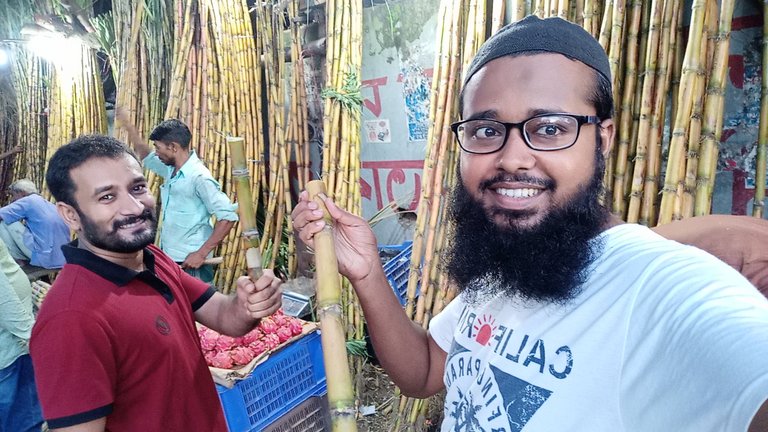 ---
About Suger Cane in Bangladesh
Sugar-cane is usually available in large quantities in Bangladesh in winter and early winter. This sugar-cane is mainly eaten by people using teeth. Again, those who have problems with their teeth or have aged eat it by slicing it or squeezing out the juice. There is a lot of supply in the sugar mills of Bangladesh i.e. it goes to the work of making sugar. Even then, the rest of the harvest is sold in the market as stick form that people enjoy eating and drinking. In areas where sugarcane growers do not get any sugar mills, they sell their sugar canes in this way as you can see in the pictures.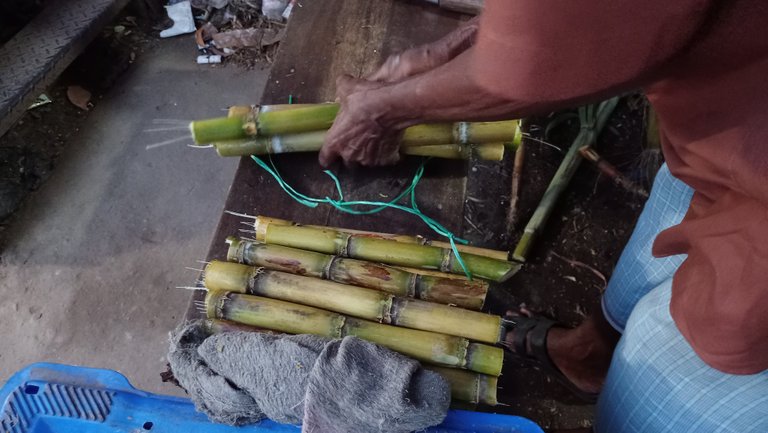 ---
My Experience
The market from which I bought these sugar canes (which you can see in the picture) is called Jorarganj, Mirsarai, Chittagong. It is a famous market in this area which is just a about a km away from my office and office home. People from about eight / ten nearby villages come to shop here. So, there is always a lot of buyers and sellers in this village market. Different products are sold in different parts of this market. For example, Fish markets, vegetable markets, fruit markets are situated at different places in the market and all other categories are in different places. And there is a separate place for sugarcane under the open sky.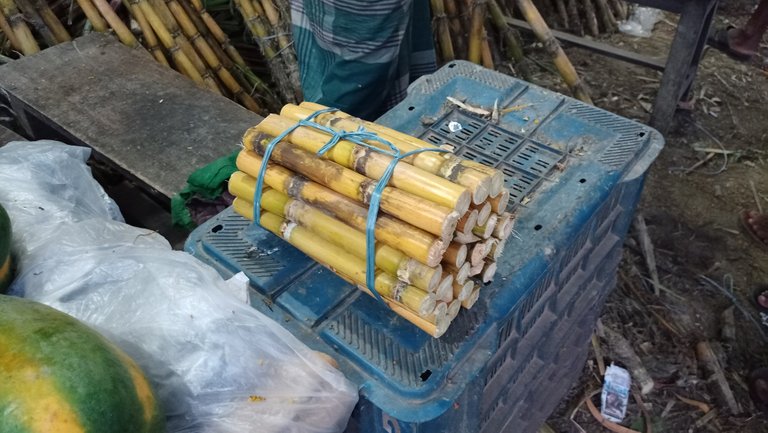 I went for an afternoon walk with one of my colleagues and there we saw the stalls of this sugar-cane. Immediately we decided to test some sugar-cane and take some sugar-cane to home. As a result, we bought a long shaped sugar-cane through bargaining. As you can see the piece in the photos, the price in the picture's suger-cane is only 90 cents. Usually the price of one cane from 60 cents to 2 dollars. It actually depends on the shape and thickness of the sugar-cane. They are shaped and cut into small pieces after selling as you can see. So, we have about 7/8 pieces from that long stick sugarcane. That means the price of each piece has dropped by about 10 cents.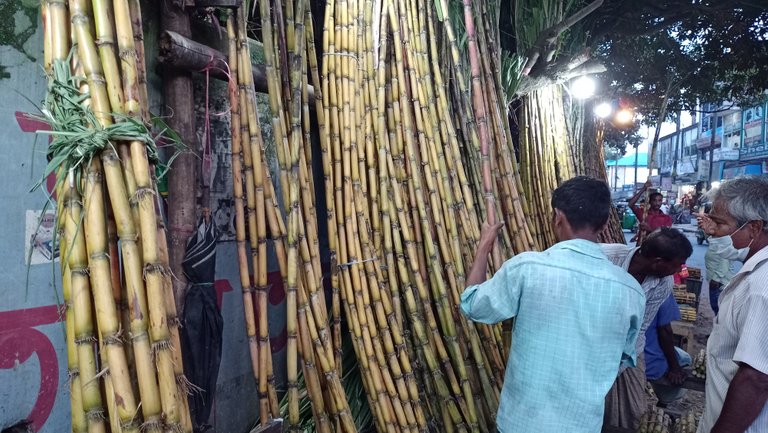 So, we took two pieces of sugar-cane and immediately started eating there ourselves and brought the rest for home. Walking in the afternoon is really very enjoyable. Because the temperature of the sun is low and the experience of eating sugar cane in this hustle and bustle and talking is a different experience. So, at such a joyous time, sugar-cane has increased the importance of our walk. So, my colleague and I enjoyed the taste of sugarcane while walking around the market.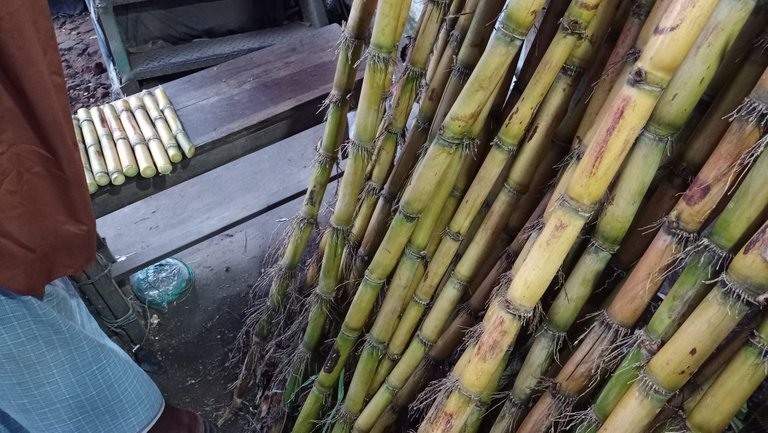 ---
Final Words
I don't want to go around the market. Even then I have to go to the market whenever I need. Again, many times during walk we have to go somewhere through the market. In that case, the experience of buying something from the market or looking around is often interesting. I am really happy to be able to describe the experience of buying such a beautiful afternoon sugar-cane on Market Friday today and I am ending here like today, thanking everyone who has read my article.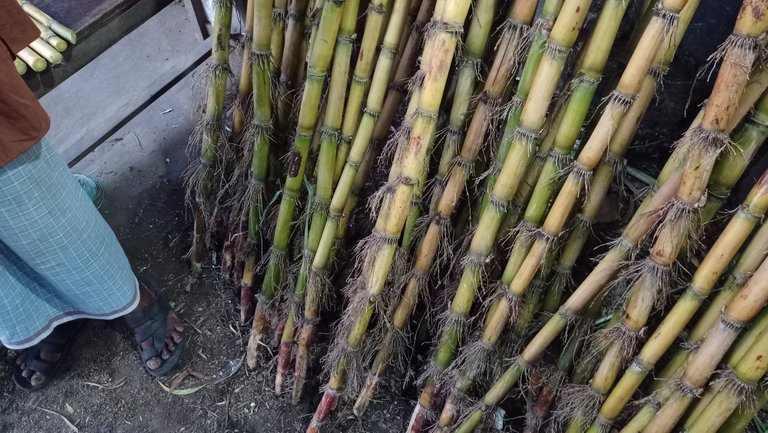 ---
---
Thanks to @dswigle to initiate such a good challenge. He anyone can participate by sharing any product or service shopping which costs money. That's means you need to post your shopping experience where you spend money for product or shopping by mentioning #MarketFriday by @dswigle or post in the Market Friday Community (#hive-196308). I love this challenge very much. Let's post our shopping experience with #marketfriday.
---
---
---
Who I am:
I am lecturer of Textile Engineering in Bangladesh and a newly married husband. I love to share my thoughts and ideas to my friends and community. I want to express whatever I have learn so far in YouTube, DTube etc. I explain Textile, Online Money Making, Agriculture, and Random vlogs. I love to capture Natural Photography. I am always a learner and wants to make huge community here in Blockchain to reach to the moon with Blockchain.

Upvote, Re-blog and Follow me @engrsayful
---
Find me on social media
Follow me on DTube
Follow me on Youtube
Follow me on ThreeSpeak
Follow me on Facebook
Follow me on Twitter