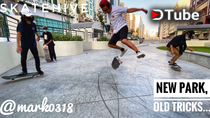 ---
Good day Everyone!
Here is the session last week! I skated with the iSolar crew again and it was a very productive day. We started skating the tunnel spot for the tutorial video I uploaded last time and we moved to another spot before finally ending up in the newly opened skatepark. The skatepark was awesome, it has smooth concrete surface but not that slippery, it was just right. It has two long and knee high ledge so it was a challenge for me, but overall, the skatepark was great especially its location. It was built literally in the middle of the city and very accessible for me. I live just 5 minutes away by walking. Also, the park has children playground and a little football field. It was a balance park with areas for everyone!
I filmed with my iPhone and realized I sucked at filming. My angles is not as good as TJ and its really hard to film with a phone worrying it will fall or slip, compared to filming with a Gopro. I haven't used my Gopro in a while now, reason is that migrating files takes time.
Anyway, winter is almost over here and summer is creeping in. I hope we can film as much as we can during the transition of the weather because summer can be blazing and also a scare of another COVID lockdown may occur (hopefully not!!). I will be skating with these young guys and try to put out more basic tutorials vids and alsosession vids.
Thanks very much for watching and have a great day!
Cheers,
P.S. Raw, that is my aim on this video, just skating and having fun with the guys, I think we did it right here. Peace!
For more Skateboarding Content, Photographs, Videos, Skate Blogs and Vlogs please visit my profile at https://hive.blog/@mark0318 I also have travel blogs and other stuff there, enjoy!
---
▶️ DTube
▶️ IPFS