---
Here I talk about some ideas I have on how Traffic Exchanges can improve the value of the ads that are showed when surfing them, plus I also find Luke 5 times and complete the Scavenger Hunt.
---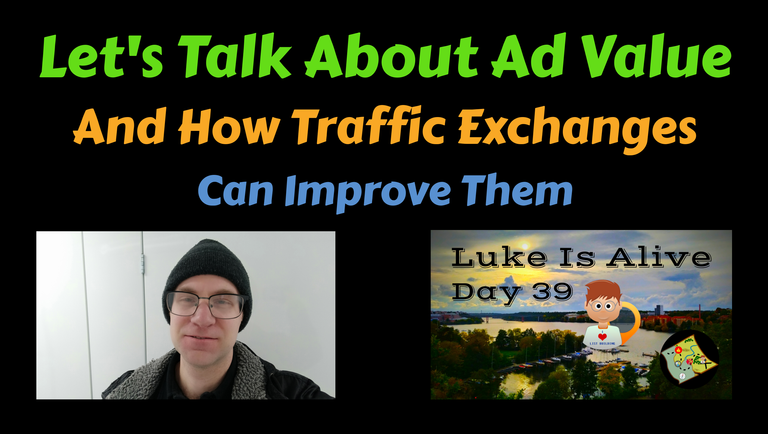 Graphic made in Desygner
Hi there and welcome to my vlog, my name is Erik Gustafsson and I go by the handle @flaxz on Hive, CTPtalk and DTube.
Let's Talk About Ad Value - And How Traffic Exchanges Can Improve Them
So today I made a sort of experiment to see exactly what would happen if surfing all 5 TE's that are part of the Scavenger Hunt in ClickTrackProfit at the same time, and of course using my mobile to do the surfing as usual.
This told me that I can do tab switching on a phone, even if slower than on desktop, and more importantly it also told me about what kind of attention I was putting on the ads that I saw, which was minimal.
In one case I could not even see much of the ads at all since the captcha pictures where covered by peel ads, and I had to zoom to be able to click for the next site.
This experience tells me that the value of the ads that are shown in this type of surfing is not that high, and it also explains why TE's in general have quite low conversion rate.
So I have some suggestions, and those are taken from 3 TE's that do convert very well, and with good reason, plus I have included a small screenrecording of surfing a few pages in each in the video above.
The TE's that I talk about are listed below, and each has a suggestion that can greatly improve any TE, plus I have started with the easiest to implement first.
EasyHits4U - This is the largest TE in the world, and what they do right in order to add value to member ads is to not distract the surfers but put the ad that are viewed fully in focus, even more so on mobile since they skip all content in the surf bar there, while they do have a banner and a text ad on desktop, plus they also have long timers, from 10 to 20 seconds and up to 40 seconds in some cases, and if the surf tab is not in focus the timer moves slower.
TrafficAdBar - This is the second largest TE in the world, and what they do right to add value to member ads is that apart from having full focus on the current ad and 10 seconds timer, you as the surfer also decides what ad you want to see next by selecting it from 4 text ads up top if you are on desktop, though this part is obviously a bit limited on mobile, but the fact that you decide what you want to see makes it much more likely that you actually pay attention to it.
LeadsLeap - This is also a very big TE, especially when it comes to active members, and they have improved things even further, after surfing a page for a minumum amount of time to earn credits you can actually earn even more credits by staying on the current site for up to a minute, no hurry to leave for the next site, plus you also get credited for rating each ad that you surf, which is then used to show top rated ads more frequently where you select which ad you want to go to next.
Now some of these things require more work than others to implement, but all of these makes the member ads more valueable, and it is therefore also more attractive to surf for credits in these TE's.
Improve the value of the product and you can charge more for it if you are a TE owner, and of the TE's I surfed today TaxiCabHits was the one where I could pay most attention to what I saw, so great job @greensempire.
I hope that this is something that will be looked at, we all win if the TE's linked to the Scavenger Hunt are the best converting in town.
Enjoy Watching The Video!
Luke Is Alive Day 39
Luke is a very alive figure, he travels around in Listopia, and you need to find him so he can help you to build your email list, it's a Scavenger Hunt from ClickTrackProfit, see the Luke Is Alive Community about how the daily contest works.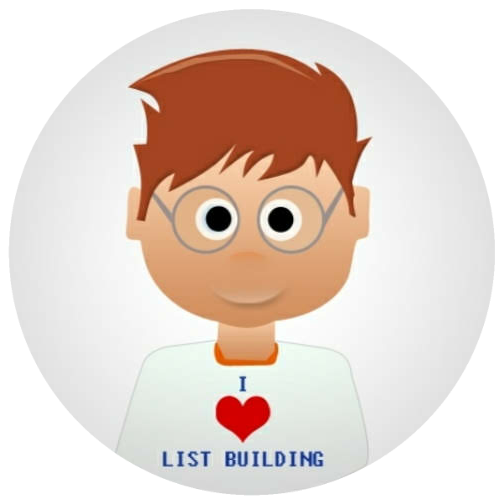 Screenshot from CTP
This is Luke in person.
I Found Luke
So as I said above I found Luke 5 times today and completed the Scavenger Hunt, and I have included a screenrecording of that in the video above, plus the screenshots below shows my path to find Luke.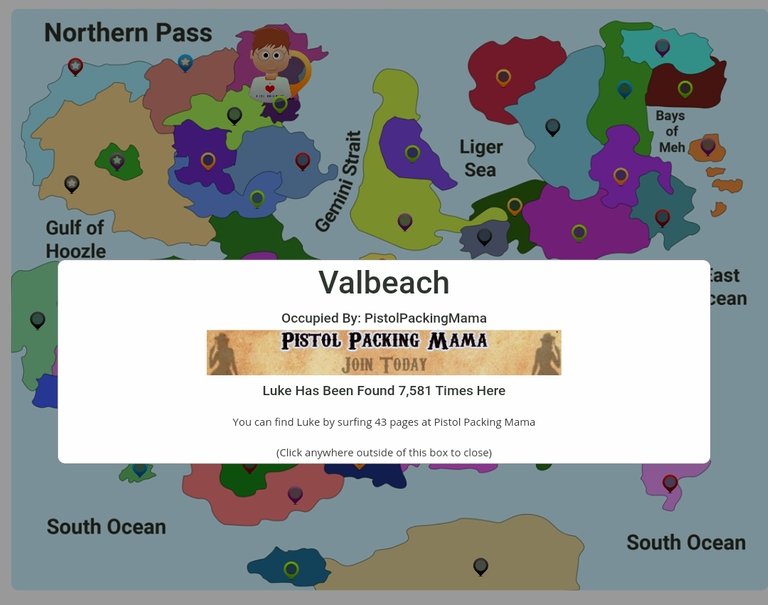 Screenshot from ClickTrackProfit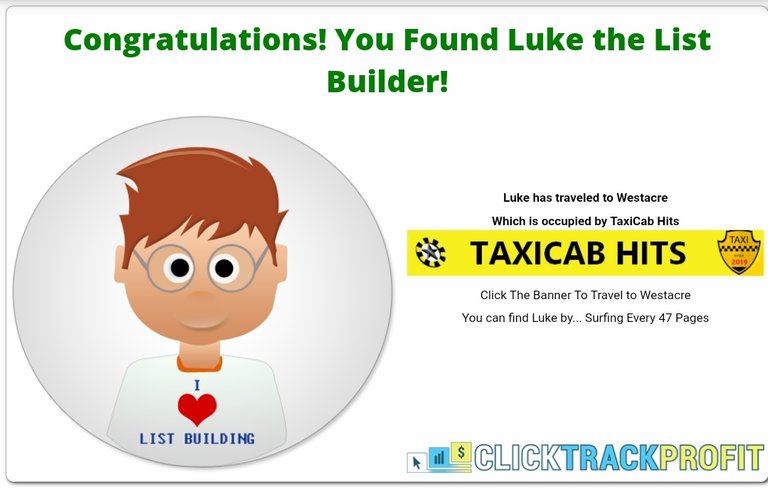 Screenshot from ClickTrackProfit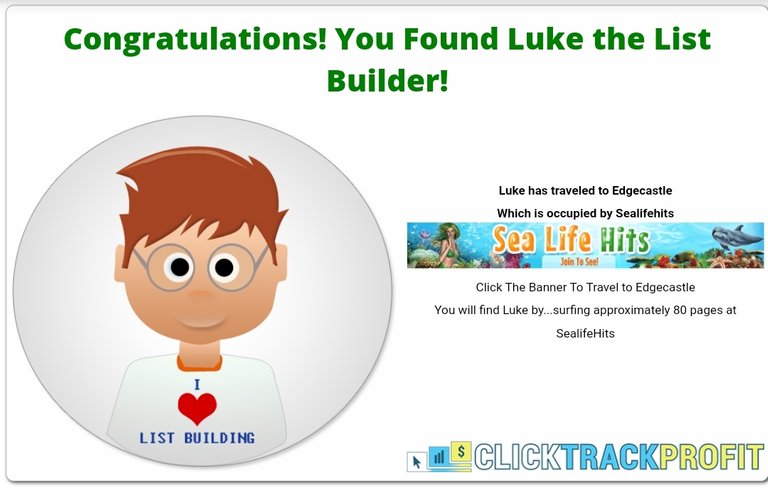 Screenshot from ClickTrackProfit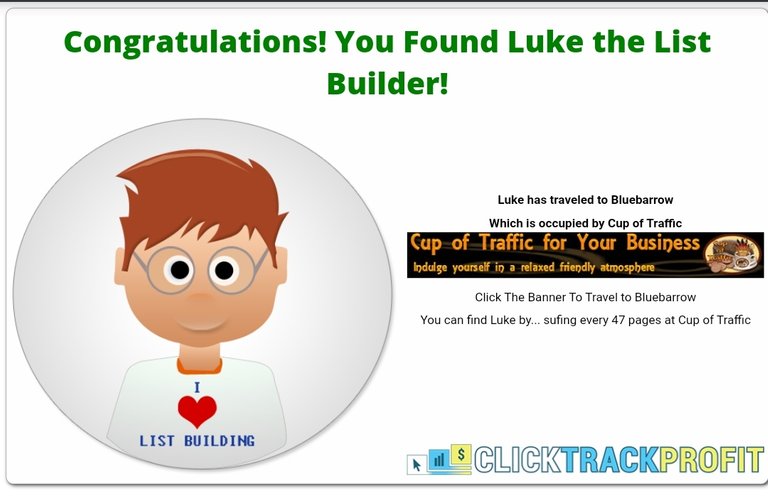 Screenshot from ClickTrackProfit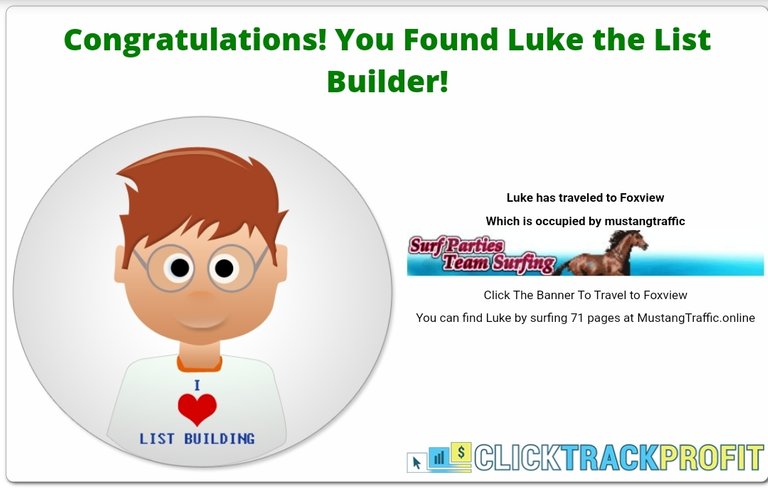 Screenshot from ClickTrackProfit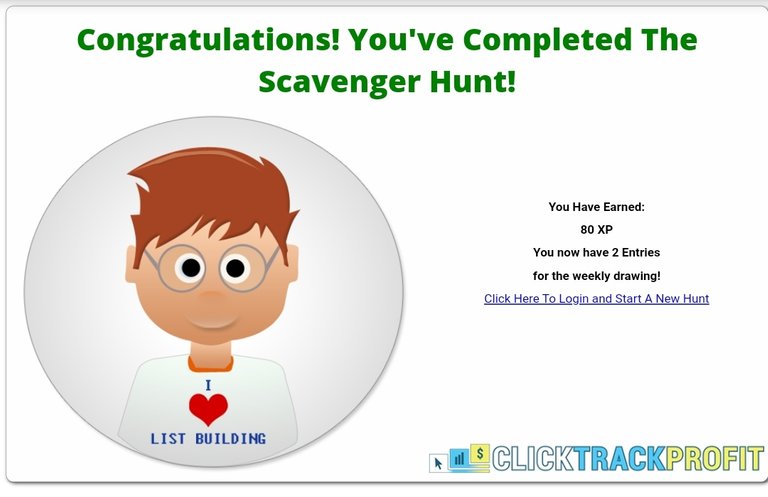 Screenshot from ClickTrackProfit
That completed my Scavenger Hunt for today, and by surfing all TE's at once I cut surfing time in half, though I still prefer to do one at a time to pay better attention.
In these TE's I mostly promote my LCP's for the Mobile Cash Formula, which is my 42 day email course on how to create an online income in a mobile friendly way.
Thank You!
Thank you very much for reading this post and watching the video, I hope you liked it, leave your thoughts in the coments below, and ...
Stay Awesome!
Sincerely,
Erik Gustafsson
This is my own personal opinion, do your own research before investing, and seek legal counsel if uncertain.
---
Credits For Music
1
Royalty Free Music from Bensound, track Hey!
2
Music: A Strange Feeling - Musician: Michael Ramir C. - URL: https://mixkit.co/
---
---
---
▶️ DTube
▶️ IPFS