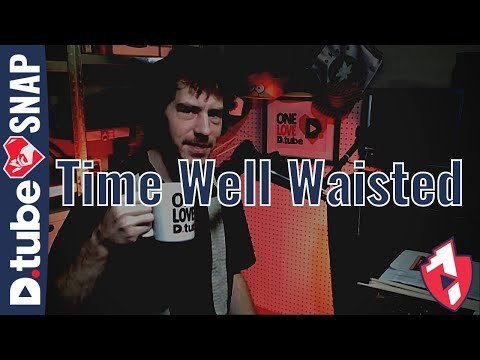 ---

Hey guys! Today's video is an update on my studio progression plus what I spent the majority of internet downtime creating for Meck Designs. First day sitting back in front of the studio and recording and as always playing with things as I go 😅 feels good to have a hands free setup though I do miss holding the microphone ... trade off of audio quality is worth it IMO ...
Goals Working Towards:
Completing Studio & BG Display
Small Business Distribution for Meck Designs
Trying to figure out how to cheaply hang my hats has been a bit of a headache, first attempt using wire remained wiggly no matter how I try to secure it. I have now moved to doweling which seems to be much better and I'll be able to secure it downwards with some twine. Using a little jewelry wire around the top button they will hang at a slight angle but not slide off the pegs.
The graphics for Meck Designs took a fair amount of time but were rather easy to create. Using software I own to convert images into sketch art and Canva I was able to create a dual booklet flyer size printout the cheapest way possible ready same day. Staples to the rescue which I just had to account for the cut and bleed and edge and do my own trimming afterwards. Came out all right if you ask me with the purpose of getting those booklets into hearing aid places, having as simple graphical instruction I think will be more helpful than anything written. Time well waisted 😅
Lastly is the microphone LOL it sounds all right but man is it a ragtag set up. Using a microphone from my Wii, a microphone stand I just picked up for $20 and a pair of my fiancé's nylons as a pop filter it seems to do about right. Using software I have been able to clean up my audio but I am wondering if anyone has advice for the Reafer plugins for OBS? Either my audio is quiet or I end up with odd digital noises when catching a breathe ... I know there must be a way of filtering that out?
I have also spent a fair amount of time helping Melissa put together her shop area for Meck Designs but that will be a future video ...
Tasks For Today:
Mail the booklets out for Meck Designs
Finish hat section of my peg board
Purchase stockings and make a more permanent microphone pop filter
Custom build shelving for the Meck Designs shop area
Much to do guys but I am stoked to be sitting in-front of my rig again!!! See ya tomorrow for the One Love Curation Bonanza 8:30am 🙌
Let Me Know Your Thoughts In The Comments Below!!!
That's It, @D00k13 Out!!!

What is a #DTubeSnap? - Daily Affirmation
Tell us about your entrepreneurial or personal wellbeing journey with a 3-5 min video
mention what you are challenged with and/or recent goals accomplished and/or goals yet to accomplish and/or action plan to accomplish goals
post to "dtubesnap" tag
Share post to twitter using "dtube" & "dtubesnap" tags
drop links to both your tweet and dtube post in "dtubesnap" channel in #OneLoveDTube Discord
Reward:
All posts following above rules will be curated by @OneLoveDTube, @d00k13 & @ionomy
3 posts chosen weekly for DTC & OneLoveIPFS hosting reward
How Does This Challenge Help You?
challenge yourself to develop skills
build structure to your plans
be encouraged to follow through with your goals
realize your true potential
The idea of this challenge will evolve as time goes on so please remember to check these posts for the details of the week. Above is Week 3 changes, check discord channel #DTubeSnap when dropping post link for messages marking weekly cutoffs. We are not sticklers so please feel free to evolve the function of these daily affirmations for your life but please include your action plan for growth.

Tired Of Your Videos Not Playing? We Have Solutions!
An alternative way of uploading videos to DTube, a decentralized video platform built on Steem, Hive and Avalon blockchain. With a competitive $0.087/GB/month you will get full access to our creator tools including our IPFS Discord Pin Bot, DTube Uploader, Thumbnail Swap Tool.
Videos Playable Forever, Faster Playback, High Quality Thumbnails, Thumbnail Swap Tool, 0% Beneficiary (exclusive to uploader.oneloved.tube interface), Add Beneficiary To DTube Posts, Create Steem/Hive Post & Upload Images Within Our Uploader, Skip Upload & Rendering Queues, Use Up To 7 Post Tags, Resume-able Uploads.


Roadmap:
Support for Alive, a decentralized multi-chain live streaming protocol
User settings for customizing upload threads, API nodes etc
DTC payments in Shawp
Schedule videos
If you have any inquiries regarding our uploader, feel free to contact us on our Discord Server.
"We #OneLoveDTube are a group of content creators aiming to support creativity on DTube and the platform alike by manually curating content while providing IPFS backup solutions that keep videos playable forever!"


We Will Get There Together

Follow me if you wish to support the journey!
PS This post is done vie the new standalone #OneLoveIPFS v2 Uploader Check It Out Here
#dtube #iamalivechallenge #dtubesnap #onelovedtube #hiveislive
---
▶️ DTube